News
Oct 6
The Boss said it first; KU discoveries confirm it: Baby, we're born to run.
Our neuromuscular system may be more inclined to aerobic exercise than resistance training. more (from Inside KU, Oct 6, 2015)
Oct 5
The Youth Running Program held an intrasquad tune-up race at the Morgison Farm on Sat, Oct 3. Coach Dan Kuhlman used an old fashion wood blocks starting gun to send the runners off on the 1 mile that snaked around the open field. Photos | Results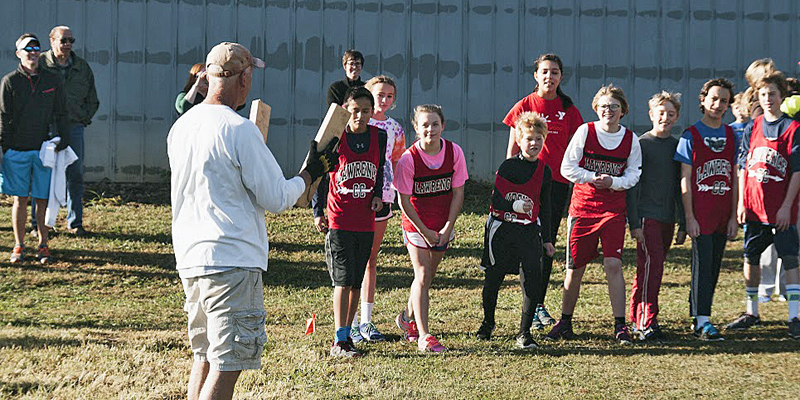 Special thanks to coaches Maresa Cuevas and Kyle Morgison for coordinating the event and the Morgison Family for hosting the runners and parents.
Oct 4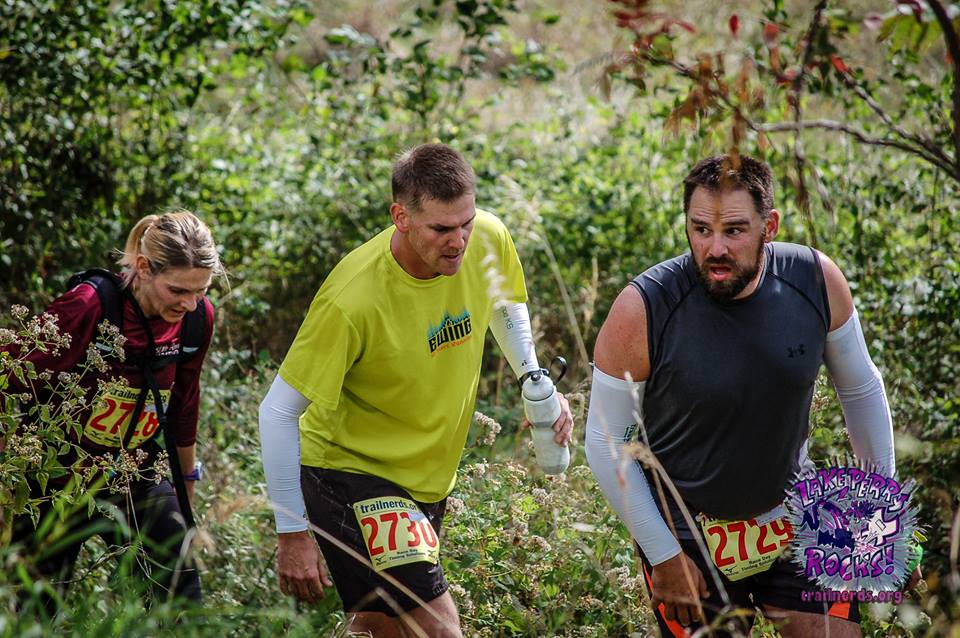 The Trail Nerds hosted the Lake Perry Rocks! 50K/Half Marathon/5K on Oct 3rd. (Mile 90 Photo)
Oct 3
From the Rim Rock Classic - a preview of the regional NCAA meet in November. more photos | results

Oct 2

Tomorrow, Sat, Oct 3rd, Ad Astra Running is having its grand opening.

There will be raffles for prizes all day Saturday. RunLawrence members will get 20% off regular priced shoes year-round. The store will also have special "runLawrence only" events throughout the year during which the club's discount will apply to apparel and accessories as well.
Note: the runLawrence web page will provide information from all local businesses that may be a benefit to the running community and its members. Whether it's training programs, seminars on injury prevention, special sales or other local events, we will help get the word out and support all our local businesses.
Oct 1

KC Smoke - Not Just the Fast Guys who Show up and win -
All but a handful of professional distance runners in the U.S. aren't much better off than bass players in alt. country bands who have to travel around in vans and live off merchsales. That where the (KC) Smoke comes in. more (by Dr. G, Indie Fit Magazine, Oct 1 - "Indie Fit Magazine is the Kansas City/Lawrence area's first alt monthly dedicated to the health and fitness lifestyle, with an indie twist.")
Sep 27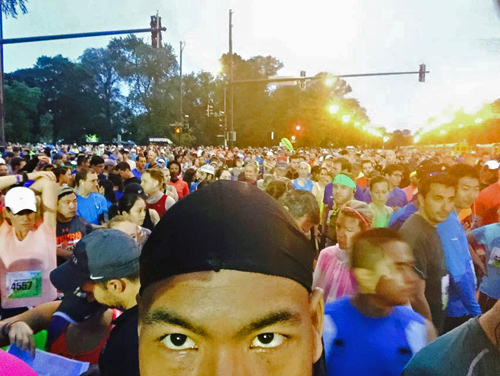 Kilroy was here - actually it's Jason Holbert at the Chicago Half Marathon this morning. He ran a 2:09:04.
---
;
Sep 26
Congratulations to the middle school CC coaches, Maresa Cuevas and Kyle Morgison, who both took second in their age divisions at the KC Zoo Run today. Results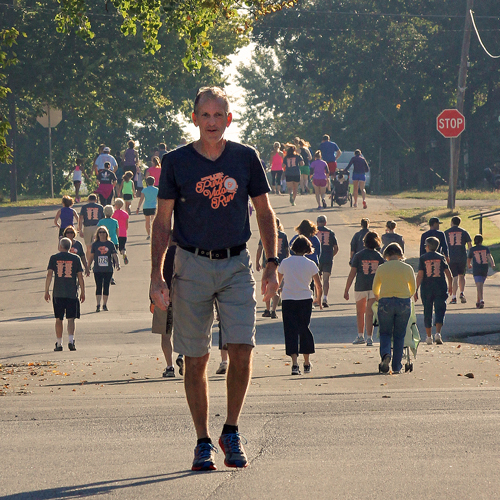 The Pura Vida Run is held annually in memory of Nathan O'Neill. Race director Jay O'Neill is shown (above) heading back to the finish after sending the runners off around Winchester. more photos
Sep 23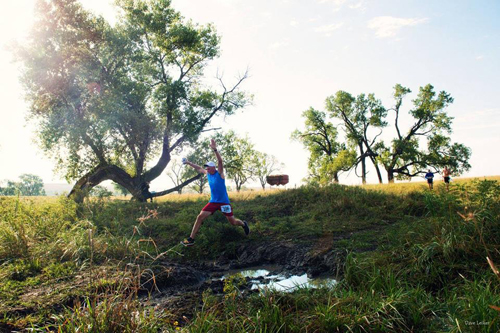 The second-annual Race the Chase event (Sept 19th), sponsored by Dirty Kanza Promotions, started off on a cool morning in Cottonwood Falls.
Steam was rolling off of the waterfall near the bridge as 90 runners gathered for the start of the 10K, 25K and 50K races on Saturday morning.
LeLan Dains, of Dirty Kanza Promotions, said that the event saw bigger growth than expected. more (Jesse Murphy, Emporia Gazette, 9/21/15. Photo, by Dave Leiker: Dan Kuhlman leaping over a muddy section of the course.)
Sep 22
Run, run, run - plenty of events to participate in on Fri, Sat and Sun. Get out and run, spectate, learn a new sport, support a good cause. You can't be too young or too old. Check the Coming Events.
Sep 19
Check out the photos from the Dr Bob Run at Rim Rock today. Below - going by the Wes Santee silhouette are (r-to-l) Don Cackler, Price Banks, Marge Banks, Maggie Childs and further back Christina Crispell (527). | Complete results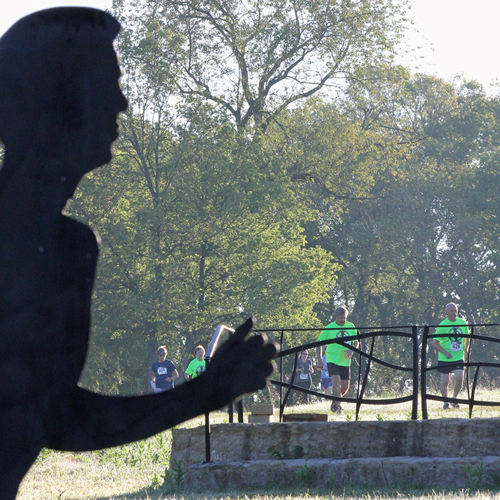 Sep 18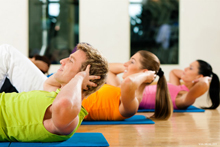 Take a second to think about your gym routine (I'll wait). Got it? Now, I bet you feel pretty good about the fitness moves that you've incorporated -- you're hitting the big muscle groups, you're the champion of the weight room, and plus, these moves are so popular that they have to be effective. Right?
Wrong.
Here, find out if any of your fitness routine is actually falling flat -- plus, expert-approved advice on taking your workout to the next level. more (by Lisa Hoehn, The Active Times)
Sep 17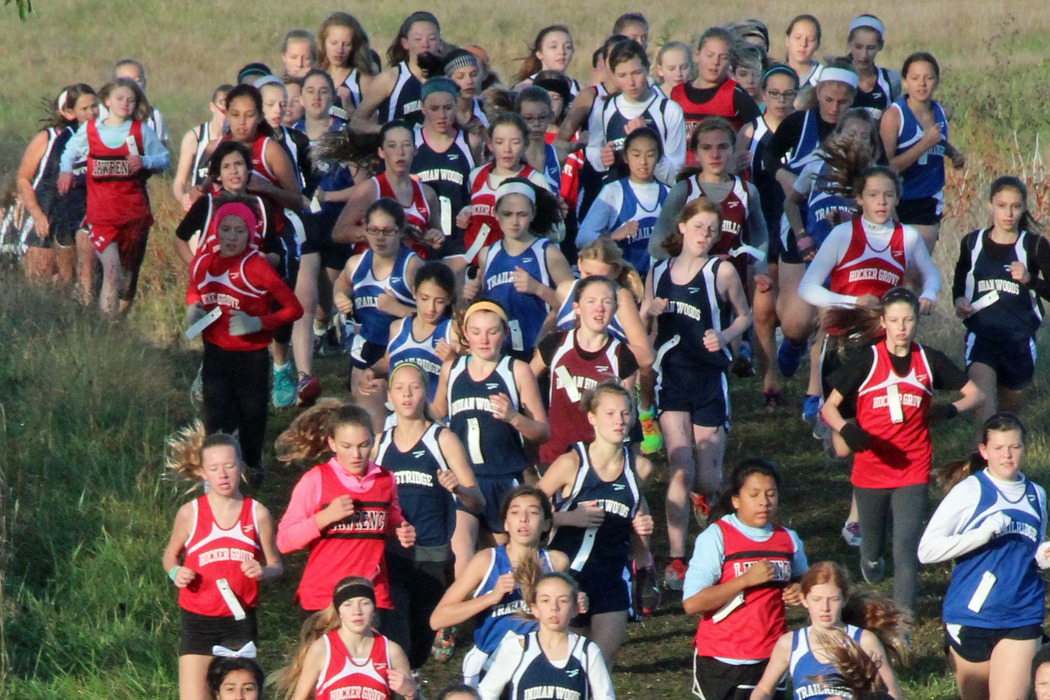 Cross Country Is…
Cross Country is not simply about the race. Cross Country is all about what you do to prepare for the race.
Cross Country is sitting in the school gym during the football team's Friday afternoon pep rally consumed in thought about your race the next morning.
Cross Country is your alarm clock rudely reminding you on a humid July morning that your competition is not sleeping in. more (by Greg Hall, July 23, 2015)
Sep 16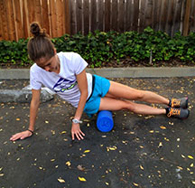 The 10 Commandments of Healthy Running - How to stay happy and injury-free on the trails.
1. Thou shalt foam roll.
2. Thou shalt not start a run with cold feet.
3. Thou shalt stretch thy calves. . .
more

(by David Roach, from Trail Runner)
Sep 15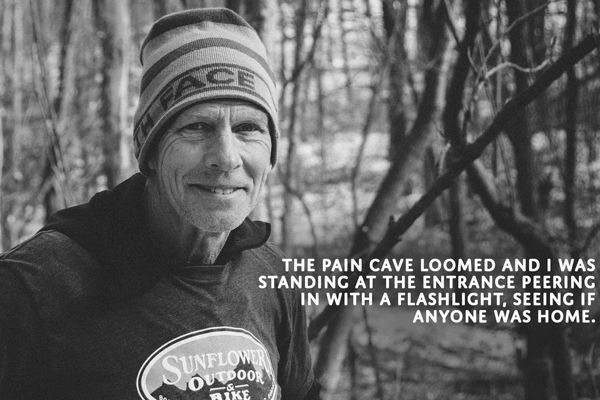 You have to hand it to Lao Tzu when it comes  to cryptic epigrams, and in the context of the race where I found myself the "leave no footprints" could have many meanings.
The working hypothesis was that training in the heat and humidity of a Kansas Summer would pay big dividends in running the Paavo Nurmi road marathon in Northern Wisconsin. At mile 23 of the Paavo, it was being put to a severe test and I began to fear, along with Huxley, that this might become the "slaying of a beautiful hypothesis by an ugly fact." Totally soaked through - shirt, shorts, socks, shoes,  all dripping wet and ferocious blisters working up on several toes. I had hung onto my race pace of 7:30/mile up to this point, but somehow I knew the last 3+ miles were going to get 'interesting', my mind and body began a long, heartfelt conversation...
"I really like trails, the woods, nature - what am I doing here?"
more
(Sunflower Staff Blog on Dan Kuhlman, Sept 2015; photo by Andrew White)

Sep 9
"Run Free: The True Story of Caballo Blanco" will premiere at the Screenland Armour, located at 408 Armour Rd, in North Kansas City, MO, on Wed, Nov 4th at 7 pm. The event is sponsored by the KC Trail Nerds. Tickets are $12 in advance or $15 at the door the night of the show.
More information: www.runfreemovie.com | trailer