News
runLawrence club meeting for Sunday, March 9
4:30 pm at Lawrence Memorial Hospital
Mar 8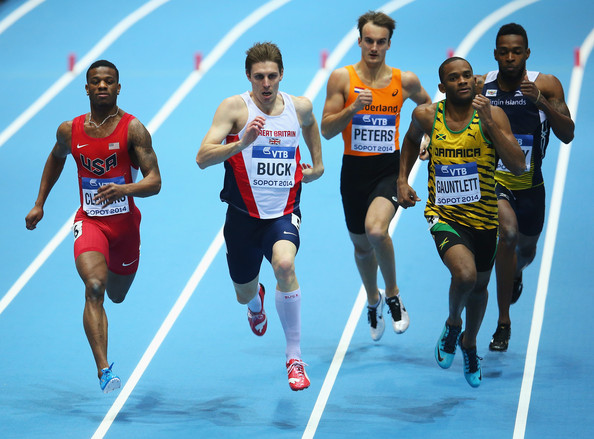 (March 6, 2014 - Source: Julian Finney/Getty Images Europe)
SOPOT, Poland – Former KU track star Kyle Clemons (above left) finished third in the 400-meter final Sat, Mar 7 at the IAAF World Indoor Championships in Poland.
 
Clemons, who competed for the Jayhawks from 2010-13, entered the event two weeks removed from claiming the American 400-meter title at the USA Indoor Championships in Albuquerque, NM. Clemons made it to the final in Sopot by way of two qualifying races Friday. He was the second-overall qualifier in the preliminary heats before running to the No. 2 overall qualifying spot in the semifinal race.
 
In the final, Clemons was again the top American finisher but was unable to overcome the Czech Republic's Pavel Maslak and the Bahama's Chris Brown. He managed to claim a third-place after completing his quarter mile in 45.74.
Mar 6
From Active.com: This spring's running gear trends encourage runners to flaunt their uniqueness. Taking a cue from the build-your-own burgers, pizzas and FroYo trends, several shoe company heavyweights are offering customizable shoes that can be tricked out with your own motivational messages, graphics and color selections. Blurring the line between running and active lifestyle clothes, the new running styles for spring include funky patterns, bold colors, sheer tops and lightweight layers that will make you look stylish on the track or trails as well as at the post-run brunch with your buddies. Check out our picks of the coolest new running gear for spring 2014. more
Of course, visit your local stores first to look for these items.
Mar 5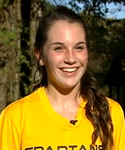 WINSTON-SALEM, N.C. — When a pack of whip-thin girls zipped across the finish of the 1,600-meter race at a recent track meet here, the smallest runner's legs wobbled like rubber, and she flopped into her waiting coach's arms. She collapses every time she races.
Kayla Montgomery, 18, was found to have multiple sclerosis three years ago. Defying most logic, she has gone on to become one of the fastest young distance runners in the country — one who cannot stay on her feet after crossing the finish line. more
(from the New York Times, Mar 3, 2014, by Lindsay Crouse)
Mar 4
Deadline for signing up for the 6th Graders Spring Running Program is this Sat, Mar 8. Spring is coming (really!) and the first practice is Tues, Mar 11. Check the Youth Running Project page and join several of the kids back from the fall program. Newcomers are welcome. Questions, contact Coach Dan Kuhlman.
Mar 2
From Garrett Jones: Just an update on the KU Running Club. ! We've had a cold start to the semester, and the attendance numbers reflect that - can't wait for warmer weather.  Our first club competition is March 8th - we'll have roughly a dozen members racing in either the 5k or 10k Shamrock Shuffle here in Lawrence.  We also have the following upcoming competitions scheduled:
Sat, Mar 29

- Emporia spring open track meet

Sat, Apr 5

- NIRCA Track & Field & Half Marathon Championship in Bloomington, IN 
Feb 28
The Feb 8th Psycho WyCo Run Toto, Run 10-mile trail race is a difficult and technical course. Add 12 inches of snow, and you have a whole new monster. Here's a video shot with a GoPro by Jeremiah and Jenna Paige.
Feb 25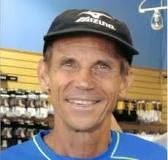 Olympian Jeff Galloway is coming to Lawrence this March 15 to celebrate the start of RunWalkLawrence's marathon training program. Galloway's advocacy of walk breaks has led some to dismiss his approach as unsuitable for more experienced runners; however, walk breaks can lead to faster times in longer races, regardless of a runner's level of experience. more details
Feb 20
Canceled: Topeka Run for Life 10 Miler: "Thanks to all who have contributed to and participated in the Run for Life the past 18 years. Due to a need to reorganize the leadership and sponsorship of the event, the race will not be held in 2014. We look forward to seeing everyone back in 2015." - Ray Gabel
Feb 19
Any runner who attempts a long distance race without properly preparing courts disaster.
When I first presented the principles of this program at a talk I gave at a large marathon expo, I couldn't help but notice the reaction of a woman sitting in the front row. When I announced that it's possible to fully prepare for a marathon by running no more than 35 miles per week, she slowly shook her head from side to side, a frown on her face.
I wasn't the least bit upset by this reaction. read more
(Jeff Horowitz, running.competitor.com)
Feb 12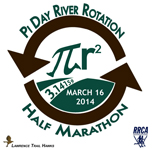 The Lawrence Trail Hawks will host the 4th annual "Pi-Day River Rotation Half-Marathon and 5KTrail Race," Sun, March 16, 8 am, on the Kansas River trail system.
The two races marks Pi-Day, a March 14 holiday held in honor of the mathematical constant Pi, 3.14. The race course is a winding, twisting, mostly smooth trail with a few roots and inclines sprinkled in for fun. Volunteers will serve up homemade pie at the finish line. The Lawrence Trail Hawks are Lawrence's original trail- and ultra-running club.
More information