News
Mar 5
This Sat, Mar 7 is the 26th Annual Shamrock Shuffle - a 5K and a 10K this year. Weather looks great for a run on the levee. Today's Throwback Thur offering are the results from the 2002 Shamrock Shuffle. "Erin go Bragh" at Johnny's.
Mar 4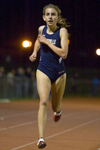 Mary Cain Is Growing Up Fast: . . . The 800 is a crushing race. Runners go out hard, then try to hang on to the pace in a showcase of will. Through the first six and a half laps of that eight-lap relay, the announcer called the event gamely, like a horse race — "Bishop Guertin! Bronxville! Achilles!" — playing up the tension, implying that anybody could win. But shortly after Cain [a 15 year old freshman] took the baton, the race became disorienting. Everybody was running one speed and Cain — eyes down, body tilted forward — was running at another. Like watching a turntable with one record spinning at 33⅓ r.p.m. and another at 45 r.p.m., it scrambled the brain. Cain completed her first lap in 58 seconds, only half a second slower than Roger Bannister ran his first lap at Oxford on May 6, 1954, when he became the first man to break the four-minute mile. The announcer, flabbergasted, began shouting: "Bronxville! Mary Cain! Bronxville! Mary Cain!" at irregular intervals. She ran her 800 meters in 2:03.74. more (Elizabeth Weil, New York Times, Mar 4, 2015)
Mar 2
If you liked "McFarland, USA", you might want to check out "The Long Run" from the Lawrence Public Library. It's a feature film about the Comrades 90K race in South Africa. Familiar theme a fallen coach discovering new talent, but edgier than McFarland with great views of the race course and South Africa in 1999.
Mar 1
Born to Run Originals: Matthew McConaughey Great Choice to Bring Bestseller to Big Screen. more (Feb 4, 2015 Trail Runner article)
Feb 28
If you've seen the movie "McFarland USA" here's a YouTube video with an interview with the real Coach Jim White (Blanco!). Now showing at the Southwind Theaters.
Feb 27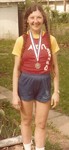 Looking back at the Avon 10K on Apr 27, 1980 - almost 1100 women started the 10K in Kansas City.   Karen Bridges of Edmund OK won in 34:42.9. Lawrence runners made the top 10: Karen Fitz (former KU runner, then living in Kansas City, KS) was 2nd in 35:14; Tracy Wong (37:40.2, 4th) and Maureen Finholm (38:45.7, 7th). Dee Boeck was one of the thousand runners.
full results
The event was part of the Avon International Running Circuit. In 1972 Kathrine Switzer helped create the first women-only 10K in New York City, which attracted 78 women – small by today's standards, but a surprising number 53 years ago.
---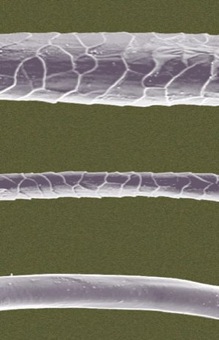 Wool vs Synthetic - Fifty years ago nearly every outdoor kit included a wool shirt. Ten years ago, wool had been banished in favor of lighter and more comfortable synthetic base layers. But wool is back. With finer yarns, wool base layers are now marketed as comfortable next to skin. At the same time advances have been made in synthetic fabrics that further improve performance and address some of their shortfalls. This healthy competition has saturated the industry with new technologies and performance claims regarding wool and synthetic base layers.
In this article we will take an independent look at the properties of these fabrics. We ran a series of field and laboratory tests to evaluate field comfort, drying times, fabric weights and moisture wicking performance. In the process, we revealed some unexpected performance properties and learned a few things about how these fabrics compare in a diverse range of field conditions. more
(from Backpacking Light, thanks to Bill Kinersley for sharing the article)
Feb 19
Our Throwback Thursday event to highlight is the Dam Run from 25 years ago. The March 31, 1990 event included three distances: 5K, 10K and 20K. Overall placings were in the order you crossed the finish line regardless of what race you ran. Fortunately, the results were broken down by distance and age groups. The winners: 5K: Steve Coulter (16:50) & Cindy Short (18:57); 10K: Randy Mather (33:12) & Dee Boeck (43:18); 20K: Gordon Way (66:17) & Carol McFall (84:16). The races started from Holcom Sports Complex and went towards Clinton Lake and came back to Holcom.
Feb 18
Shrove Tuesday - Liberal takes back title in 66th International Pancake Day Race.
Twenty-four-year-old Hannah Belton won the Liberal, KS leg of race with a time of 69 seconds. Emma Maitland won the Olney (England) leg of the race with a time of 75.09 seconds. After losing three years in a row to Olney, the faster Liberal time brings the title back. In the photo Belton crosses the finish line.
more | photo of the Olney winner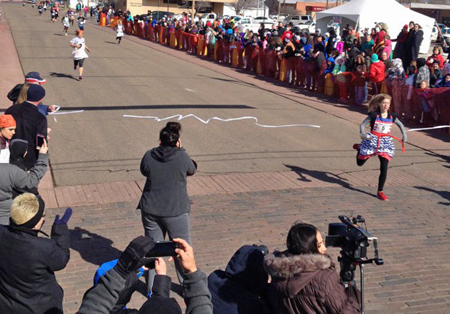 Feb 17
After showing herself to be in the elite class of women runners at Sunday's Austin Marathon, Kenyan Hyvon Ngetich hit the wall — hard. She didn't win, despite leading for most of the day. But the way she finished the race is being celebrated, because Ngetich did it by crawling, refusing to quit. more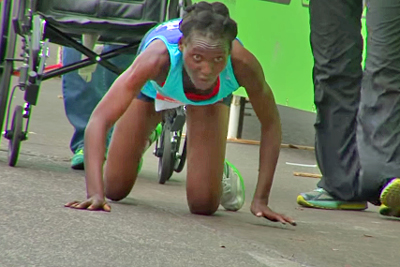 Feb 13
If you wondered what it's like to run the Grand Canyon, here's a video.