News
Apr 13
From the Hannah and Jayhawk Friends 5K today. The pack after two blocks on Fambrough Drive. Corbin Hall and the Varsity House Apartments are in the background along with the redbuds and Bradford pear trees. More photos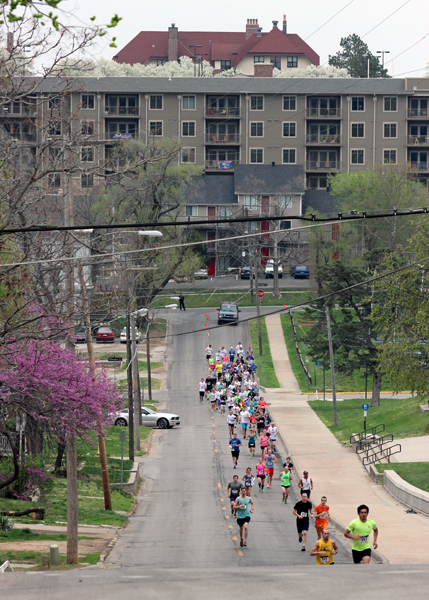 Apr 12

Congratulations to these top finishers at Rock the Parkway. In the half marathon:Benson Chesang (Lawrence, 2nd overall male in 1:08:33.1), Michelle Andrew (Topeka, 1st female master in 1:30:13.7), Brian Daldorph (Lawrence,2nd M55), Susie Fagan (Lawrence,3rd F40), Karen Hyde (Lawrence,1st F50), Pam Perica (Bonner Springs, 2nd F55), and Dan Kuhlman (Lecompton,1st M60). complete results
In the 5K: Nick Elniff (Lawrence,2nd M25), Doug Hartwell (Lawrence,3rd M25), Brittany Hartwell (Lawrence,1st F25), Stacy Riggins (Lawrence,1st F55), and Joanie Starks (1st F60). complete results
Apr 10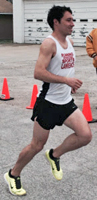 One of the faster runners toeing the line at this weekend's Eisenhower Marathon will be Lawrence's own Carl Specking.  Based on past results, Carl has a legitimate shot at finishing in the top three.  One thing that will set Carl apart from the competition:  he'll be using walk breaks from mile 1.
Carl has followed Jeff Galloway's marathon training program since last November.  Marked by longer long runs, run slowly and with frequent walk breaks, the Galloway method removes the wall from the marathon day experience, enabling runners to race (rather than merely survive) the final miles of a marathon.  This low-mileage*, highly flexible approach to marathon training reduces the risk of injury to virtually zero while leaving you with fresh legs and full of energy.
Carl's previous marathon best, running continuously, is 3:09.  Using walk breaks, Carl hopes to break 2:50 in Abilene.
*Since November Carl has averaged less than 25 miles per week.
Apr 6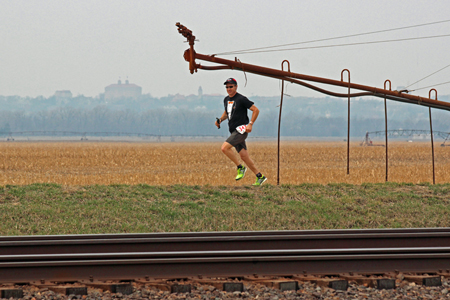 400 teams signed up for the 20th running of Brew to Brew. Here's a view of the KU Campus from the last check point between legs 9 and 10. More photos
Also check SeeKCRun for all team photos and more scenes.
Apr 6
The Lawrence Parks and Recreation partnered again with the Bobcat Marathon Club to host the double event, the 5K Dam Run and the 5K Fun Run of the Langston Hughes School's running program. More photos by Carrie Mandigo. Results coming later.
Apr 5
At the volunteers meeting for the Brew to Brew Run (tomorrow's 43.5 mile run from KC to Lawrence) a history of the event was handed out. It's been 20 years.
In 1995, most people ran on four-person teams. Lawrence's Steve Riley was the fastest solo runner covering the 45 miles in 5:07:00 (5:22:00, if adjusted for distance this would be the scratch record). There was an an adjusted team competition and the winning team was "Our Motto is Our Slogan" - the group from Lawrence: Mike Ott, Dee Boeck, Gene Wee and Jim Dicker. Various trophies are awarded (best team, team name, spirit award, etc.) including one for departed friends, the Mike Ott Adjusted Team Award.
Good luck to all the runners in Sunday. You will have a good time. Be sure to thank Lou Joline the race director for the great event he's promoted all these years.
Apr 3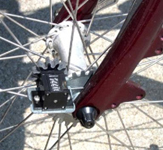 In GPS We Trust - Which is more accurate: A certified course that is wheel measured, or your GPS? Or in truth, how far do I really have to run before I can see the beer tent?
USATF Certified Courses – How accurate are they? The short answer is very accurate to within 1/10 of one percent. Read and reach your own conclusion.
Apr 2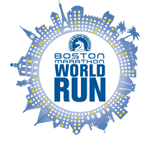 This year, the Boston Athletic Association, in partnership with John Hancock and Manulife Financial, are inviting people from around the world to participate in their own Boston Marathon. Maybe it's not 26.2 miles, and maybe it's not in Boston, but there is a marathoner in all of us. We encourage you to bring it out – and to be a part of the first ever Boston Marathon World Run.
Registration and participation in the Boston Marathon World Run is free. All registrants will receive a printable bib number, a digital finishers' medal, and a printable finishers' certificate. Simply pledge to run, walk, or wheel any distance, and complete that distance at one time or over several weeks leading up to or on April 21. more info
Mar 26
I want to remind you that RunWalkLawrence's Galloway marathon training program is starting this Sat, March 29th.  Anyone who finished the 5K fun run with Galloway is fully ready to train for a marathon this Fall.  For more information on the program:
visit www.RunWalkLawrence.com, or call me with questions (785-865-6112);  or
simply show up for the first workout

this Saturday, 8:00am

from GGRS (839 Mass.).  We'll be doing an easy 3-mile run/walk and talking about what to expect the rest of the program.  The first week is always free, so bring a friend along and check it out! - J. Jenkins
Mar 25
The 87th Kansas Relays (April 16-19) are being held in the new Rock Chalk Park so this is a great opportunity for local runners to come out, help the Relays, and see the new IAAF-standard site. If you can volunteer some time, contact Debbie Luman (dluman@ku.edu). Schedule | KU Relays home page
Mar 24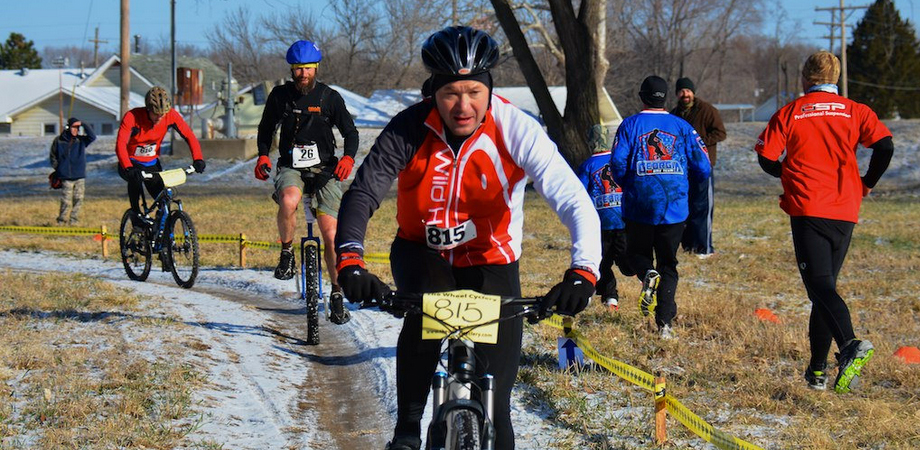 Photo from God's Country Off-Road Duathlon at the river trails in north Lawrence on Sun, Mar 23. Scott Stopak (815) is ahead of the one unicyclist entrant while runners on the other side are coming in off of their 2 mile loop. Photo by Lanterne Rouge, more photos | results
Mar 23
Next two runLawrence club meetings of interest.

Sun, Apr 6, 4:30 pm - Liz Dobbins and Cheryl Denton will share their experience climbing Mt. Kilimanjaro this past winter. Climbing a mountain had similar challenges the two are familiar with as triathletes. Accomplishing huge goals are taken by breaking it down to one step at a time. LJW story
Sun, May 4, 4:30 pm - on the eve of Cinco de Mayo, this club meeting will be held at the Cielito Lindo Restaurant, 815 New Hampshire.
Mar 20
The Lawrence-Douglas County Health Department will recognize Ellen Young and Logan Brown as the 2014 Douglas County Health Champions during a community breakfast from 7:30 a.m. to 8:30 a.m. April 11 at the Community Health Facility. Ellen is a former president of runLawrence. more
Mar 19
To help educate and remind all runners to run safe, the RRCA is embarking on a yearlong, public-safety, awareness campaign starting with the launch of the Run Smart, Run Safe animated video developed by Space Chimp Media. 
The video is designed to remind both new and regular runners to be aware of their surroundings at all times and to never trust drivers on the road.
Mar 17
One way to celebrate Pi Day is to eat pie. That's what you get at the end of the Pi Day River Rotation Half Marathon and 5K held yesterday at the river trails in north Lawrence. The photo shows all the runners going in the right direction. You go out one loop and go back on the loop in reverse before a shorter third loop. More photos at Mile 90 Photography. Results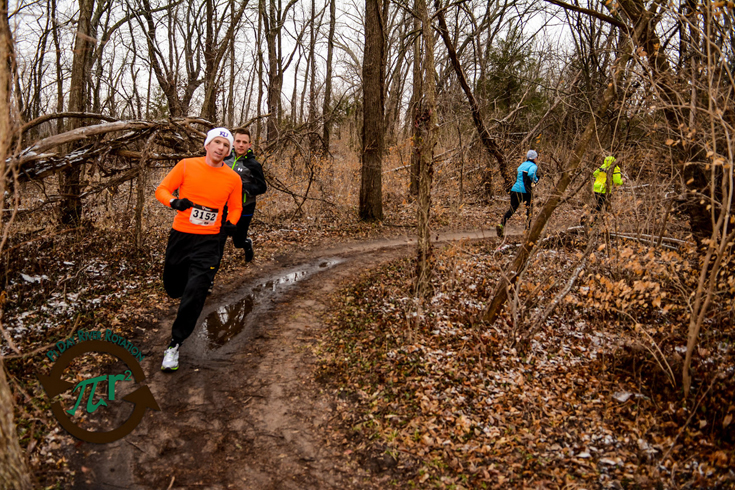 Mar 16
From yesterday's Mrs Robinson Romp Trail Races at Wyandotte County Lake Park. Dan Kuhlman and Jason Holbert at thje check-in. Jason was the top M35-39. Right, Mr. Peabody leading his boy Keith (aka Keith Dowell with Spank). More photos at Mile 90 Photography. Results