News
Feb 5
As she set out for her second run on Thursday, Adriana Nelson said she was compelled to take a slightly different route. She was enjoying the beauty of the trail she was on but was suddenly startled when she came across a figure sitting on the edge of a retaining wall. As she slowly approached him, she said it appeared to be putting a noose around his neck. read more
(by Brian Metzler, competitor.com, 2/5/16)
Feb 4
A running class is being offered by Lawrence Parks & Rec designed for people (ages 50+) who are new or returning to running. A supportive group, led by runLawrence member Ellen Young, will meet for a weekly run with tips on form, technique and extending your distance with walking intervals. You set your own goals.
The class goes from March 22 through May 10th. Sign-up page
Feb 2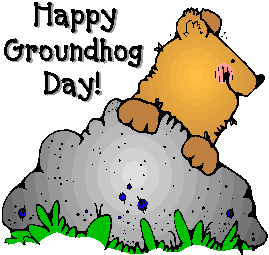 Happy Groundhog Day.
Punxsutawny Phil's prediction:
Expect an early spring this year. 
Feb 1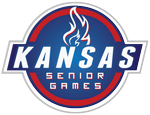 The Sunflower State Games announced that it has taken over operation of the Kansas Senior Games effective immediately. Formerly known as the Kansas Senior Olympics, the 2016 Kansas Senior Games will take place Septr 9-18 in Topeka. The Kansas Senior Games has been accepted as a full member of the National Senior Games Association, and will be a qualifying event for the 2017 National Senior Games set to take place in Birmingham, AL. more
Jan 28
Special Events in the next ten days:
Tue, Feb 2nd is Groundhog Day at Ad Astra Running for runLawrence members.
5 pm run led by club coaches. 5:45 refreshments, then at 6 pm a brief presentation on coaching tips for training from runLawrence certified coaches. 20% storewide discount to all runLawrence members (excluding electronics) all day.
Sat, Feb 6th - 1 pm to 4 pm: Moving Comfort Ladies Special Event at Garry Gribbles Running Sports. Sign up for a 15 minute time slot for a personalized bra fitting and pampering day!  Ladies should replace their sports bra as often as they replace their running shoes- approx. every 6 months. RSVP to Kendra Kuhlman, kendra.kuhlman@gmail.com, 785-856-0434

Mon, Feb 8th

- 

6:30 pm

Getting the Most from your Running Watch. Free presentation by Kevin Dinneen from Garmin.
Jan 26
For several months the Pedestrian-Bicycle Issues Task Force has been studying the issue of accessible pedestrian and cycling facilities/infrastructure in Lawrence. Their draft report has been released and is now available.
If you are interested in making Lawrence a better place to walk, run, and bike, please come make your interest known at TWO important meetings and ONE online survey:
Lawrence City Commission Study Session
Tue, Feb 9 at 4 pm at City Hall, 6 E 6th.


Pedestrian-Bicycle Task Force Public Hearing
Feb 3 - 5:45-6:30 pm at City Hall.
Lawrence Listens on-line survey: http://www.peakdemocracy.com/portals/217/forum_home.
Come let our community leaders know how much this issue means to our community!



Jan 25
We've been reporting on ultra distance runners, you know, the 100 miles and beyond people. Coming next month to the Southwind Theaters is the story of runner who ran a 100 - the 100 meters, very fast.
Race is an upcoming biographical sports-drama film. It is the first feature biopic film about African American athlete Jesse Owens, who won a record-breaking four gold medals at the 1936 Berlin Olympic Games.
The release date for Race is Feb 19th. Check with Southwinds for the exact dates in Lawrence.
Auf die Plätze.
.
Jan 24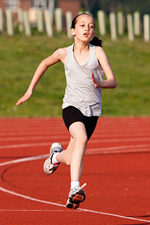 4 great reasons your child should join a track team this spring.
We are in the midst of another running boom. Everywhere you go, you see people running all over the place. It seems like everybody has a random number on the back of their car to announce their longest race to the world.
Unlike the first running boom that swept me up (via my dad) in the late 1970s and early 1980s, this one seems to have caught on with an even younger crowd. That has translated into the youngest track and cross country teams I have ever seen. more
(Mark Buerger, Youthletic)
Jan 20
Xuanzang's Way | The story of the inaugural 400km Ultra Trail Gobi Race from The African Attachment on Vimeo.
Jan 19

Shortly after sunrise, on June 14, 2015, a Finnish man named Ashprihanal Aalto stood on 84th Avenue, in Queens. At 6 am, he began running around the block. He passed a playground, some houses, and a technical high school. After half a mile, he returned to his starting point. Then he kept going—until, forty days later, he'd run 5,649 laps, for a total of thirty-one hundred miles. Aalto was one of twelve runners attempting the world's longest certified footrace, the Sri Chinmoy Self-Transcendence 3,100 Mile Race. Eight of the runners finished the race within the fifty-two-day time limit. Aalto finished fastest and broke the world record by almost a full day.
It may be that, in a broad sense, ultramarathoners are driven by something more secular than spirituality—they could be hungry for meaning. more
(Adam Alter, from the Dec 14, 2015 The New Yorker, Illustration by Keith Negley )
Jan 17
Congratulations to Molly Wood and Becky McClure on the their runs at the Chevron Houston Half Marathon this morning. Molly ran a 1:58:33; Becky did the 13.1 miles in 2:09:06.
Jan 16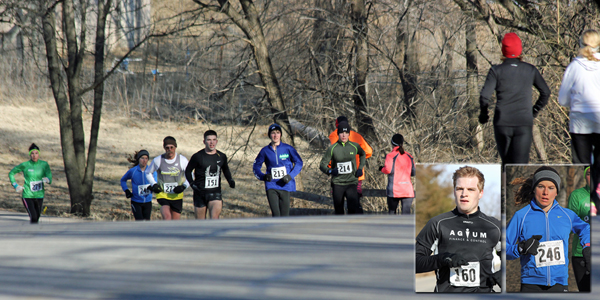 The 34th Annual Topeka to Auburn Half Marathon was held today in 25 degrees and sunny weather. Above, the runners turn on to El Cerrito Dr and come back out. The winners (inset) were Menco Schuurman (Lawrence) and Julie Thornton (Manhattan).
Instructions before the race: "For insurance reasons and everyone's safety, the use of headphones or headsets during the race is strictly prohibited." Race results show 16 people with a finish time, but DQd. They were caught on the finish line video wearing headphones or headsets.
more photos | results
Jan 14
Dan Kuhlman did a nice presentation on Literature and Running. One of his 5 favorite books is Once a Runner. The event was hosted by Ad Astra Running. (more photos by Gary Henry)