Results from the 2007 Dam Run, Mar 24

Jan 28, '08 - Jack Crook confirmed that three names and times listed below for the 07 Dam Run name the state honor roll. Add Tom Kreissler (M35-39) to the honor roll, his 44:44 got under the target time of 45:00.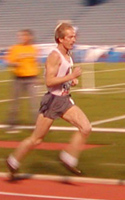 Mar 28 - Add Christian Wrisner (Odessa MO) to the list of state record holders. His 1:29:34 is the first ever time posted in Kansas for the male 13-15 category. Christian is age 14.
Mar 24 - Lawrence, KS. Two new state age group records were set today in the Dam Run 12K. Steve Riley set the new standard in the M55-59 with a time of 45:24 (besting Jay O'Neill's time of 48:27 from last year). Fran Breslauer improved on her time of 1:11:24 with a 1:09:37 today.
Ben Schloegel won the 12K men's race in 42:56 while Merrily Behrens (Leonardville KS) won the women's race in 58:14. In the 5K race, Mandy del Valle was the top female runner in 23:05 and Dan Parker-Timms posted an 18:44 for 1st.
12K: overall | age groups (Note: all times adjusted up one second)
5K: overall | age groups
12K Age Groups:
Cat

age pl

First Name
Last Name
City
St

time (min.sec)

overall
bib

adj. up 1"

12K
M25-29

Top M

Ben
Schloegel
Lawrence
KS

42.56

1

403
F30-34

Top F

Merrily
Behrens
Leonardville
KS

58.14

13

498
F0-12

1

Claudia
Fonseca
Kansas City
KS

69.05

33

401
F19-24

1

Karla
Jarecke
Lawrence
KS

59.38

17

414
F19-24

2

Brenda
Pracht
Lawrence
KS

64.45

23

472
F19-24

3

Dawn
Filkins
Lawrence
KS

66.06

25

408
F19-24

4

Tiffany
Kramer
Lawrence
KS

66.26

28

478
F19-24

5

Katie
Lynch
Lawrence
KS

70.23

38

475
F19-24

6

Amanda
Hernandez
Topeka
KS

70.25

39

481
F19-24

7

Becky
Thomas
Lawrence
KS

72.05

44

467
F19-24

8

Cristina
Estenes
Lawrence
KS

73.26

45

488
F19-24

9

Whitney
Sizemore
Lawrence
KS

74.35

52

470
F19-24

10

Jennifer
Schack
Lawrence
KS

91.58

60

417
F25-29

1

Sam
Britton
Lawrence
KS

58.44

16

497
F25-29

2

Mimi
Urish
Lawrence
KS

64.15

21

419
F25-29

3

Monique
Fees
Lawrence
KS

64.19

22

423
F25-29

4

Kelly
Gontesky
Tonganoxie
KS

70.12

37

484
F25-29

5

Jamie
Kennedy
Lawrence
KS

74.19

51

407
F25-29

6

Adriane
Graham
Lawrence
KS

75.00

54

483
F25-29

7

Aisha
Lindt
Overland Park
KS

80.00

58

147
F30-34

1

Erica
Banuski
Oak Grove
MO

73.47

47

500
F30-34

2

Melisa
Courtney
Lawrence
KS

74.18

50

404
F30-34

3

Teri
Ediger
Lawrence
KS

75.42

55

489
F30-34

4

Kelli
Bates
Lawrence
KS

75.43

56

499
F35-39

1

Peggy
Brown-Grantham
Lawrence
KS

69.34

35

422
F35-39

2

Lisa
Hallberg
Lawrence
KS

71.42

42

482
F35-39

3

Adrianne
Brynds
Lawrence
KS

74.48

53

496
F35-39

4

Sherry
Warren
Baldwin
KS

127.16

61

466
F40-44

1

Ellen
Jenson
Lawrence
KS

66.12

26

480
F40-44

2

Sara Jane
Zimmerman
Lawrence
KS

127.16

62

465
F45-49

1

Debbie
Lopez
Lawrence
KS

70.29

40

477
F65-69

1

Frances
Breslauer
Lawrence
KS

69.37

36

410
M13-18

1

Christian
Wrisner
Odessa
MO

89.34

59

406
M19-24

1

Alex
Luedtke
Kansas City
MO

45.12

3

476
M19-24

2

Tyler
McDaniel
Pleasant Hill
MO

62.20

18

405
M25-29

1

Chris
Francisco
Lawrence
KS

48.31

5

411
M25-29

2

Nick
Prewett
Lawrence
KS

51.56

6

471
M25-29

3

Andy
Vogel
Topeka
KS

55.15

8

415
M25-29

4

Jake
Gontesky
Tonganoxie
KS

57.08

10

485
M25-29

5

Zachary
Claar
Lawrence
KS

71.04

41

493
M25-29

6

Jon
Sloan
Lawrence
KS

74.12

49

469
M30-34

1

Douglas
Kieweg
Lawrence
KS

53.06

7

400
M30-34

2

Jason
Lehnherr
Topeka
KS

57.44

11

463
M30-34

3

Andy
Sample
Topeka
KS

62.37

19

420
M30-34

4

Ken
Hite
Lawrence
KS

68.56

31

464
M35-39

1

Tom
Kreissler
Lawrence
KS

44.44

2

416
M35-39

2

Kelly
Johnson
Lawrence
KS

65.33

24

479
M35-39

3

Daniel
Fonseca
Kansas City
MO

69.09

34

402
M40-44

1

Kevin
Doyle
Lawrence
KS

58.06

12

492
M40-44

2

Jeff
Wagoner
Overland Park
KS

58.29

15

413
M40-44

3

John
McDermott
Lawrence
KS

71.47

43

474
M40-44

4

Earl
Brynds
Lawrence
KS

73.59

48

495
M45-49

1

John
Frydman
Lawrence
KS

55.59

9

486
M45-49

2

Paul
Patterson
Lawrence
KS

79.23

57

473
M50-54

1

Steve
Riley
Lawrence
KS

45.24

4

409
M50-54

2

Bob
Sample
Topeka
KS

58.25

14

421
M50-54

3

Matthew
Butner
Kansas City
MO

64.06

20

494
M50-54

4

David
Dunfield
Lawrence
KS

68.45

30

491
M50-54

5

Michael
Smith
Lawrence
KS

69.02

32

412
M55-59

1

Ronald
Francisco
Lawrence
KS

66.24

27

487
M55-59

2

Gary
Teske
Lawrence
KS

68.13

29

468
xxxx
unknown

73.38

46

418
5K Age Groups:
| | | | | | | | | |
| --- | --- | --- | --- | --- | --- | --- | --- | --- |
| Cat | age pl | First Name | Last Name | City | St | time (min.sec) | overall | bib |
| | | | | | | adj. up 1" | | |
| 5K | | | | | | | | |
| M35-39 | Top M | Dan | Parker-Timms | Lawrence | KS | 18.45 | 1 | 156 |
| F30-34 | Top F | Mandy | del Valle | Lawrence | KS | 23.06 | 9 | 107 |
| | | | | | | | | |
| F0-12 | 1 | Natalie | Clarke | Lawrence | KS | 33.46 | 51 | 103 |
| | | | | | | | | |
| F19-24 | 1 | Whitney | Lopez | Lawrence | KS | 27.47 | 23 | 125 |
| F19-24 | 2 | Caitlin | Johnson | Shawnee | KS | 28.45 | 27 | 119 |
| F19-24 | 3 | Samantha | Peterson | Lawrence | KS | 30.12 | 33 | 131 |
| F19-24 | 4 | Ashley | Davis | Lawrence | KS | 34.27 | 54 | 106 |
| | | | | | | | | |
| F25-29 | 1 | Sarah | Bryant | Overland Park | KS | 28.54 | 28 | 98 |
| F25-29 | 2 | Stacy | Snider | Lawrence | KS | 30.01 | 32 | 141 |
| F25-29 | 3 | Marzha | Fritzler | Lawrence | KS | 30.20 | 34 | 162 |
| F25-29 | 4 | Megan | Thompson | Lawrence | KS | 32.32 | 40 | 143 |
| F25-29 | 5 | Brooke | RIffel | Ottawa | KS | 35.12 | 55 | 168 |
| F25-29 | 6 | Sara | Prewett | Lawrence | KS | 40.26 | 60 | 163 |
| | | | | | | | | |
| F30-34 | 1 | Karie | Fahrenholz | Kansas City | MO | 27.51 | 25 | 114 |
| F30-34 | 2 | Leticia | Cole | Lawrence | KS | 28.54 | 29 | 104 |
| F30-34 | 3 | Amanda | Doleman | Lawrence | KS | 32.33 | 41 | 110 |
| F30-34 | 4 | Katie | Hicks | Topeka | KS | 32.50 | 42 | 117 |
| F30-34 | 5 | Sarah | Drewes | Lawrence | KS | 32.58 | 44 | 111 |
| F30-34 | 6 | Jessica | Schell | Topeka | KS | 36.53 | 57 | 137 |
| F30-34 | 7 | Sandra | Salem | Lawrence | KS | 41.31 | 62 | 136 |
| | | | | | | | | |
| F35-39 | 1 | Jonni | Budenbender | Lawrence | KS | 27.49 | 24 | 99 |
| F35-39 | 2 | Jiyeon | Lee | Lawrence | KS | 33.28 | 47 | 121 |
| F35-39 | 3 | Carla | Bryant | Lecompton | KS | 33.48 | 52 | 97 |
| | | | | | | | | |
| F40-44 | 1 | Susan | Young | Lawrence | KS | 25.52 | 15 | 165 |
| F40-44 | 2 | Robin | Lewis | Berryton | KS | 30.23 | 36 | 122 |
| F40-44 | 3 | Leslea | Rockers | Garnett | KS | 33.18 | 45 | 134 |
| F40-44 | 4 | Gretchen | Anderson | Lawrence | KS | 40.26 | 61 | 157 |
| F40-44 | 5 | Chris | Clarke | Lawrence | KS | 43.30 | 65 | 101 |
| | | | | | | | | |
| F45-49 | 1 | Stacy | Riggins | Lawrence | KS | 25.53 | 16 | 133 |
| F45-49 | 2 | Sherrie | Heaney | Richmond | KS | 33.30 | 49 | 116 |
| | | | | | | | | |
| F50-54 | 1 | Twyla | Dubois | Lawrence | KS | 29.02 | 30 | 112 |
| F50-54 | 2 | Cheri | Thompson | Lawrence | KS | 29.28 | 31 | 142 |
| F50-54 | 3 | Karen | Schneller | Lawrence | KS | 31.05 | 38 | 159 |
| F50-54 | 4 | Sherry | Huschka | Ottawa | KS | 33.18 | 46 | 118 |
| F50-54 | 5 | Cherise | Sedlock | Lawrence | KS | 45.09 | 66 | 164 |
| | | | | | | | | |
| F55-59 | 1 | Cheryl | Hjetland | Topeka | KS | 50.31 | 68 | 148 |
| | | | | | | | | |
| F60-64 | 1 | Mary | Boucher | Lawrence | KS | 33.28 | 48 | 95 |
| F60-64 | 2 | Sally | Nadvornik | Lawrence | KS | 33.42 | 50 | 129 |
| | | | | | | | | |
| M0-12 | 1 | Daniel | Clarke | Lawrence | KS | 27.30 | 21 | 102 |
| M0-12 | 2 | Levi | Sedlock | Lawrence | KS | 32.52 | 43 | 166 |
| M0-12 | 3 | Calvin | DeWitt | Lawrence | KS | 41.34 | 63 | 109 |
| | | | | | | | | |
| M19-24 | 1 | Chris | Hutchings | Pittsburg | KS | 20.52 | 4 | 151 |
| | | | | | | | | |
| M25-29 | 1 | Brandon | Riffel | Ottawa | KS | 24.45 | 10 | 167 |
| M25-29 | 2 | Jeff | Monger | Kansas City | MO | 24.59 | 11 | 128 |
| M25-29 | 3 | Jason | Jenicke | Lawrence | KS | 36.55 | 58 | 161 |
| | | | | | | | | |
| M35-39 | 1 | Scott | Hedrick | Lawrence | KS | 20.19 | 3 | 160 |
| M35-39 | 2 | Kurt | Schueler | Lawrence | KS | 22.03 | 6 | 158 |
| M35-39 | 3 | Kris | Schorno | Lawrence | KS | 39.52 | 59 | 139 |
| | | | | | | | | |
| M40-44 | 1 | Delton | Graves | Ottawa | KS | 21.28 | 5 | 115 |
| M40-44 | 2 | Larry | Rodgers | Platte City | MO | 27.28 | 20 | 135 |
| M40-44 | 3 | Michael | Clarke | Lawrence | KS | 27.43 | 22 | 100 |
| M40-44 | 4 | Roy | Lewis | Berryton | KS | 28.35 | 26 | 123 |
| M40-44 | 5 | Cal | DeWitt | Lawrence | KS | 41.35 | 64 | 108 |
| | | | | | | | | |
| M45-49 | 1 | Pete | Peterson | Lawrence | KS | 25.43 | 14 | 130 |
| M45-49 | 2 | Michael | White | Eudora | KS | 30.49 | 37 | 144 |
| | | | | | | | | |
| M50-54 | 1 | Scott | Hutchings | Bucyrus | KS | 25.12 | 12 | 150 |
| M50-54 | 2 | Byron | Endsley | Topeka | KS | 25.32 | 13 | 113 |
| M50-54 | 3 | Ed | York | Ottawa | KS | 26.28 | 17 | 145 |
| M50-54 | 4 | Michael | Watkins | Lawrence | KS | 26.54 | 18 | 149 |
| | | | | | | | | |
| M55-59 | 1 | Terry | Slocum | Lawrence | KS | 20.12 | 2 | 155 |
| M55-59 | 2 | Ken | Johnson | Lawrence | KS | 22.23 | 8 | 120 |
| M55-59 | 3 | Tom | Mersman | Lawrence | KS | 26.59 | 19 | 126 |
| | | | | | | | | |
| M60-64 | 1 | William | Dutton | Topeka | KS | 22.08 | 7 | 153 |
| M60-64 | 2 | Daniel | Breslauer | Lawrence | KS | 30.22 | 35 | 154 |
| M60-64 | 3 | Bill | Kinnersley | Lawrence | KS | 31.26 | 39 | 152 |
| | | | | | | | | |
| M65-69 | 1 | Karl | Schorno | Lawrence | KS | 36.08 | 56 | 138 |
| | | | | | | | | |
| M70+ | 1 | Melvin | Miller | Pomona | KS | 34.15 | 53 | 127 |
| M70+ | 2 | Al | Pursell | Leavenworth | KS | 45.12 | 67 | 132 |