Nov 24 - Full results from runLawrence's Thanksgiving Day 5K.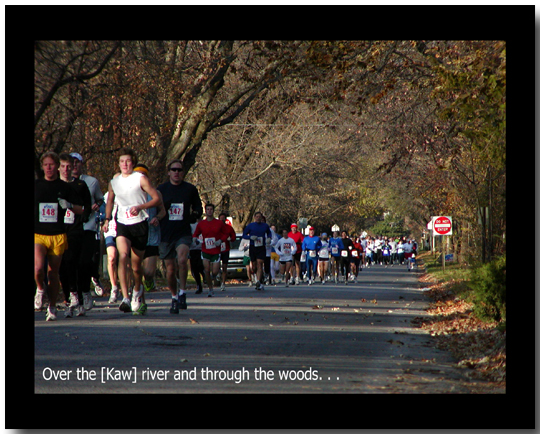 Dylan Hedges(white shirt) and Luke Wiens(148)lead the pack down Elm Street during the Thanksgiving Day 5K. Both went on to finish 1st and 2nd. Almost 200 competitors finished the run on a nice 40 degree day. (gmw photos)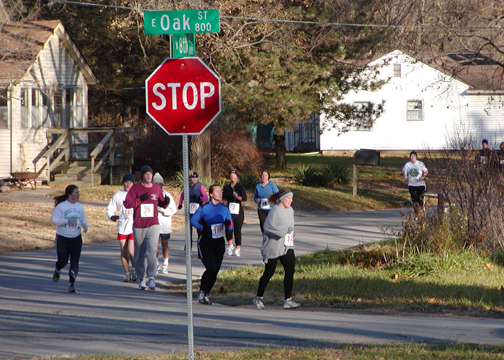 8th and Oak, where nobody is stopping.


Nov 16 - Here's a memo Dick Lipsey first sent out to Mad Dog members, but the appeal can go to anyone in Lawrence with an interest in supporting the running community.

Hi, all,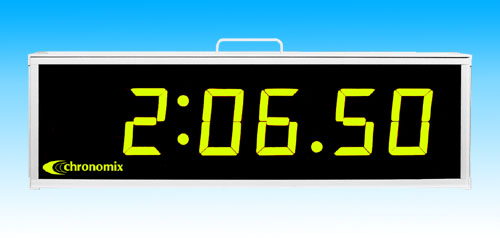 As some of you know, the runLawrence club is raising money to buy a timing clock for races. The cost for the clock, tripod, and rain cover is a little over $3,000.

In the past, we have borrowed the clock from the Lawrence Track Club for our annual runs, but that one is pretty much worn out. If you're in a position to make a donation toward RunLawrence's new clock, it would be much appreciated... and it would allow the MadDogs to borrow it occasionally.
[Any donations to our club are tax-deductible to the donor] through its affiliation with the Road Runners Club of America. I have a copy of page 1 of the notification letter for anyone who is interested, and the club has the full letter.
Please direct any questions to Ed Payne at payne@ku.edu.
And if you can make a donation, please make your check payable to RunLawrence,
and write "Clock (MadDogs)" on the memo line.

You can send a check to: Ed Payne, 3524 Tillerman Dr., Lawrence, KS 66049

thanks to all,
Dick Lipsey