Encouraging you to run with the club, Mad Dogs, Sandrats, Red Dog, school teams, or on your own...
Apr 30 - Mike Cormack was pleased with the attendance at the Hilltop Hustle and glad the rains held off during the run. A good turnout of KU Student Success staff was led by Vice Provost Marlesa Roney with the Admissions staff out in force. A thank you to the Red Doggers and Mad Dog runners for showing support. Due to the construction of the new Docking Gateway, Jayhawk Blvd was closed by the Union, so the coure was rerouted to turn south at Danforth Chapel to the turnaround by Twente Hall. Results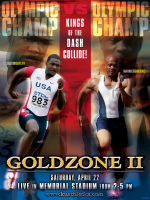 Apr 25 - Someone from Grenoble, France, discovered our website looking for running gear. Our reader was able to get a translation of the website thanks to Google. It's in machine French. Check out some of the other links and you will see that Microphone Cormack is one of the contacts for the Hilltop Hustle. Our members include the host of this weekend's club social: Hamburger De Greg. This tidbit has been retrieved by your web site editor, Peu de gène. Saucisson is spelled correctly.
Apr 22 - Check the photos from To the River and Back 5K/10K. Photo above right shows pack coming out of the Pinckney School street tunnel. KU Relays had 26,000 in attendance today. The Gold Zone concept of showcasing the best races within a 3 hour time slot has been a success the second year in a row.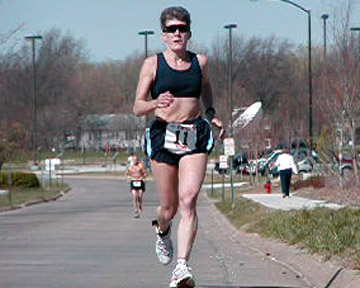 Apr 17 - 100 - 50 - 1. Are these prime numbers? Perhaps for Topekan Marla Rhoden, who ran her 100th marathon at Boston today at age 50 and took 1st in her age division. She posted a time of 3:16:15. Marla continues to prove to be one of the best runners from Kansas. She and husband Brad wanted Boston to be her #100 and the victory made it so sweet. Kurt Caywood wrote a nice tribute to Marla in today's Topeka Capitol-Journal.
Eleven Lawrence (KS) runners were listed for the start. Some of you spent the morning either watching the race, or like many at work logged on to get the live report. The Sunday Lawrence Journal-World featured two running moms, Denise Severn and Erika Nilles-Plumlee, who "find true joy" in their running.
If you didn't catch it earlier, here are the results for 10 locals:
                                                  place___________
 Bib   Name                age/sex   time   pace  overall division

 3000  Richard Friesner      24 M  2:56:20  6:44     717    510
 5011  Scott McVey           27 M  3:16:29  7:30    3190   1843
 3447  Scott Forkenbrock     35 M  3:23:22  7:46    4449   2234
 5781  Jennifer West         30 F  3:23:22  7:46    4451    392
10263  Jack Hope             57 M  3:29:10  7:59    5933    484
 9513  Jeffery Sigler        45 M  3:44:32  8:34    9775   2981
17166  John Reed             65 M  3:49:40  8:46   10969    116
13661  Erika Nilles-Plumlee  31 F  3:53:02  8:54   11724   2494
17300  Molly Wood            51 F  4:27:07 10:12   16661    473
14430  Denise Severn         36 F  4:29:31 10:17   16867   3700
Local news coverage for running has been great with reports on the Raintree Run, features on local runners, and certainly more with the Relays this week. We're finding true joy indeed.
Apr 16 - The club newsletter, the Second Wind, is now out on the eve of the Boston Marathon (live coverage). A special thanks to Janet Hutchingson again for another fine job. Be sure to see the KU Relays later this week. TIm Weaver has done a whale of a job promoting this spring classic of a track meet. See you in the stands.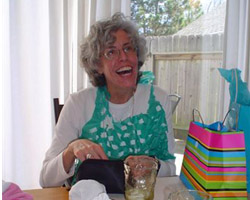 Apr 12 - Raintree results have been updated.
Molly Wood (right) opens gifts at the Boston Marathon sendoff party held last Saturday. RunLawrence wishes her and all the other Lawrencians a successful and fun 26.2 on Apr 17. (Marsha Odgers photo)
Runners can be just about anybody, but not Chuck Woodling . . . (another piece from the Journal World).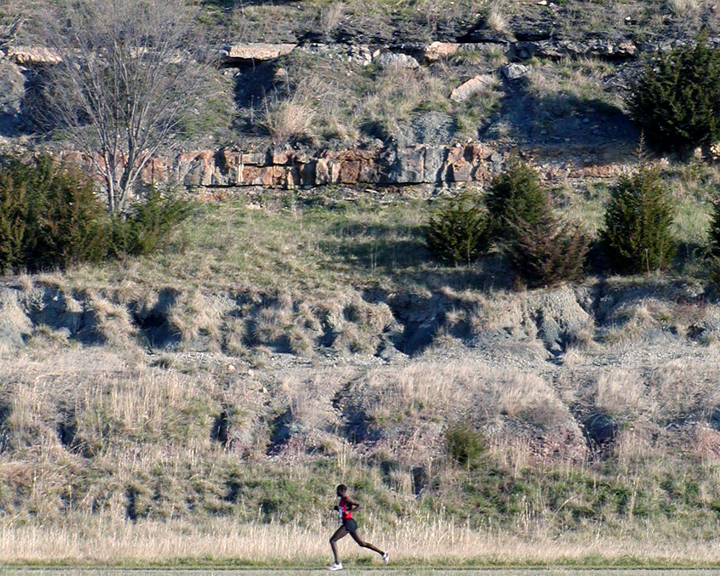 Apr 9 - Raintree Half Marathon: Lenexan in Kansas (or Kenya)? (gmw)
Complete Results | Journal-World story
Apr 8 - About 125 runners enjoyed the springtime colors as they ran along the top of "Hogback Ridge" (aka Jayhawk Blvd) for the first Laps for Literacy 5K, sponsored by the School of Education Student Organization. Several runners mentioned today was a warmup for Sunday's Raintree race. (top left photo - near the Chi Omega fountain just before the finish. - gmw).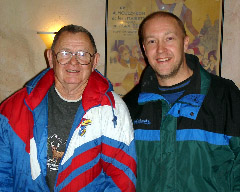 Apr 7 - Today's Lawrence Journal-World did a nice article on Paul Heitzman (left in photo).
Apr 3 - Minutes from the April meeting.
Apr 2 - Lawrencians went to the Capital City in numbers and several people won awards and three made the state honor roll. To make the honor roll you need to beat the target time for your age category. Congrats to Fran Breslauer, Steve Riley and Dee Boeck.
Special thanks to Dave Halferty, Tony Estes and the Sunflower Striders for another fine event.
| full results | medal winners & photos |