Encouraging you to run with the club, Mad Dogs, Sandrats, Red Dog, school teams, or on your own...
Aug 28 - Congratulations to Elizabeth Weeks, Kent Dobbins, Dan Cool and Matthew Royal on their wins at the Jackson County (MO) Triathlon Aug 27th. List of award winners from Douglas County :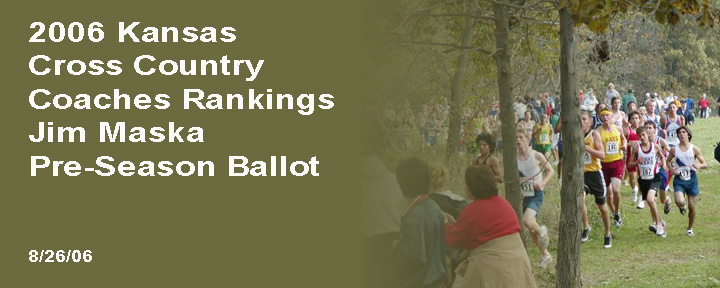 Aug 27 -Lawrence, Free State, Seabury, Eudora, Tonganoxie, Perry-Lecompton, Baldwin, DeSoto are among local teams garnering mention in preseason XC Coaches rankings. Click on the photo for a complete list. (from Paul Boone) Looks like the competition is fierce in the 4A division this year and you don't have to drive very far to see it all.
Aug 24 - Gary Henry's full report:
The short version is -- I did it, on my 3rd attempt, after painful failures in 2003 and 2005, and after counting the days to get back there for 2006. I came in 153 of 199 finishers and 319 entrants, 25th of 36 in my 50-59 age group, at 29 hours, 18 minutes and 59 seconds into the 30 hour race.
But the real fact is that, without crew and pacer who believed in me, I would've stalled out AGAIN at Fish Hatchery inbound -- the same 76.5 mile mark where I dropped in 2003. Greg Burger was the pacer who led me across the toughest stretch of race I've ever been on, which just happened to come when I was as beaten as I've ever been, both physically and mentally -- Sugarloaf Pass, at 2 a.m., in the fog. It's called Sugarloaf, but there's nothing sweet about it. It is one big PAIN IN THE BUTT!! more
Aug 21 - Gary Henry, a regular Mad Dog runner, completed the Leadville 100 this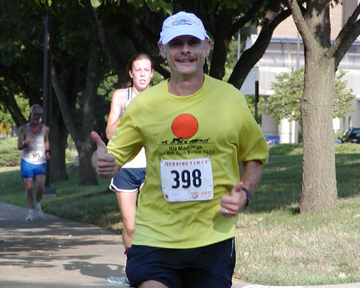 weekend. Brief report from Greg Burger: "Gary did great....I helped him get over Hope Pass from mile 50-60....when he made it to Fish Hatchery at mile 76 he was exhausted and wanted to quit....I was going to help him for just another 10 miles to May Queen (over Sugarloaf mountain)...but I knew if I left him at May Queen he would not have finished it so I went with him the last 24 miles to get him in in time..When we were coming down Sugarloaf I think he started to sleep walk...I had to get him running again for awhile to get his butt woke up again.....I am so happy for him....it was tough but he did it." - Greg
Congratulations to Gary for a successful run and to Greg for being one helluva support crew!
Gary Henry (Lawrence, KS) in 29 hrs 18 min 59 sec, 25th in M50; 153th overall.
Greg's 4th place tradition was upheld this weekend at the KC Area Trail Race Series event at Landahl Park. Dan Kuhlman, also a Sandrat with an address from Lecompton, took 4th overall in the 10K race - tops among the Douglas County finishers.
Minutes from the August club meeting have been posted.
Aug 20 - Welcome two new members: Francesca Muccini and Jonathan Whiting. They both recently signed up on-line.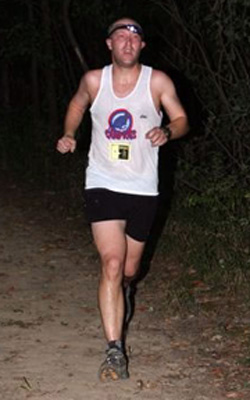 Aug 13 - Friday evening Greg Burger represented runLawrence at the Psycho Night 10K Trail Run at Wyandotte County Lake Park. As Bad Ben Holmes reports, "Greg always seems to take 4th place in all of our 'Trail Nerd' events, and this race was no exception. He even picked bib number '4' at registration." Greg finished the hilly 10K race in 46:16. The course had 3730 ft of elevation change. Temp was 90 degrees. more photos
Aug 12 - Even mother nature cooperated in yet another tribute to Lawrence's Red Dog (Don) Gardner. A 4 mile race on the Kansas River levee was uncharacteristically cool Saturday morning as 250 walkers and runners participated in a fundraiser for the Boys & Girls Club. Results: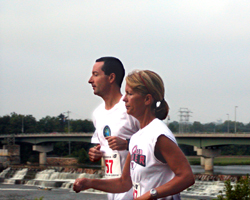 Aug 10 - This evening at 6 pm, Red Dog (Don) Gardner was honored by Governor's Office and awarded the first Hometown Health Hero Award. Red Dog was the unanimous choice in the voting. Rod Bremby, secretary of the Kansas Dept of Health and Environment and other state dignataries presented the award. Red Dog was choked up enough to take a few seconds to say a few words. As always, he thanked his wife Bev and the many leaders who make the program such a draw year after year. . . and now year round. Our congratulations to Red Dog, and, of course, all the participants who've come out in huge numbers year after year.
Aug 9 - Friday is the KC Trail Nerds' evening run at Wyandotte County Lake. If you need a light, check out this ad from Sweden (runners are checking in, reading a map and going on).
Aug 7 - Today is Abebe Bikila's birthday (born in 1932). Bikila was the barefoot Ethiopian who won the marathon in Rome in 1960, then went on to repeat in Tokyo in 1964. The Rome marathon was held in the evening to avoid the afternoon heat, unlike the 100 degree heat in Athens in 2004 for the women's race. It was 102 yesterday. Imagine handling that heat like Deena Kastor did for 2 hrs 20 min to win an Olympic medal.
If you liked the slideshow of the Horsethief Run, Dick Ross graciously gave us a copy and it's available for your viewing pleasure at any time.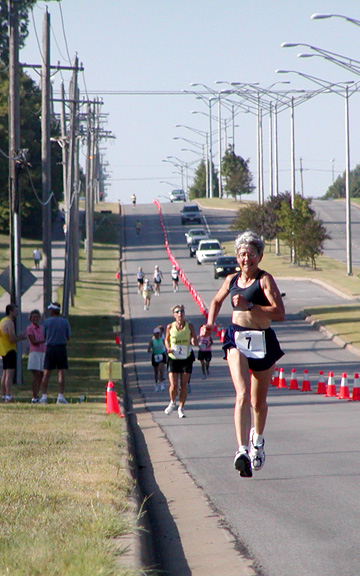 Aug 6 - At today's (downhill) Quivira Mile in Overland Park, Dee Boeck won the F50+ race in 6:37; Keith Dowell was 8th in the M50-59 race in 5:12, Wally Brawner (Tonganoxie) was 2nd in the M60+ in 6:06 and D.J. Hilding ran a 4:18 for a 4th place finish in the M20-34 race. The event was a late addition to this year's MARA Grand Prix Series. results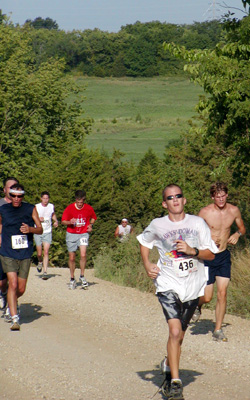 (Sat, Aug 5) - Diane Waltho ran the Spearfish Canyon (SD) Half Marathon. She placed 7th in the F50-59 category with a time of 1:55:01.
Aug 5 - 375 people ran the Crosstown Unity 10K today. Red Dog was the official starter - bullhorn in one hand and the gun in the other. Wondered how many of the Dog Days people thought, "this hill on West Campus is just like our workouts - a piece of cake!" Top winners today were Kory Cool of Manhattan (33:29) and Kelly Renfro of Lawrence (42:18). The heat did bother many runners but a few did post PRs. See results.