Dec 24 - Jerry & Joy (Meyen) Smith visiting from Houston, joined the KC Trail Nerds river trail run yesterday doing 2 loops (approx 18 mi). Another holiday and another opportunity for runners returning home to meet other runners, reminisce and visit family. Joy grew up in Lawrence, ran for LHS, the Air Force Academy and eventually qualified for the US Olympic Team Marathon race - a few years ago (20 years?). It was her first time on the trails. Greg Burger is a regular with the Trail Nerds and did the two loops. Dan Kuhlman happened to arrive at the start of the 2nd loop, so I team-tagged him as I left after one loop. Happy Holidays and happy trails until we meet again . . . Gene Wee
Dec 20 - Correction: The Topeka to Auburn Half Marathon is Jan 20 (it was mistakenly listed a week later). Get ready for the opening event in the new year. Register early if you can.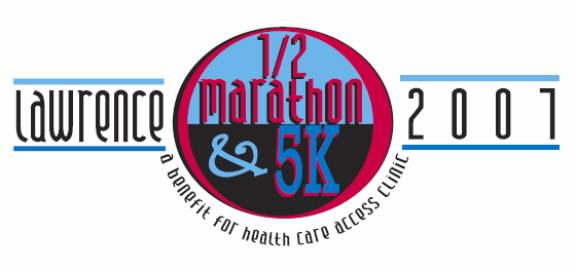 The Lawrence City Commissioners last night agreed (5-0) to provide services and support for the April 15 Lawrence Half Marathon. The Rileys, Marcia and Steve, along with Health Care Access officials presented the case the run would be of great benefit to the community. Funds will support HCA in serving people without health insurance. Funding of $5,600 is good for the 2007 event and future funding will depend on allocating funds from the appropriate city sources.
Dec 14 - From today's Journal-World:
Blazing new trails: Area runners place first, third at national. . . At the start of this fall's high school cross country season, it looked like the area 4A schools were going to showcase the state's best runners. Heather Garcia and Brittney Graff led a contingent of Kansas runners to dominate a race in Florida.
Coach Redwine lands Pan Am post: Stanley Redwine will coach Team USA at the 2007 PanAm Games July 13-29 in Rio de Janeiro, Brazil. Coach is back on the international scene.
Dec 12 - Dec 10th was a day of marathons for many local runners. Top results include Kent Dobbins in Tucson taking 2nd in the M60-64 category in 3:42:14. Jenn West did the same distance at the Dallas White Rock in 3:17 coming in 3rd in the F30-34 race. Diane Waltho's 35th place (in 4:19:24) in the F50-54 race was the best place finish among the large contingent at Las Vegas.
Jorge Carvajal reports on his Las Vegas experience:
"I did not qualify for Boston although Boston most likely will let me in with my NY time if I decide to race it. I raced beautifully until mile 16 (at this point I had built about a 2 minute cushion for the 3:30 finish) when I got tired and slowed down. Then I picked up the pace about mile 20 but at mile 25 my legs locked and the last two miles, I almost walked. The race was pretty windy until about mile 14." Local runners' results:
And a special thanks to those who've renewed your memberships. . .
Dec 10 - Membership renewal time. If you haven't already do so, please join us for the 2007 season as a member of runLawrence. Your support is much appreciated as we continue to promote running as a healthy life style and report your endeavors through race results, pictures or news reports on any running related event. Click on join us.
Dec 9 - Thanksgiving Day 5K shirts are here. If you entered the 5K and did not get a shirt on race day: starting Sunday, December 10th, you can pick up your shirts at Francis Sporting Goods , 731 Mass. (785-843-4191) during regular business hours. Just ask the store staff. You have until January 15 to pick them up. All shirts were special ordered, so we are unable to make any exchanges or order more. Any questions, please contact us.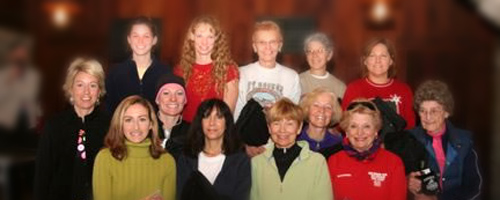 At the annual MARA Chili Run at Wyandotte Co. Lake Park, Jodie Smith (in Dick Ross photo above, 2nd row left) and Dee Boeck (2nd row, 2nd from right) repeated as champions in their age divisions (F20-24 and F55-59 respectively) in the year long MARA Grand Prix Series of races.
Other local runners and their final standings (pending MARA membership):
2nd places: Marla Rhoden (F50-54), Fran Breslauer (F65-69)
3rd places: D J Hilding (M20-24), Karen Hyde (F45-49)
4th places: Diane Waltho (F50-54), Tony Estes (M45-49), Brad Rhoden (M50-54), Wally Brawner (M65-69)
5th places: Celeste Leonardi (F60-64), Ross McDaniel (M45-49)
complete standings
Dec 4 - Here are two videos: the first is a YouTube report from Sat's O Mt O' (orienteer on Mt Oread) 4K race. The second a music video by a popular Czech musician who happened to use radio orienteering as the theme. Kind of accents the nerdy side of the sport. Nice running terrain (except the water crossing is deeper than at Clinton State Park). Anyone know enough Czech to translate? The music is good and you get the drift of the story. (Thanks to Attackpoint for the video lead; YouTube report by Mike Eglinski).
Results from yesterday's CCCC (Clinton Cross Country Challenge). The Journal-World covered the event with a write up and photo essay. Now, in comparison these guys seem less zany than the radio orienteers.
Dec 3 - Don Cackler was selected as the next president for runLawrence. Congratulations to Don. Check the minutes from today's club meeting. A special thanks to Dee Boeck for leading the club the first three years.