Mar 26 - Results from the Dam Run 12K & 5 K are in. Three state records were set including runLawrence's own Fran Breslauer posting the best time for the F65-69 age category. Congratulations to Fran and to Stan Shwarlo and Jay O'Neill (shown above leading the 12K pack) (gmw photo).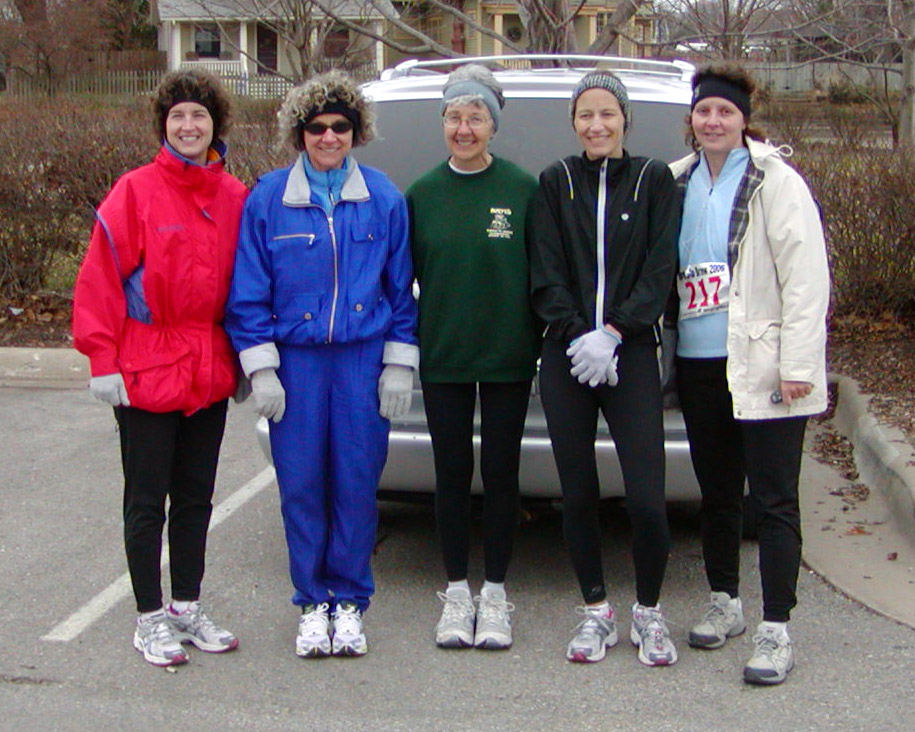 Mar 24 - Final results are in from last Sunday's Brew to Brew Race. ( left) The runLawrence women's relay team successfully defended their first place title from 2005. more photos
"I am holding informal trail runs at Clinton Lake on Sundays at 5:30 pm every Sunday. Meet at the Corp of Engineers offices. Distance is up to who shows up and what they want to run...the trails have mile markers so you can pick your distance....the more people that show the more chance that someone will be going the distance that you would like to run....Hope to see you on Sundays...More info, call me at 887-6745." - Greg Burger
Mar 12 - Great day for the Shamrock Shuffle 5K this morning - warm and sunny attracted over 300 participants for the 5K run. Complete results.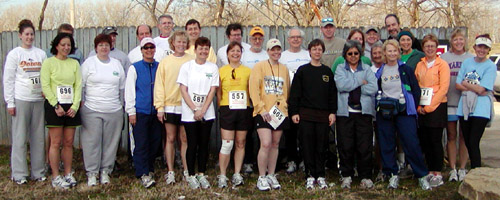 the Red Dog Group before the Shamrock Shuffle 5K (gmw)
Steve Riley, after helping with the Shamrock Shuffle, drove to Manhattan and won the M50 category in the afternoon 10K. Diane Waltho was 2nd in the F50 category behind Marla Rhoden.
Mar 7 - Minutes from the Sunday, March 5th meeting.
April 2 (next club meeting) is the deadline if you want to order club running gear and have it in time for the warm weather running season.
Mar 3 - The pace per mile is now listed for the state 12K records. Are you a contender?
Feb 26 - The pace calculator now includes the 12K distance.