Nov 28 - Four people at the Thanksgiving Day 5K ran fast enough to make the state honor roll (road racing records and rankings): they are Lawrencians Fran Breslauser (F65-69) setting another personal record of 26:34 (times rounded up for the honor roll), Teri Oberzan (F60-64) with a 25:44, Steve Riley (M50-54) in 17:57, and from Wichita Elaine Chavez (F45-49) with a time of 20:46. Final approval of making the honor will be made by the state statistician Jack Crook.
Nov 27 - Coming April 15th - the Lawrence Half Marathon and 5K.
The former Raintree Run has a new name and now will include the heart of the city and Kansas University as its course. The organizers, Marcia and Steve Riley,hope the event still can pull in the more than 1,600 runners who participated in last year's race. Story from the Journal-World .
Nov 25 - Janet Huchingson has another issue of The Second Wind out:
3rd Thanksgiving Day Run Record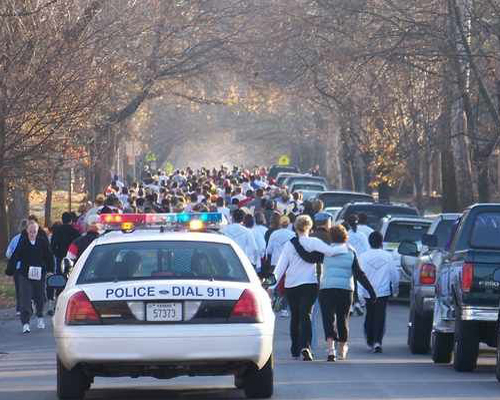 That turkey (run) just keeps growing every year. This year we had 397 runners who crossed the finish line, up from just under 200 last year and 97 the first year.
Some local runners said they only heard about the race this year, so word is spreading. President Dee Boeck said our great web site and more publicity contributed to the increased awareness, and the great weather brought out even more participants. more
Nov 24 - Many local runners ran the Gobbler Grind on Nov 19. You can see the results from the race web site. Use the search button to look up a particular person or home town. Thanks to Evan Ice for the link.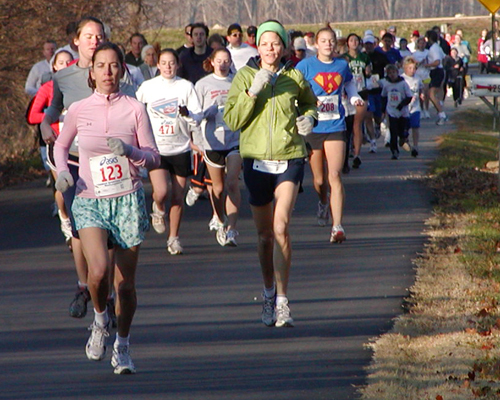 Nov 23 - Today's Thanksgiving Day 5K set a new attendance record going over 400 entries and doubling last year's number. RunLawrence thanks everyone for coming out on such a nice day. Congratulations to our top runners: Adrian Ludwig and Natasha Roetter.
left: Starla Jones (Tonganoxie) leads a group at the Thanksgiving Day Run.
With a main street called Massachusetts, it's only fitting to have a winner from Boston. Natasha set the best time in the women's division doing the 5K in 18:47. Ludwig is the home grown talent and KU athlete setting the best time of 15:40 in the men's race. But it was equally great to see all the families who came out and shared time together. This scene happened in many cities around the country. We hope you all had a great Thanksgiving Day.
Results: overall | age groups
Nov 19 - Results from this year's Living History Farm Race in Des Moines. Thanks to Jacob Kucza for the link. Didn't have time to pull out the Lawrence runners, but you can use your browser's Edit > Find tool (type in "Lawrence . . . or Lecompton, Eudora, Emporia or whatever" in the "find what" line). Matt Riley was top guy, followed by Tom Kreissler, then Steve Riley. Constance Tieghi & Keith Dowell (shown below) were also at the run.
Nov 17 - Volunteer turkey needed - no experience required. For the Thanksgiving Day 5K, we are looking for someone dressed up as a turkey to follow the race and be the last finisher. This will help the finish line crew as well remind everyone they've "gotta run!" Please contact the HR dept of runLawrence (aka Gene at 841-3587). An equal opportunity employer.
Nov 16 - We're pleased to announce as of today we hit 200 pre-entries for the Thanksgiving Day race. Thanks everyone for signing up. Over half of you chose to sign up on-line. We'll definitely have that option whenever possible. We made a good effort to order a lot of size "small" shirts but we have run out. We plan to order more shirts as needed. For locals, we will announce a location where you can pick them up. For out-of-towners, any late orders will be mailed to you.
Remember: packets can be picked up early from Francis Sporting Goods on Wed (3 pm to 6 pm) as well as at the Visitors Center on Thanksgiving Day.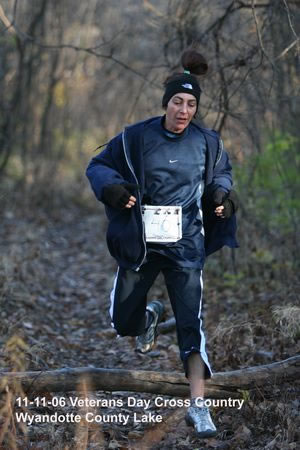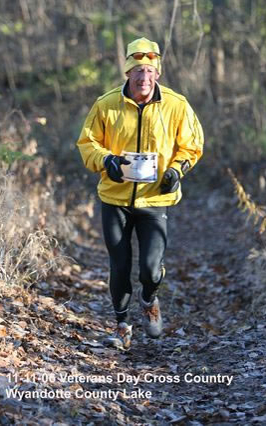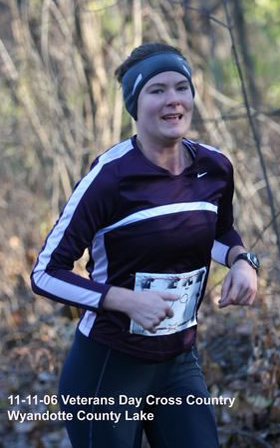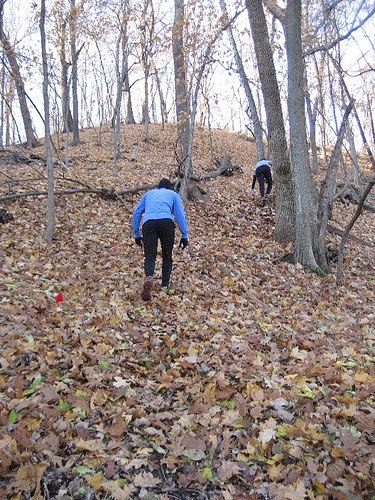 Lawrencians celebrate Veterans Day with a tough 4 mi trail race at Wyandotte Co. Lake Park: Constance Tieghi, Keith Dowell, Sarah Sinning (Dick Ross photos); the steepness of it all - argh!! (Ben Holmes)
Nov 12 - Check out the results from the Wyandotte Co. Lake Park 4 Miler Trail Race and the Fields of Dream 5K, both held on Sat, Nov 11.
Nov 6 - The results from the Oct 21 Sun Run . . .
Nov 5 -Jorge Carvajal, a relatively new runLawrence member came to a meeting just a couple of months ago. When asked to tell a little about himself, he confided that although he had been running for a fairly short time, he had, on almost a whim, entered the lottery for the New York Marathon.
Shortly thereafter, Jorge was notified that he was selected, so he was seeking advice on how to train for a marathon. Club members soon discovered that Jorge is a researcher and he believes in researching thoroughly.
He asked for advice on everything from clothing to pacing to diet to injury prevention. Although he ran occasionally with club group runs, he did most of training solo. It all paid off today when he finished the NY Marathon in a very respectable 3:31:04.
Congratulations, Jorge. Now we will be asking you for advice.
Jorge Carvajal, 558th place of M45s, 3:31:04 (8:08 pace). [Check out the photos of Jorge.]