Oct 29 - Quite a Cross Country Weekend! A lot to celebrate in our area from this weekend's top performances:
Baldwin's Heather Garcia is the Class 4A Champ winning in 14:05 at Wamego on Sat..
Right behind was Brittney Graff (Eudora) in 14:24.
In the boys 4A race, Chris Elniff (Baldwin) was 2nd and Eudora's Joey Chino was 4th.
DeSoto girls won the 4A team championships (67 pts) with Baldwin 2nd (83 pts).
Boys 4A teams: Baldwin took 2nd, DeSoto 3rd, Tonganoxie 5th.
Lawrence High boys took 3rd in the 6A competition with junior Dylan Hedges finishing 10th - tops for the Lions.
Junior Kelly Renfro (LHS) was 8th in the girls 6A race with teammate Alissa Freeman in 9th, and
on Fri, Colby Wissel of KU, thrilled the home crowd with his victory in the men's Big 12 Championships, leading the Jayhawk men to a 3rd place finish. Teammates Paul Hefferon was 4th while Benson Chesang, the defending Big 12 Champ, came in 12th.
Many of these high schoolers have helped with local races as volunteers. We are always appreciative of their support. Our congratulations on a fine cross country season. See you at the next run.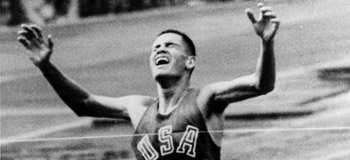 On Monday evening (Oct 30), Sunflower Broadband (channel 6) will show the Billy Mills story: "Running Brave." Billy Mills' surprise victory and the way it was recorded on live TV is one of those magical moments in sports history. Here's the YouTube clip of that last lap. Mills will be in Lawrence on Nov 1 at the Bert Nash benefit honoring KU Track Legends and Friends.
Oct 26 - Entries are coming in for our Thanksgiviging Day Run. See who's signed up. See who's coming "home" for dinner.
More from last weekend's races around the country: Local results from the Nike Women's Half Marathon, San Francisco, CA, Sun, Oct 22, 2006.
| | | | | |
| --- | --- | --- | --- | --- |
| Name | Hometown | Cat | Place | Time |
| Joanie Starks | Lawrence, KS | F50 | 74 | 2:25:06 |
| Stacy Riggins | Lawrence, KS | F45 | 170 | 2:25:08 |
| Ellen Young | Lawrence, KS | F50 | 85 | 2:28:34 |
| Carol Zumbrunn | Bonner Springs, KS | F45 | 562 | 3:35:44 |
Oct 23 - Congrats to all our marathoners who ran this weekend.
Quick link to the Chicago Marathon Results for Lawrence runners. Scott McVey posted a 2:59 to qualify for Boston. Check on other locals with their times, numerous splits, and placings.
Tom Kreissler took 4th overall in last Sunday's Wichita Marathon - best among the Lawrencians. Topeka's Tony Estes was 5th just ahead of Steve Riley (1st in M50).
2006 WICHITA MARATHON (Lawrence Results)
SUNDAY, OCTOBER 22, 2006
 
Place Name          City     St Bib# Sex Age Time    
===== ============= ======== == ==== === === ======= 
  4 TOM KREISSLER   LAWRENCE KS  173   M  36 2:56:45 1st M35
  5 TONY ESTES      TOPEKA   KS  194   M  49 2:58:12 1st M45
  6 STEVE RILEY     LAWRENCE KS  172   M  52 2:59:41 1st M50
 27 KARL BROOKS     LAWRENCE KS  120   M  50 3:17:56 2nd M50
 99 SHEILA CONNOLLY LAWRENCE KS  127   F  41 3:49:16 3rd F40
 93 JOHN CONNOLLY   LAWRENCE KS  126   M  45 4:16:45 
202 SCOTT MCCLURE   LAWRENCE KS  296   M  42 4:20:13 
247 AARON REED      LAWRENCE KS  325   M  24 4:40:08
260 DONNA HULTINE   LAWRENCE KS  463   F  48 4:49:42 
Oct 18 -The web page editor will be away from his desk(top) for a week. In the mean time, here's another "Follow Me" video from the French orienteer Thierry Gueorgiou - this one will give you a good idea of what orienteering is like in the best of terrains (Finland in this case): Follow Me VI. The leaves are changing colors, so the O' season in the KC area is finally here.You don't have to stay on the trails. But no matter where, enjoy your running. - gmw
Oct 15 - Des Moines Marathon/Half Marathon - Lawrence Results
Marathon

Overall
Place Div/Tot Name            Age/Sex City    Time    Pace  
===== ======= ================  === ======= =======  =====
   85  13/84  Jake Messersmith  M28 Lawrence 3:18:33  7:35
  153   4/45  Jack Hope         M58 Lawrence 3:29:19  8:00
  343  43/102 John Frydman      M48 Lawrence 3:50:46  8:49
  376   9/52  Bridget Vinter    F42 Lawrence 3:53:54  8:56
  513  58/102 Christopher TurnerM46 Lawrence 4:06:59  9:26
  603  64/102 Dennis Anthony    M45 Lawrence 4:16:02  9:47

Half Marathon
  153  19/83  Dan Pickert       M44 Ottawa   1:42:04  7:48
 1101  92/127 Allison Edwards   F20 Lawrence 2:18:09 10:33
Oct 14 - Results from Saturday's WOW Run.
Oct 8 - Results direct from Saturday's (Oct 7) St George Marathon website for:
Elizabeth Weeks 3h:58m:14s,
Greg Burger 3h:25m:35s.
Oct 7: Karen Hyde, Frank Aleman, Dee Boeck with Diane Waltho, Brian Daldorph at the KC Marathon races

(Dick Ross photos)
Oct 7 - Results are in from the KC Marathon, Half Marathon and 5K. Karen Hyde set a new personal PR in the marathon with a time of 3:34:51, leading a 1-2 finish (in the F45 category) of runLawrencians with Laurie Comstock in 2nd. Other winners were Frank Aleman (M50 5K), Jodie Smith (F18 marathon), and Dee Boeck (F55 half marathon).
Congratulations, too, to Mitch Colahan (2nd in M-17 in the marathon), Lori Lange (3rd, F45 half M), and Diane Waltho (3rd F50 half M). Diane, who has ran many half marathons, also set a new PR today with a time of 1:50:34. To see all the Lawrence area results, click on

.
Oct 3 - Molly Wood found this Topeka Capitol-Journal article that might be of interest especially to those who heard Eladio Valdez's remarks at Sunday's club meeting.
Minutes from the Oct 1 meeting.
Some great results to report from the Sept 17 at the St Charles (MO) Lewis & Clark Half Marathon: Jack Hope took 1st in M55, Erika Plumlee 1st (F30-34) and Scott McVey 2nd (M25-29). The group got to meet Dean Karnazes there at the kickoff of his 50/50/50. - (Thanks to Marc Scarbrough for the report). See results at:


Oct 1 - Go to the results page to see all the times from the Sandrat Trail Run. A special thanks to all the Manhattan runners who came out, had good runs and took home a lot of rats (awards).