Sept 28 - The Journal-World did a nice story today on Kent Dobbins - his latest national title in St. Louis, his lifelong interest in sports, meeting Liz and his Purple Heart. See Flying tri guy.
Sept 26 - Welcome new members: Kelly Gunn and Zahra Knott. Steve Riley was the highest finisher among Lawrencians at the Wichita Half Marathon on Sun, Sept 24. See results page.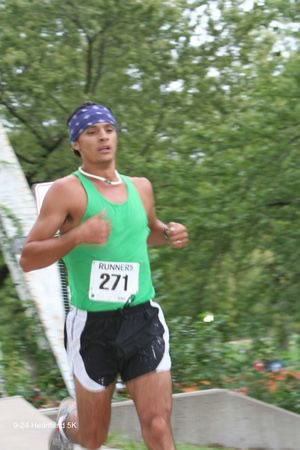 Sept 24 - All three Lawrence runners entered in the Heartland 5K in Parkville, MO took first place with Theo Roundface taking the men's overall race in 17:12. Jodie Smith and Dee Boeck won in their age groups. More results >


(photo of Theo by Dick Ross)
Sep 19 - Latest high school cross country rankings (click on photo).
Sept 18 - Tri kids! Brooke Braman, Chase Odgers, Kathleen Nesbitt-Daly competed at Iron Kids, Sun. Sept. 17, Free State High: results
Kent Dobbins was the M60 age group winner again at Halfmax National Championship in Innsbrook, MO, on Sat. Sept. 16 and qualified for the national championship race in Florida. results
And kudos to Race Directors Ed Payne and Greg Burger on Sat., Sept. 16 first annual Clinton Lake North Shore Trail Run. Greg broke his 4th place finish streak with a strong third place, at 1:06:19, just behind the leaders, leaving the fourth place finisher a good mile and 9 mins back. Gary Henry had a good race too (6th overall in 1:22:43). Results from the KC Trail Nerds. (report from Elizabeth Weeks)
Sept 17 - Eudora's Brittney Graff won the large class division of the Missouri Southern Stampede, Sat, Sept 16. She led from the one mile on in the 5K race which featured some of the top teams from the Midwest Region. 373 runners, from 50 schools from the 4 state area, finished the race which featured defending large class champions from Missouri (Blue Springs), Oklahoma (Tulsa Union) and 3rd place Bentonville from Arkansas.
In warm and windy conditions Saturday morning, Brittney led a quintet of runners through the mile and made a break at 2 miles to gap the field. Girls from Kansas swept the top 4 places, led by Graff's 18:31. Michaela Reynolds of Emporia was 2nd in 18:38, followed by Ashley
Also placing for the Cardinals of Eudora were 157th Elizabeth Hoese, 22:50, 234th Bre Miller 24:45.
Eudora Boys placed 25th out of 35 teams in the large class division. Cody Burns led the Cardinals with a 49th place 17:19 place effort, followed closely by Joey Chino, placing 62nd in 17:29. Rounding out the scoring Eudora were Tim DeArmond 191st , 19:26, Carlos Canizales 267th 20:31 , and Chase Brecheisen, 354th, 21:58. Nationally ranked #16, the Potosi (MO) boys placed 4 in the top 10 to take first place(including 1st and 2nd), followed by Blue Springs (MO). (report from Paul Boone)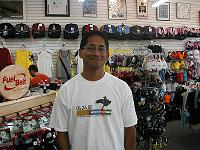 Sept 16 - Mark your calendar for Oct 1st. Coach Eladio Valdez of The Runners Edge of Kansas City will be giving a presentation on running with emphasis on the marathon distance. Eladio has offered a training program for runners of all distances in the Kansas City area for 10 years. He is a consultant to the Kansas City Marathon and has designed the course for this year's marathon (Oct 7). Coach Valdez will give tips for running this and other marathons. All runners are invited to attend this free presentation. 4 p.m. in the basement conference area of Lawrence Memorial Hospital.
Sep 11 - from Ben Holmes: "WyCo Park for the XTerra "Dot" trail race (Sat, Sept 9). Greg Burger ran in both the 10K and the 5K again. He did well in both. Gary Henry won his age division in the 10K. He must be recovered from his Leadville 100 finish."
Sep 10 - Minutes from the September 3rd club meeting.
Results from the Mass Street Mile. It was a dry race, but the start was slightly delayed due to the rain. A very tight sprint for first. There was even a donkey at the race promoting some political candidate.
Lawrence Area Results from the Sept 9th Helen Gold 5K. 1st place: Rychel Johnson (F20-24) 20:31, Dee Boeck (F55-59) 24:25. 2nd place:Jodie Smith (F20-24) 20:31, Karen Hyde (F45-49) 22:45.