Apr 30 - The Journal-World's Rachel Seymour has been at local runs as much as the SeeKCRun man Dick Ross. Her last work is the audio slideshow of Sat's Free State Trail Run. View the full story in today's LJW by Andrew Hartsock. View the slideshow. And Dick Ross' photos.
Apr 29 - See the Trolley Run results.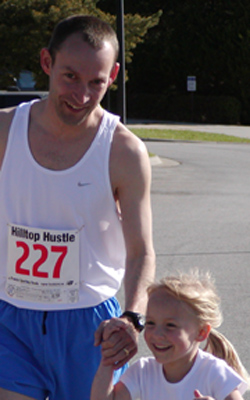 Apr 28 - The remains of the day:
The Free State Trail Runs of 100K/40M/26.2M at Clinton State Park have concluded. 77 people were signed up for the inaugural event. Early report: Mike Adams had the fastest time in the 40 mile race in 5:34.
The Hilltop Hustle 5K had 138 finishers including 4 year old Sydney Johnston who ran with dad David. Sydney was happy with her run on campus. Most children did the 1K Fun Run.
The winners: 1st male: Jeramie Lippman (17:28); 1st female: Rona Frey (21:31); 1st male masters: Terry Slocum (20:29); 1st female masters: Susan Birtell (25:29).
Apr 23 - This Saturday in Lawrence, you have choices: a 5K or a 100K race. Support the 8th edition of the Hilltop Hustle or the inaugural Free State Trail Run (100K or 40 miles or 26.2 miles). Or join the Red Dog group at 7:30 am, now meeting downtown again (east side of the 800 block of Vermont, behind Kizer Cummings).
In compiling the Boston Marathon results we inadvertently left off Bob Woods (Baldwin) who ran a 3:34:18 (. . . Thanks to Dan Kuhlman for catching the omission).
Last Saturday's KU Relays didn't draw the crowds like the Maurice Greene years, but a crowd of over 10,000 is a typical number for most good years. In spite of the windy conditions on Saturday, a lot of new records were set. KU scored some victories to satisfy the home crowd, and the races were exciting and many very close. Even spills and thrills for the crash fans. More from the KU Athletic websites including quotes from several of the participants.
See local results from the Spirit of St Louis Marathon & Half & 5K.
Apr 19 - It's KU Relays week and you may wonder what KU track guys do in their spare time. CNN reported on a parody of the OKGO guys "A Million Ways" video (those guys did the treadmill workout). Our track men did their show at the Kansas Union Ballroom. Hope they have equal success on the track this weekend. See the video.
Apr 17 - Thirty-three dead and 15 injured is the report from Virginia Tech yesterday. Another tragedy and yet it seems worse than the last tragedy that touched the nation. We always look for answers and find ways to cope. We run for many reasons . . . more
Apr 16 - See the results of local runners from the Boston Marathon.
Every evening Channel 6 News stresses "emphasis local." You can say it's been "emphasis running" with Channel 6 and the Journal-World reporting on yesterday's races with a preview broadcast, news last night, front page story, sports page reporting and a nice on-line slideshow. And that was just for the Lawrence Half Marathon and 5K. Happy Patriot's Day! A feature on today's Boston Marathon follows Jorge Carvajal's rapid success in marathon running. The advertising for the KU Relays 5K may lure you on to the track Thurs evening.
View the stories | Read about Jorge |
Now on to Boston and hope everyone copes well with the brutal weather.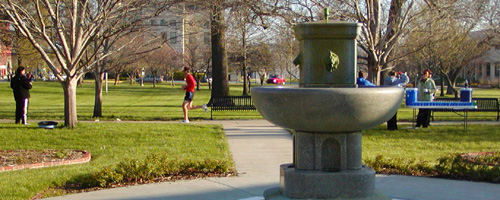 The Lawrence Half Marathon passed the South Park fountain - coming & going. (below) - Doug Kieweg runs down 12th St; runners finishing through the Haskell Stadium arch.
(more photos on other pages, gmw)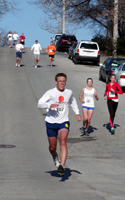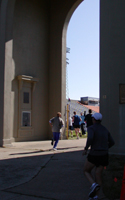 Apr 15 - The Lawrence Half Marathon reported over 1,000 signups for the 13.1 mile race. The weather turned out to be perfect. Parking around the stadium overflowed into the streets west and over to the student health center. 2,000 participants total - including the 5K and Fun Run. The benefit for Health Care Access was a success. Thanks goes to the City, Lawrence community, the host of volunteers and especially Marcia and Steve Riley for leading the effort.
Jason McCullough of Hays KS won the men's race while Manhattan's Melissa Todd finished ahead of Omaha's Christy Nielsen in the women's event. View the results.
Apr 13 - Sat's Laps for Literacy 5K and the Race Ipsa 5K have both been canceled due to the forecasted snow accumulation for that Apr 14th morning.
Apr 12 - From Mass St(reet) to Mass St(ate): The Boston Marathon is Mon, Apr 16. You can follow your favorite local runners on-line by using their bib numbers.Lawrence has a special kinship with Boston as a New England Emigrant Company founded this town. For those with access to the Versus Channel (116 on Sunflower), the race will be covered live. The forecast is for nasty weather, but we hope everyone has a good run. The Journal World did a nice story on Mickey Woolard.
Back on Mass Street, the LJW reports more than 1,500 runners signed up for this Sunday's Lawrence Half Marathon and 5K. "This is going to really showcase our hometown," said Toby Eastland. more
Local runners at Boston

bib no

name

11943

Jorge Carvajal
M46

3760

Nat Collins
M24

17479

Sheila Connolly
F42

7373

Paul D'Anieri (Bonner Springs)
M42

13175

Karen Hyde
F45

11618

Thomas Jackson (Ottawa)
M50

2074

Tom Kreissler
M37

10928

Dan Kuhlman (Lecompton)
M53

17544

John Reed
M66

10715

Jodie Smith
F22

9512

Bob Woods (Baldwin City)
M56

11659

Mickey Woolard
M54

9867

Michael Zabel
M53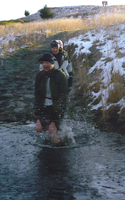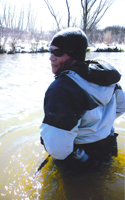 Apr 9 - From Saturday's Rockin K 50 Miler: Not sure how Ed did...but I ran out of energy at around 30 miles and called it a day....was pretty disappointed but I live to fight another day....by the way Kanopolis State Park received around 7.5 inches of SNOW on Thursday....so we got to run thru snow drifts and mud and river crossings waist deep......fun times......Gary Henry finished the 50 miles in a little over 12 hours....Greg
| Gary Henry's comments | Ed Payne's tough time |
From the Rockin K: Greg Burger at one of the stream crossings; Gabe Bevan gets deep (Rick Mayo photos);
It's official: three 5Ks this Saturday. Alpha Delta Pi is hosting the Race for Ronald Charity 5K Run/Walk. This one is not on Jayhawk Blvd.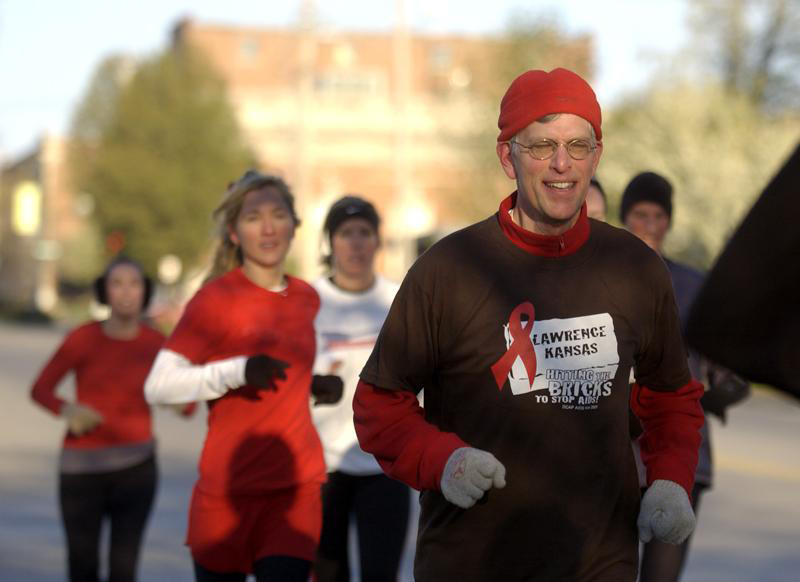 Apr 8 - In today's Journal-World, Harold Washington was photographed among the 300 participants in yesterday's Douglas County AIDS Project 5K Run. Also a nice picture of the McVeys at South Park made the on-line LJW edition. (Rachel Seymour photo, LJW)
Apr 7 - Run for Life 10 Mile Results. (below) five runners with times to make the state honor roll: Dee Boeck, Bob Schwelm (Philadelphia PA), Cindy Cameron, Steve Riley, Susan Robinette (Dick Ross photo). Cindy Cameron and Rikki Hacker onthe Shunga Trail (gmw).
Apr 4 - Check the results page to find out how some of the Lawrence teams did in Sunday's Brew to Brew Run.
Welcome new member Shannon Hodges. Shannon recently started a running/coaching program for women in Lawrence You can get more information at: www.RunEZ8.com, or email Shannon.
Red Dog leads by example ("Enjoy Brew to Brew!");
Ellen Young and the Green Leapin Dogs

(above photos by Dick Ross)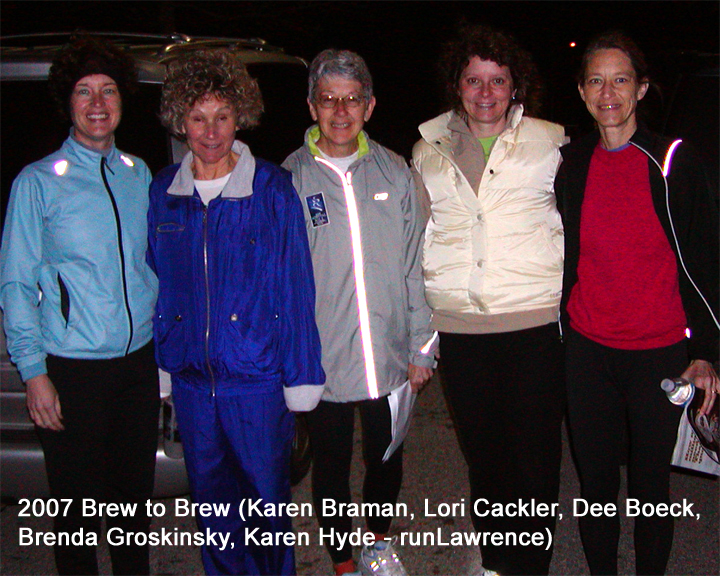 Apr 1 - PM: This year's Brew to Brew was huge - over 3,000 particpants almost doubling the 1,600 from last year. Holding the event later in the spring certainly helped. The weather was just simply nice.
AM : The Brew to Brew Relay from Boulevard Brewery to Free State is under way with several teams and individuals competing. Hopefully those with atomic clocks didn't miss their starts because of the Mar 11th change to daylight savings time. A backup clock saved the runLawrence team from being late.