Aug 30 - From today's NY Times. "On Aug. 8, in a 10-kilometer race in Alameda, the 53-year-old woman who won in the 50 to 54 age group was faster than the woman who won in the 25 to 29 group. A 38-year-old woman beat every other woman in the race. Results like those made me wonder, Are women really trying in these races and, if they are, why are older women beating younger women?" more
Aug 29 - Dick Lipsey, who is an avid track fan, recommends the IAAF web site to view short videos of all the events at the World Championships.
Aug 28 - (from WIBW) Kansas Wildlife and Parks is investigating an incident involving a Wabaunsee High School teen, who says he was attacked by what appeared to be a mountain lion while jogging early Saturday morning.
17 year old Wayne Flerlage reports he was jogging two miles east of Alma in Wabaunsee County around 12:30 Saturday morning when a large cat came up behind him and knocked him down. more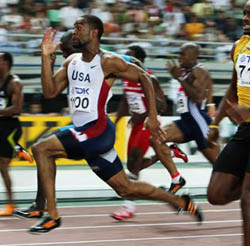 Aug 27 - Former Barton County Community College sprinters Tyson Gay (USA, right) and Veronica Campbell (Jamaica) continued to wear the label the fastest in the world as they won 100m gold at the IAAF World Outdoor Championships in Osaka, Japan. Gay won the men's 100m Sunday with a time of 9.85 while Campbell captured a photo-finish gold in 11.01 this morning. For Gay it was his 1st medal at any major championship. Campbell had previously won bronze in the 100m and gold in the 200m in 2004. Walter Davis will bring home a medal for the 2nd straight time in the triple jump collecting bronze this year as the defending champion. Davis and Gay account for 2 of the USA's 7 medals after 3 days of competition. The 3 medals for former Cougars would rank them 2nd only to the USA's 7. Three countries have 3 medals. (story & photo from Barton CCC Sports)
Barton CCC has always made a strong showing at the KU Relays and so many of their track athletes have made it to the world stage. Tyson took 3rd in the 200m in the 2003 KU Relays; Campbell was injured that season.
World class athletes even have world class web sites; take a look at Tyson's.
Aug 23 - The World Track & Field Championships from Japan are on television starting Saturday. The schedule:
Sat, 5-7 pm (Central time), Versus network
Sun, 11:30 am-1:30 pm on NBC, & 5-7 pm on Versus
Mon-Fri, 6-8 pm on Versus
Sat, Sept. 1, 1-2 pm on NBC and 8-10 pm on Versus
Sun, Sept. 2, noon-2 pm on NBC and 5-7 pm on Versus.
(Check your local listings). In Lawrence, Versus is cable channel 116.
This should be a terrific event. Alan Webb, Adam Goucher and Deena Kastor are among those on the team. You can find more details at the USA Track & Field web site. You can also find a live webcast at wcsn.com This may be a paid subscription service; I'm not sure of the details. - Dick Lipsey

Aug 21 - Greg's own words: "Just got back from my 2 week adventure in Leadville Colorado. As many of you know I was attempting my very first 100 mile race. It was a learning experience to say the least. Some of you already are aware that I did not make it the whole way. I did end up doing the Winfield 50 . .." read more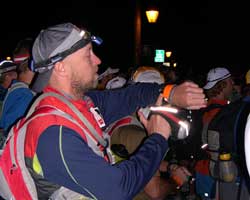 Aug 19 - Report from the Leadville 100: " Greg [Burger] completed the "Winfield 50." That is, he made it to the turnaround point at Winfield, but sadly, 75 minutes after cutoff. Here's a shot of him checking his watch seconds before the traditional shotgun blast starting the race at 4 am at the starting line at 6th and Harrison in downtown Leadville. The good news is he ended safely and unhurt, unlike one other runner who broke his leg coming down from Hope Pass." - Gary Henry
Aug 18 - Caveat emptor? The coming events page is an unannotated calendar of runs and races. Events are not rated: no "four stars for excellence", "two stars for average", or "does not meet USATF standards." Sometimes, the event is on the list because a race promoter asked to be added. The emphasis is on "local" and of interest to locals (e.g., Lincoln Marathon). Unless the event has a history of complaints, it will be listed. If there's a better way to report coming events, we can discuss this at the next club meeting.
One change we will make. For events we know are non-competitive, we will add the words, "not a race, no awards."
Caveat emptor? Beware of what you're getting yourself into. If they ask for your age, but don't show age categories for awards, it may not be a race. Be suspicious. Repeat: If in doubt, contact the event director.
Aug 17 - More photos from the Quantrill's Raid Run today at SeeKCRun.
A shortage of volunteer course marshals caused a few participants (including some of the leaders in the "10K" event*) to miss turns and run extra blocks. Lawrence Police and volunteers on hand did the best they could - leap-frogging to the next corner (and the next) to direct traffic. Many treated the event as the fun run as advertised and stayed to enjoy the pancake feed and chat with the Civil War actors.
This web site lists "coming events" - which is about 95% races. We'll include fun runs and charity walks where runners are welcomed but no record is kept on the order of finish. If in doubt, contact the event director.
*10K was closer to 8.6K (5.3 miles), unless you missed a turn.
Aug 16 - A search box has been added to the top of the page to help you locate past articles or race results on this web site. Test it out.
Red Dog Run 3: Scott McVey winning the men's race; Christine Ogunnowo & Aagje Ashe; Terry Slocum & Jeff Behrens.

(Dick Ross photos).
Aug 12 - Another close battle was in the men's 55 race yesterday with Jeff Behrens edging Terry Slocum by 1 sec.
Results from the Psycho Night 10K Trail Run, Fri (Aug 10) night.
Minutes from the club's August meeting.
Congratulations to Paul Boone - the 3rd person with the correct responses to the fundraising runs quiz. (Answers: 1b, 2e, 3a, 4c, 5d.)
"Farewell, Dan and I will be leaving for White Plains, NY, around Labor Day. We will join the Westchester Road Runners club and the New York Road Runners Association. Good luck on the fall events. - Fran and Dan Breslauer"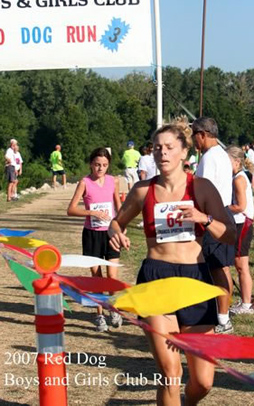 (Dick Ross photo)
Aug 11 - Mandy del Valle won the women's race at the Red Dog Run for the Boys and Girls Club today. But, as you can see in the photo (right), it took an extra effort to take 2 seconds over 2nd place Amy Meyers. Keep an eye on Amy during the fall cross country season. The West Jr Hi gal will compete for Free State. Scott McVey won the men's race. Results
Aug 8 - At the State Games of America in Colorado Springs, Keith Dowell garnered two gold and one bronze medal in men's 50-54 competition. He was 1st in the 800m (2:40.6) and the 1500m (5:48.4); and 3rd in the 400m (64.5).
He also rode a 20 mile time trial in 56 min. Most of the medal winners in the cycling events came from the mountain states. more results
Aug 5 - (from Gary Henry) Minnesota has mountains! Who knew? I found out the hard way July 28, running (well, mostly running) 50 miles through them in Carlton State Park, near Duluth in the 2007 Minnesota Voyageur Trail Run. more
Quiz: match the 5 " high schools" with their fundraiser event. Email your answer. The 3rd correct response gets a runLawrence T-shirt or the 2006 Thanksgiving Run long sleeve tec shirt. Include your name and answers (e.g., 1-a, 2-b, . . .).
| high school | fundraiser event |
| --- | --- |
| 1. Eudora | a. Crosstown Unity Run 5 Mile |
| 2. Newton (KS) | b. Horsethief Run 5K |
| 3. Free State/Lawrence | c. Llama Run 5K |
| 4. Raytown (MO) | d. Big Shunga 8K |
| 5. Topeka West | e. Sand Creek 2 Mile |
The Crosstown Unity 5 Mile started at Free State and ended in front of the Chesty Lion at LHS.

(click to enlarge photos).
Aug 4 - About 300 runners tested the muggy weather and the shorter 5 mile course in this year's Crosstown Unity Run. Those opting for the 2 mile got a completely downhill course. Photos from today's Crosstown Unity Run. results
Aug 3 - There are the Mad Dogs and Red Dog's runners. Meet a top dog, Corky. more