In Pamplona, you run with the bulls;
in Lawrence you run with the Dogs, Rats and Nerds.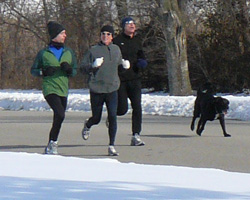 Dec 30 - 15 people joined Steve Riley on his Day before New Year's Eve run from Haskell trying out the new half marathon course. John Frydman's buddy, Timmy, also did ran the whole course.
Dec 24 - Olympic Running Coaches to highlight upcoming clinic in Kansas City, Jan. 25-27, 2008: The clinic focuses on the physiology of training distance runners; motivation techniques for coaches; and how to put together a championship program. Workshop co-coordinator Mark Stanbrough, (620) 341-5399. more info
Dec 21 - The Day Before New Year's Eve Run - Continuing the tradition started last year, at 9am on Dec 30 (Sunday), we will gather at Haskell to run the Lawrence 1/2 Marathon course. Steve Riley will be our tour guide and will take us on the 13.1 mile training run showcasing the newly redesigned course. Feel free to invite whomever you like. You don't have to run the entire course if you're not able (either timewise or training wise). Don't be worried about pace . . . Steve will keep us at a gentle 7:05 mile pace :-) Jon King
Looking at the first few races in 2008, you can go long, then up, under, psycho, and finally wild [Topeka-Auburn Half Marathon, Vertical Dash, Groundhog Run, Psycho Wyco, and Wild as a March Hare]. Nothing average.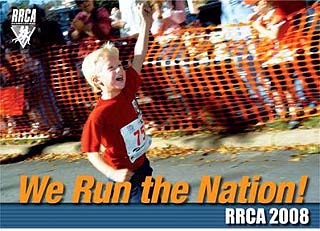 Dec 19 - Get your 2008 RRCA calendar. Join the club for 2008 and the calendar is yours free - another member benefit.
Just for fun the RRCA 50th Anniversary logo is hidden in the photo image for each month of the calendar year. Your challenge is to find all 13 hidden logos!
If you want to buy one as a holiday gift, they sell for $15. Contact Dee or Gene to arrange delivery of your copy (they will be available at the Jan 6 meeting). Check the membership list to see if you are paid up for 2008. If not, here's the membership application.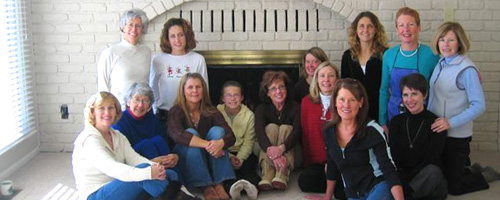 Some of Lawrence's award-winning and dedicated runners met at Sue Washburn's Dec 16 for a holiday cookie exchange party.
(C Leonardi photo)
Dec 17 - See the results from Sat's Kris Kringle Cross Country Run and Sun's Overland Park Jingle Bell 5K. The National Cyclo Cross Championships were at Wyandotte Co Lake Park all weekend, too. Of course, there's (some) running in cross. See a YouTube clip.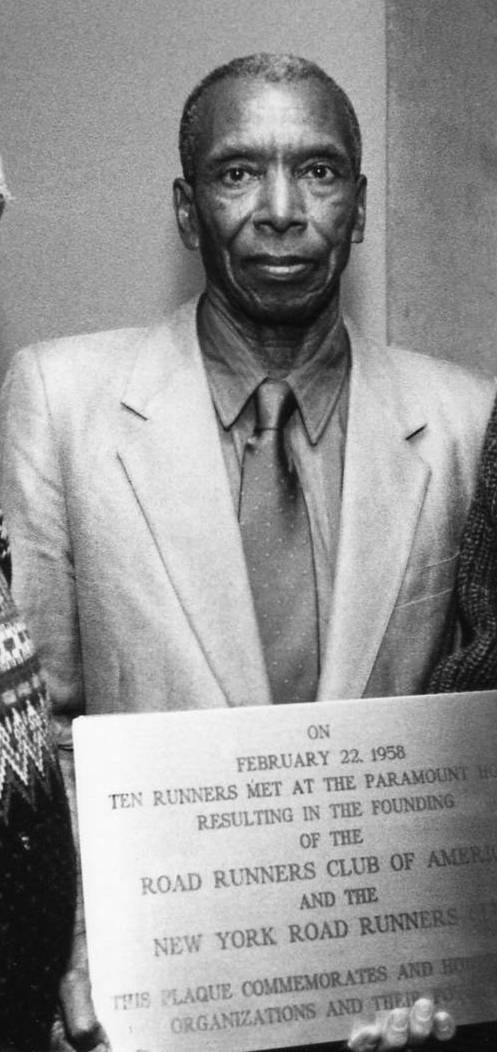 Dec 13 - Ted Corbitt, one of the greatest leaders in long distance running, passed away on December 12, 2007 at the age of 88 from cancer. Corbitt founded the first RRCA chapter in April 1958, the New York Road Runners Club. more
Dec 11 - My Dallas White Rock time wasn't a PR. I was off by 1 minute. The course, in my opinion, is one where I, or others, could definitely have a PR with the right weather conditions. Really, we were lucky with respect to weather- not 80 degrees as it was on Saturday, and no thunderstorms or heavy downpours as were predicted for Sunday- but with the cool temp. and dampness (at times light rain) some of my energy was probably zapped. My legs definitely felt beat by the end. I would probably been better off for the last 6 miles if I had worn tights, but for much of the race I was OK with shorts. The weather reminded me very much of Boston last year (I wore tights).
Also, once again, I ran 23 miles of the marathon with a jacket tied around my waist. Bummer, but I was afraid not to carry it and risk hypothermia should the predicted storms have struck. - Karen Hyde
Dec 10 - Welcome new runLawrence club members: the Abbotts - Ryan, Austin, Taylor, Tammy and Jeff. Must be dedicated runners joining on a cold and wet day in December. . . Thank you.
Dec 9 - Results from a warmer but wet Dallas White Rock Marathon: Lawrence runners, Lindsey Parker (3:35:43) and Elise Rock (3:50:04) were 1st and 3rd in the 19 & under marathon race. Karen Hyde (3:35:43, a PR?) was 12th in the F45-49 category. In the half marathon Dustin Elliott was 20th in the M20-24 with a time of 1:36:29. All Lawrence results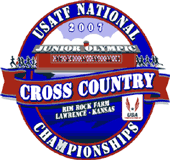 Thought last week was rough? The Dec 2nd Cross Country Challenge even had sunshine and the ice never came. Different story for yesterday's national Junior Olympics Cross Country Championships at Rim Rock. Tough conditions and slick roads, but the race went on. Here's the coverage from the Lawrence Journal-World including results of the local runners.
Dec 2 -Results from today's Cross Country Challenge at Clinton State Park.
Dec 1 - The predicted bad weather (icy roads and rains) held off for the orienteers from Texas to Manitoba to run at Woodridge today. results
(gmw)