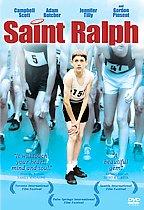 Feb 25 - It's Oscar Night and we should mention the film from Canada: Saint Ralph. Chariots of Fire isn't the only award-winning running movie; Saint Ralph was a prize winner at the 2005 Paris Film Festival. The director is Michael McGowan, a former Canadian National Team Member in cross country and a 2:18 marathoner.
A charming Canadian import by director Michael McGowan (My Dog Vincent), the 1950s period comedy Saint Ralph follows earnest Catholic schoolboy Ralph (Adam Butcher) as he struggles with his teenage hormones, challenges priestly authority, and tries to achieve a miracle by winning the Boston Marathon. Facing orphanhood after his father is killed in WWII and his mother falls into a coma caused by terminal cancer, Ralph, with the help of his friend Chester, carries on life as usual by pretending that he lives with his grandparents. He regularly visits his mother in the hospital and creates a special friendship with one of her nurses (Jennifer Tilly). He tries to date an evasive classmate intent on becoming a nun, and generally causes havoc with his school priests. However, when Ralph comes to believe that winning the Boston Marathon would constitute a miracle that might save his mother's life, nothing can stop him.

Reminiscent of inspiring stories like Billy Elliott and Whale Rider, Saint Ralph pokes gentle fun at strict Catholic school rules and provides a young hero for all generations. . . Embracing faith, religion, and humanity, Saint Ralph is a classic family film.
Thanks to Elizabeth Weeks for renewing her membership today.
Feb 23 - Next club meeting is Sun, Mar 4 - when?/where?
Starting Feb 28, Trail Nerds Evening Run on the Lawrence River Trails (east boat ramp, south of North 8th & Oak). Every Wed: 6 pm. Call Greg Burger, (785) 887-6745. It's a night run, so a flashlight or headlamp is required. map
Feb 22 - Four more memberships: welcome newcomers Kurt Schueler, Rhonda Levaldo, Kathleen Lynch and thanks to Greg Burger for renewing.
Feb 15 - Speaking of fun on treadmills, Liz Dobbins found some guys having fun with their special setup.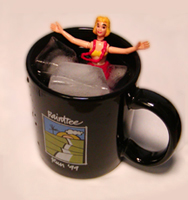 Feb 12 - In the Winter 2007 issue of Second Wind:
Feb 10 - Running with Loose Screws. Are they crazy to run on icy, hilly trails at Wyandotte County Lake Park? The event name is Psycho Wyco. The sponsors are the Kansas City Trail Nerds. Trail running is catching on around the country and the Feb 10th event proved these die hard runners know how to have fun while others were having fun on their treadmills.
Loose screws? If you were doing the 50K (3 lap) race and come into the first lap aid station, you may have lost your screws. The ones on the bottom of your shoes. Trail Nerds had been heralding this simple fix to fight the icy trail conditions all winter. Trail riders or runners all need to be reshod at some point. At the aid station, volunteers with power drills and ample supply of ammo "screwed" any runner's shoe in need of a fix. This created the miracle on ice - traction on a sloped skating rink.

But there were still plenty of falls - some harder than others. See Keith Dowell's face (below center).

Caleb Chatfield (Mission) posted the top time in the 50K race (below left). Sarah Sinning (Lawrence, with race director Ben Holmes), in her first 50K, took 2nd overall in the women's race posting a 6:57:09.6 (8:20 pace).
Now how did Rick Roeber, the barefoot runner, do it without screws? See results.
right 2 photos: Dick Ross
| more photos | SeeKCRun photos of local runners
Feb 8 - Red Dog's Sat. Runs: Starting Feb 10th, meet at LMH South (& Jayhawk Pharmacy), SW corner of Clinton Parkway & Kasold, park in the north lot (map).
The Breslauers in San Francisco:
" Fran did very well running her first half marathon. She was not used to a field of over 10,000 with no chips, and thus, took 2 minutes from the gun to the starting line. Her official time of 2:12:39 should thus be adjusted to 2:10:39 which is a very good time. She was second in her age group. Fran ran most of the race with our friend Sam Roake.

Dan and his brother Russell ran the 5K. It was a very fast course, and very pretty as it went through Golden Gate Park, with the finish lower than the start. Our times were officially 33:06 and 33:07, although we finished together. It was interesting that another person was credited with coming in between us. Since we took 1:45 to get to the starting line, our running time for the 5K was actually 31:19 - by my stop watch."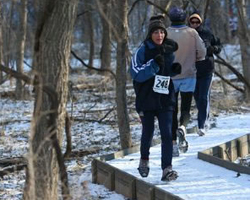 Feb 3 - Single digit temperatures kept the attendance down at Parkville for the 3rd annual Buffalo Run. This year's distance was 7K. Constance Tieghi (Lawrence) is shown (right) leading another runner while the other runner really isn't confused but going in the right direction in this multi-lap race. Lawrence guys took 2-3-5 overall (Tom Kreissler, Steve Riley & Keith Dowell). A good day to wear spikes or screwed shoes (yes, screws drilled into the bottom of your shoes for traction - standard gear among the Trail Nerds). Results