Encouraging you to run with the club, Mad Dogs,
Sandrats, Red Dog, school teams, or on your own.
Jan 28 - It wasn't a bad day to run indoors with temperatures outside around 20F this morning. Notice Keith Dowell working up a sweat (upper right). Lori Cackler missed 3rd by 7 seconds. Top finishers from the Lawrence area at the 25th Annual Groundhog Run include:
1st: Justin Garrard (Ottawa, 10K M15), Wally Brawner (Tonganoxie, 10K M65);
2nd: Jodie Smith (Lawrence, 10K F20);
3rd: Devin Rapp (Lawrence, 10K M20), Frank Aleman (Lawrence, 10K M50), Scott Hedrick (Lawrence, 5K M35), & Ken Johnson (Lawrence, 5K M55);
4th: Melissa O'Rouke (Lawrence, 10K F20), Lori Cackler (Lawrence, 5K F55).
more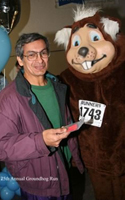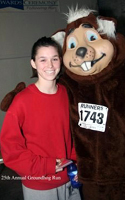 Frank Aleman, Jodie Smith, running the caves (all Groundhog photos by Dick Ross)
Jan 26 - Call for volunteers: two coming events we'd like club members to help are the Mar 24 Dam Run and the major event for the spring, the Lawrence Half Marathon on Apr 15.
The April 15 half-marathon and 5K replaces the Old Raintree Run with a new course and new beneficiary, Health Care Access Clinic. We need volunteers AND runners. You can do BOTH! Just pick a job that doesn't require work on race morning.
| volunteer info | signup sheet |
Offer your assistance for the Mar 24 race at our next club meeting (Feb 4).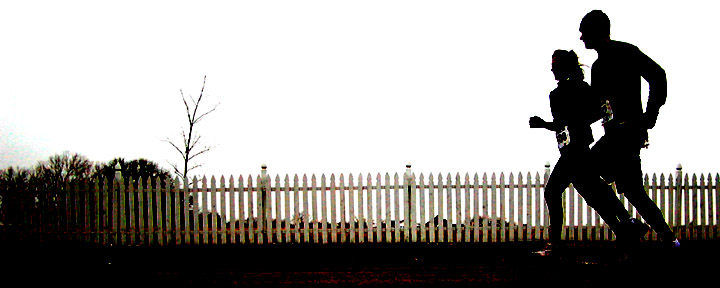 Jan 20 - The 25th Annual Topeka to Auburn Half Marathon drew close to 300 competitors on an overcast 30+ degree day with snows threatening later in the day. The season opener for the MARA Gran Prix Series showcased some fine performances by Lawrence runners. Theo Roundface posted the best time of the day in 1:16:07 leading 5 Lawrence men placing in the top 10 (3rd Santiago Morales, 4th Tom Kreissler, 8th Steve Riley, and 9th Scott McVey). Dee Boeck was 1st women's senior master, Karen Hyde 3rd overall female master, while Riley also was awarded 3rd in the male masters category. See the results page.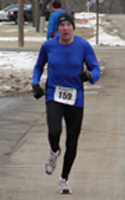 Finishing 5th overall was Kurt Fiene, an M45 blind runner from Omaha, with a time of 1:22:20. He was guided by a friend on a bicycle.
THANKS, Sunflower Striders for another great event!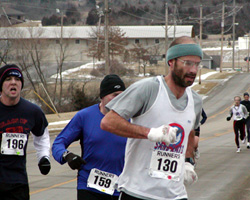 Jan 17 - Don and I (Lori Cackler) have a good friend who is taking his second trip to Cuba soon to bring donated medical supplies. He discovered on his last trip that there is an urgent need for shoes there as well.
John Armstrong (jarmst1621@aol.com) asked for donations of cosmetically intact running shoes that have been mileage retired. If you have a pair to donate, you can drop them off--leave them on the porch at either our home 3105 West 27th Street (Holcum Rec. Center/Prairie Meadows neighborhood) or at John's home 2557 Jasu (Indian Hills neighborhood between 23rd St. Dillons and W 27th Street) by Jan. 30th. Thanks for your help.
Jan 12 - Welcome our newest members, the Kuhlmans (Dan, Leah, Maggie & Tim) from Lecompton, to the club.
Jan 10 - The New York Times asked today: When It's O.K. to Run Hurt? "The usual advice in treating injuries is to rest until the pain goes away. But Dr. Weinstein and a number of leading sports medicine specialists say that is outdated and counterproductive." - more
Fri, Jan 12, is the last day to pickup your shirts from the Lawrence Thanksgiving Day Run at Francis Sporting Goods (843-4191). Questions?
Jan 5 - Reminder: next club meeting is Sun, Jan 7, 4 pm, at Lawrence Memorial Hospital (conference room on lower level).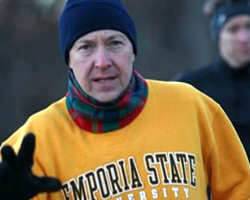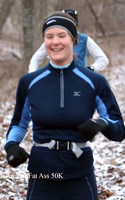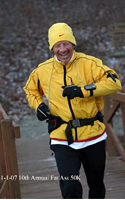 At the Fat Ass 50 on the 1st day of 2007 were Greg Burger, Sarah Sinning &
Keith Dowell (Dick Ross photos)
Jan 1 - While the Huchingsons hosted a nice New Year's Day brunch for a small gathering of runLawrence members at their home by Rim Rock Farm, a trio from Lawrence ran the Fat Ass 50K at Cameron, MO. Greg Burger, overdressed in his ESU sweatshirt, took off the extra layer to reveal his Trail Nerds shirt later on (he posted a 5th place in 4:50:48). Sarah Sinning and Keith Dowell are on their way to nerd-dom as their names appear more often on trail events.