July 29 - Reminder: next runLawrence club meeting is Sun, Aug 5, 4 pm at Lawrence Memorial Hospital. map (Note: due to road construction on 4th St, use Arkansas St to get to the west entrance).
July 25 - From Active.com - Yoga Therapy for Athletes: "The doctor took one look at my MRI (which revealed a significant disc herniation at L5-S1 with nerve root impingement) and told me I would have to modify my activities for the rest of my life. I said "thank you very much" and hung up the phone. Three weeks later, I was pain-free. Five years later, I am working with others to help them overcome their physical injuries and chronic pain using what worked for me--yoga." more
Not so fast - "All this talk about Vitamin C. I don't care if it's not that effective against colds...these "studies" almost always focus on that aspect. It's real value to everybody and especially to ALL RUNNERS is that it is a valuable component for repairing and maintaining connective tissue, which happens to be involved with most runners' ailments. Take your C, boyz and grrlz. Happy trails, Bad Ben [Holmes]"
July 24 - The NY Times reported that taking extra vitamin C is not effective against colds unless you're an ultrarunner (or Canadian). more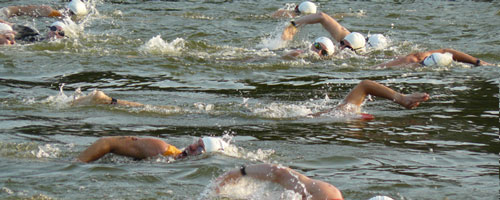 July 23 - Thanks to Greg Burger for coordinating the volunteers at Sunday's Midwest Mayhem Triathlon at Lone Star Lake. Club members helping were Janet & John Huchingson, Fran & Dan Breslauer, and Dee Boeck & Gene Wee. Several members called to say they couldn't help due to other commitments. Here's one family's response: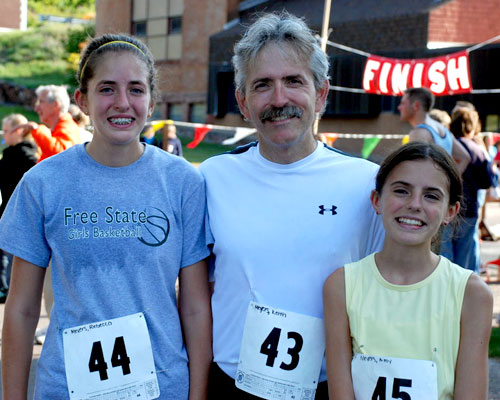 "I'm sorry we missed the opportunity to volunteer today. We were driving back from the Upper Peninsula of Michigan where Amy, Rebecca, and I participated in the 32nd Annual Canal Run (10 miles) from McLain State Park on Lake Superior to Hancock, Michigan yesterday morning. Amy won the 15 & under girls' division in 1:13 (7:20/mile pace). Her time was good enough to have won the 16-19 girls' division as well.
From what we were told by others at the race, she beat a number of college-level cross country runners. Amy's older sister, Rebecca, placed 3rd in the 16-19 girls' division with a time of 1:28. I finished 6th in the M45-49 division with a time of 1:16 (7:38/mile pace). The conditions were awesome! It was actually 48 degrees an hour before race time. Take care for now, Keith Meyers."
DC United? Congratulations to all the medal winners in this year's Sunflower Games. Douglas County (DC) guys took 1-2-3 in the men's Masters (50-64) cross country race at Iliff Commons - Dan Kuhlman followed by Keith Dowell & Karl Brooks, to highlight the running events in the 2nd week of the Games.
Medal winners: | track | cross country | adventure racing |
July 16 - Two people who help the Lawrence running scene both appeared in the Journal-World today: Andrew Hartsock and Shannon Hodges. Andrew reported on Shannon's "Distance running made EZ" - an 8-week program aimed to help women reach running goals. Shannon had presented her plans at runLawrence meetings several times and is now off to a good start.
Andrew last year expanded his "Outdoor Plus" page to cover a variety of participant sports. Why? He found out that Kansas ranked 16th nationally in percentage, with close to 1.5 million Kansans claiming to participate in outdoors activities ranging from backpacking to trail running — it underscored the fact that a heck of a lot of people spend a lot of time doing a heck of a lot of things outdoors. His stories have included Jorge Carvajal's marathoning, adventure racing through Lawrence, canoeing, cyclo crosses, Walk Kansas to ultrarunning. With reporters and program directors like Andrew and Shannon, we'll get even more people to join us on the roads, trails and streams.
Thanks to Brenda Groskinsky's efforts selling the runLawrence dining cards, the club is now $135 richer. You saved money eating out and the club benefitted as well.
Pacing Dad into the finish at the Psycho Summer 50K; Steve Myers (Edgerton) gets relief from the heat with a wet bandana.

(Dick Ross photos)
You can get the full report now on the Psycho Summer Trail Races. Someone's GPS recorded 9,170 ft of climb in 15.9 miles - that was for one lap. We need to verify that climb . . . Read more.
July 15 - Two more events to report from yesterday: a short one and a long one: The Journal-World featured the Xterra Stump Jumpin' Trail Stomp. Read the full story; listen to the audio interview, too. The 5K & 10K races were held at Clinton Lake State Park and featured some pretty fast collegiate athletes.
The longer trail race was the Trail Nerds' Psycho Summer 50K and 15 Mile trail races at Wyandotte County Lake Park - longer, but short races for the ultra crowd.

Volunteers needed: Greg Burger is still needing a few more volunteers to help with the Midwest Mayhem Triathlon at Lone Star Lake this coming Sunday. This has been a good fund raiser for the club. If you can help, contact Greg (785) 887-6745.
July 14 - Results: from today's Eudora Horsethief 5K Run and Governor's Cup 5K/10K.
July 12 - Minutes from the July 1 club meeting are posted.
July 10 - Four Douglas County runners took 1st place medals at the July 7 Fiesta Mexicana 5K in Topeka - Kaya Rieman (Eudora, F11-14, 23:22), Ivan Espinoza (Eudora, M11-14, 19:16), Dan Kuhlman (Lecompton, M50-54, 19:05), & Jim Dicker (Lawrence, M60-64, 26:42). Paul Boone was 3rd in the M40-44 group (22:21).
July 9 - Several Lawrence area runners made the short trek to Sabetha for the Firecracker 5K on 07-07-07. Marcia Riley helped with the results while husband Steve posted the same 17:48 as last year winning the M50 race; Jay O'Neill was 2nd in the M50 race. Denny Gayton won the M25 category while Rhonda LeValdo was 5th in F30. Dennis Odgers finished in 34:39 in M35.
More on Steve's madness for freedom runs:
"Tom Kreissler went with us to Sabetha, but didn't run. We all then drove to Ames and ran the Midnight Madness 10k. I had never run it before, but heard it was fun. It was, but would have been more fun if it hadn't been 87 degrees and humid at the start. Tom was 23rd OA in 35:43, I was 39th OA in 37:52. We both won our age groups. Its a great race, starting and finishing dowtown, completely closing several major streets. We also ran the Coors Freedom Run in Junction City [on July 4th]. Tom was 5th OA, I was 7th OA, again both winning our age groups. "
July 4 - Results from the Lenexa Freedom Run are posted. "Lawrencians" are welcome to share your stories of any summer runs or any topic of interest to runners. Submit to: runlawrence@mail.com.
July 3 - Welcome another new member, Bill Donovan, joining the club on July 1st.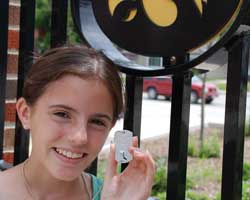 July 1 - Amy Meyers was one of the top performers at the distance camp this past week up at Iowa City (where she was the "lone Jayhawk" among a lot of future Hawkeyes and Cyclones). In the photo, Amy is shown with the camp's "Hustle Award" that she received at the conclusion of the camp on Sat, June 30th.
Volunteers are needed for the Aug 11th Boys & Girls Club Red Dog Run on the river levee. Contact Ellen Young, 785-331-7726.