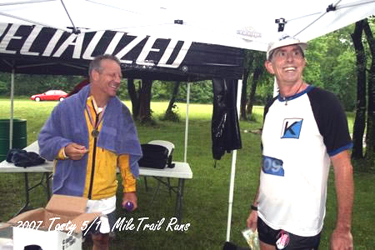 First 2 males or the last two? Keith & Fritz at the Tasty Trail 10 Mile.

(Dick Ross)
June 30 -
The Tasty 10 Mile & 5 Mile Trail Races were held at Landahl Park (Blue Springs MO) this wet morning. Only four people, three from Kansas, entered and finished the 10 Miler. Enjoying the rain and mud were: Keith Dowell (1st overall male in 1:20:09), Fritz Menninger (M50-59 cat in 1:44:36), and Coco Tieghi (F30-39 cat in 1:58:58). Yes, Fritz, did drive back to Topeka and then returned to KC to run the 9 pm Summer Sizzler.
June 28 - Report from Jorge Carvajal: "I am having a great time with my internship at Educational Testing Service in Princeton, New Jersey. I actually live in Newtown, PA which is 18 miles South to Princeton. There are tons of trails and parks around here and I have been biking (brought my bike from KS) and doing some running. I ran the 5K ETS Firecracker last night. It is a certified, hilly course. It was hot (close to 90 F) and very humid. Here are my results: time of 20:37 (overall: 28 out of 306; 5th in M45-49; results compliments of Compuscore) I hope everything is fine over there."
June 27 - Welcome new club members: Keith Meyers and Amy, Rebecca and Erin. Here's a report from a proud Dad:
"I brought my daughter Amy to the distance running camp at the University of Iowa today. She called me during my drive back all excited about being the third girl (out of quite a large number) to finish on a 4-mile run they went on this evening (this was after participating in Dog Days at 6 am and a cross-country training session at 7 am). Anyway, she was all pumped up because she ran along with a cross-country
coach from the University of Washington who was very impressed with her performance."
The Eudora bunch at the June 23 Summer Sizzler; the Daldorphs on Fathers Day at the Beat the Heat Run,

(Dick Ross photos)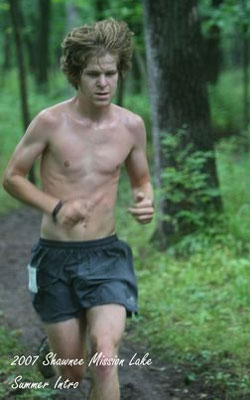 June 24 - Matt Riley was the first place finisher among a large contingent from Lawrence at Sat's Vasque Summer Intro 10K Trail Run at Shawnee Mission Park.
June 15 - Lori and Don Cackler ran in last Sat's Festival Fitness 5 Mile in Salina. Don't have the full race results yet, but there was a nice story in the Salina Journal about the top woman finisher, Sara Wells, a Salina native who now runs for Team USA Minnesota. This was Well's 4th win at this race.
June 14 - Running classes? Seems like any runner friend we talk to these days mentions they are injured or recovering from an injury. The New York Times today reports on the popularity of running classes to improve running form and attempts to prevent injuries. Read more.
June 12 - Results from Saturday's Tonganoxie Library Run.
(left) Mike Neal at the Tonganoxie Library Run, June 9

(Dick Ross photos)
June 11 - "If you are looking for a hair-raising, blood n' guts account of a midnight traverse of Sherman's Gap, the most feared climb of the mountainous Old Dominion Endurance 100's many ascents, you will have to wait for my race report from next year's race, because in 2007 I bailed right before I got to it.
Threw in the towel at the 75-mile mark, a victim of wet diapers and wanting mommy." (Gary Henry) read more
June 10 - At yesterday's Rock Creek Trail 10 Mile, Gary Henry was part of the crew that haul a 300 lb. trailer cart by hand over the single track to their aid station in the woods. The state park ATV was out on loan for the Wakarusa Music Festival that weekend. The runners were very appreciative. That's real rock 'n' roll.
Summer Dog Days began Tues, June 5, in the middle of the construction projects making it more difficult to get into the football stadium these days. Nevetheless, about 700 people showed up for the first morning's (make that 6 am) workout. The New York Times and the Journal-World reported boot camps are popular these days (in NYC, and a program for women in Lawrence) where people pay money to be ordered to exercise. Red Dog wanted everyone to know his program is not a boot camp. The Marine veteran knows boot camps. The cost for Dog Days is your sweat. Check the group runs for more details.

Gals running backwards for Red Dog (June 7)
June 6 - Minutes from the June 3rd club meeting.
June 5 - Jon King posted the fastest time among a dozen local runners at Sunday's (June 3) Rock 'n' Roll Marathon (3:40:09) in San Diego. Welcome new member Michael Rost joining runLawrence via Active.com.
June 4 - Gene Fox, with the Examiner, wrote: "The 34th running of Hospital Hill was staged Saturday. But it did not come off without a hitch. Make that glitch." more
June 2 - Results of local area runners from today's Hospital Hill Run (top six in each category. To view all, see results (home town = Lawrence, unless noted):
Cat

Pl

1st Name

Last Name

Ovrl

Time

Pace

5K

F20

2

Connie
Abbott

27

18:38

6:00

M35

5

Scott
Hedrick

45

20:16

6:32

M45

4

Roger
Mendell (Ottawa)

47

20:20

6:33

M25

6

Jericho
Hilliard

48

20:23

6:34

M60

2

Joe
Oberzan

128

23:12

7:28

M65

1

John
Huchingson

145

23:19

7:31

F40

5

Debbie
Galbraith

183

24:35

7:55

F55

2

Patricia
McAlister

446

31:21

10:06

10K

M30

2

Christopher
Lounsbury

22

40:14

6:29

M25

4

Dane
Johnson

23

40:22

6:30

M50

1

Jay
O'Neill (Winchester)

24

40:27

6:31

M35

6

Jim
Beiter

32

41:52

6:45

M55

3

Ken
Johnson

64

45:58

7:24

F19

3

Elise
Rock

90

48:17

7:47

F50

3

Melody
Gatti

312

57:08

9:12

Half Marathon

M20

2

Alex
Rock

14

1:21:06

6:12

M45

6

Brian
Daldorph

44

1:29:53

6:52

F20

4

Melody
O'Rourke

61

1:32:08

7:02

M50

4

Keith
Dowell

65

1:32:29

7:04

F35

3

Susie
Fagan

100

1:35:05

7:16

F40

6

Christine
Keller

211

1:42:13

7:49

M65

1

Wally
Brawner (Tonganoxie)

268

1:44:40

8:00

F55

3

Dee
Boeck

926

2:05:30

9:35