Mar 28 - Add Christian Wrisner (Odessa MO) to the list of state record holders in the 12K. His 1:29:34 at Sat's Dam Run is the first ever time posted in Kansas for the male 13-15 category. Christian is age 14.

Mar 27 - Brew to Brew is this Sunday, April 1st - don't pity these fools! What is Brew to Brew? If by chance you've never heard of it, B.J. Mikel describes it in last weekend's Lawrence.com.
Jon King was stuck in Atlanta and missed this year's Dam Run. But he managed to run the inaugural ING Georgia Marathon with a time of 3:39:23 - good for 104th in his division.
Mar 25 - March 21 marked the start of spring and with the vernal equilibrium of our nights and days the racing season is picking up speed - almost to a point of overload. Mar 24, Clinton Lake hosted the Dam Run 12K and 5K races as well as the ending point for the Sunflower 24 Hour Adventure Race. Four local runners chose to run the Sedalia Half Marathon - a MARA Grand Prix event. Not unusual to have more than two events in one day.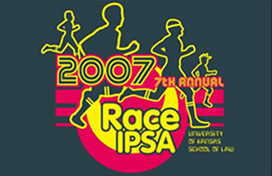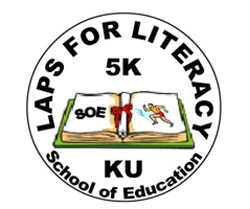 But, two races on the same course? The most crowded weekend is April 14-15 with Lawrence's major Grand Prix event, the Lawrence Half Marathon and 5K on Sunday. Sat, Apr 14, there are two 5Ks on the KU campus, on Jayhawk Blvd, at the same time. The Laps for Literacy will start from the School of Education and run along the north side of Jayhawk Blvd. The Student Bar Association's Race Ipsa 5K starts at the Burge Union and will go along the south side of the Blvd. What can we say? Res ipsa loquitur.
(below: Karen Hyde & Frank Aleman at the Sedalia Half Marathon (Dick Ross photos)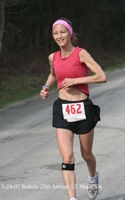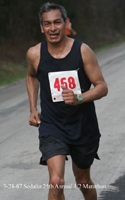 Mar 24 - Three 12K records were set at this year's Dam Run. There were 130 finishers in both races on a cloudy morning. Results
Early report: Karen Hyde was the 4th female finisher in the Sedalia Half Marathon.
Mar 20 - The Red Bridge Ramble results and the minutes from the March club meeting are now on-line.
Mar 19 - This Sat, Mar 24 the Dam Run cosponsored by runLawrence and the Parks & Recreation Department will offer both a 12K and a 5K race. Last year, we promoted the 12K race in hopes of getting some new state age group records. Three local runners set new state bests. If conditions are right Sat. morning, perhaps you can add your name to the honor roll or set a new record. Check out the state records.
Or you can opt for the shorter 5K. Entry forms are still being accepted this week at the Holcom Park Rec Center. But you don't have to set any records. Come and enjoy the first race of the spring season.
Mar 18 - Welcome the Ryan Family to the club: Kelly & Becky and children Molly, Brogan, Seamus and Teagan. And thanks for joining on St Patrick's Day.
Mar 17 - (upper right) - Scenes from the Red Bridge Ramble 8 Mile Trail Run in Kansas City on this overcast St Pat's Day. Constance Tieghi is in the stream crossing while Fritz Menninger prepares to jump in (Dick Ross photos).
Mar 11 - Red Dog's Dog Days isn't just a summer program anymore as a sizeable group meets every Tues and Thur to workout at Allen FIeldhouse and has a group run on Sats. The photo taken by Jerry Henley shows this winter'sgroup. When doing exercises, it's an overflow crowd at the south end of the level 2 hallway of the fieldhouse. Every workout has some running or some running up flights of stairs. Where's Red Dog in the photo (look for the white reflection in his eyeglasses)?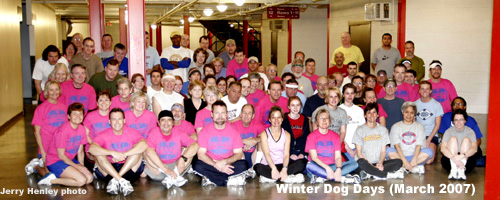 Mar 10 - Sunny skies greated the Shamrock Shuffle 5Kers this morning - a record crowd with over 350 finishing the race (Journal-World reported over 500 participants). This year's winners were Emily Goetz (22:27) and LeAndrew Martine (17:08, leading the pack in the top photo). results
Mar 8 - Hooray, more new members! Welcome Lori Norwood and Doug Stull (recently moved to Lawrence), and Tanya Spacek, another trail running enthusiast.
Steve Riley (again) led a contingent of old (but fast) guys at Saturday's Wild (and Windy) as a March Hare 5K at Iliff Commons. Steve was 2nd overall followed by Dan Kuhlman, Keith Dowell (no bloody nose this time) and Paul Boone. Results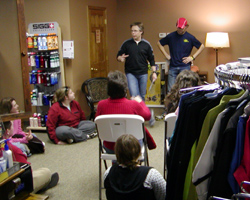 Mar 3 - The new store in Topeka, the Great Plains Running Co., hosted a trail running clinic Thurs (Mar 1) evening to kick off the Rock Creek Trail Series. The owner, Willie Lambert (photo upper right), invited other area trail runners to explain the basics of this sub culture (of a sub culture). Everyone had a chance to test out trail running at the Lake Perry State Park on Sat.
If you're in Topeka, check out another fine store (5967 SW 29th St, Ste.250).