Encouraging you to run with the club, Mad Dogs,
Red Dog, Sandrats, Trail Nerds, school teams, or on your own.
May 30 - The May 1st meeting minutes are posted.
May 26 - Two good 2nd placers - At today's Andy Payne Marathon in Oklahoma City, Jorge Carvajal ran a 3:31:32 - good for 10th overall and 2nd in the M45-49. He had a good run in warmer weather (66 F at start time) but missed the 3:31 cutoff for qualfiying for next year's Boston. Last Sunday, at the Roe Park Invitational Mile, Steve Riley posted a 5:25, second to Charles Brandon's 5:14 in the master's race.
May 23 - Rhonda LeValdo reports that the Lawrence Half Marathon and 5K made the last edition of this spring's Haskell News (scroll down to the second screen on the left side to "the last newscast for Spring 2007" - the race is at the 6:40 mark).
May 19 - The new and the old becoming new.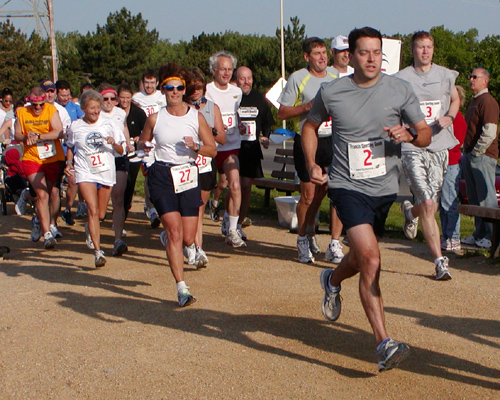 The new: today the inaugural Pathways Animal Assisted Therapy 5K attracted about 45 participants this morning for a run on the levee. It was a small event for a good cause. The organizers hope the date change in 2008 (June 21, avoiding commencement weekend) and added promotion will increase the appeal. Perfect weather for running . . .
The old becoming new: Gene Fox (with KC FOX 4 News) reports this year's Hospital Hill is under new management after Russ Niemi and Rich Ayers and the many MARA supporters have hosted KC's premier running event for over a third of a century.
View the story (Note: link down June 8, 2007. - If you don't have high speed internet, click on the start arrow, click again to stop play while it downloads, then start again).
May 18 - Here's another exciting video clip of racing through the woods. It's a promotion for the Finnish ultra long orienteering champs (May 27). It is a mass start event and following* is usually an essential part of the game as you can see. . . but don't lose contact. Don't read Swedish? Click on the black screen. (If you don't have high speed internet, click on the start arrow, click again to stop play while it downloads, then start again).
*following: putting away your map and letting someone else faster and smarter pull you along.
May 17 - Jorge's Boston: "The Boston Marathon, April 16 2007, came during one of the busiest times in my life. I had to present two papers in a national conference in early April and was to take the comprehensive exams for my PhD degree at the University of Kansas at the end of April. However, out of the three marathons I have run so far, this was the one for which I trained the hardest." more
May 16 - "Athlete" - This in-the-works documentary by first time director David Lam (and marathon finisher at New York, London, and Chicago) provides another perspective of what it means to be an athlete in endurance sports. Through profiles of both everyday, as well as extraordinary individuals, the commitment needed to complete a marathon or ironman triathlon is revealed. Out later this year. (from RunningMovies.com)
May 15 - The Kansas State Honor Roll is available on on-line. Steve Robb of Pittsburg worked with Jack Crook of Mulvane to put his many years of statistical work out on the web. Check the 12K records and you will find several local names making the honor roll. Steve Riley has been a prime contributor for Jack representing the northeast part of the state. Steve also had a good weekend at the Wichita River Run winning the masters age-graded race in 35:58; then an hour later he ran a 11:08 two mile for fun (13th overall).
May 8 - Welcome new runLawrence member Nate Rovenstine who joined after the club meeting last Sunday. Nate has run with the Dog Days group and plans on doing the Chicago Marathon this year.
Street Sense - Yes there's the Kentucky Derby winner, but there's also the street sense to report bad sidewalks, potholes that need filling, or request yield pedestrian signs. At the same meeting, Marcia Riley urged members to contact city officials on any street needs. She said the response was quick to her requests from Dave Corliss and Mike Wildgen.