Oct 31 -The men's trials for the U.S. Olympic marathon team are this Saturday in
New York. It's the day before the New York marathon, on a loop course that should
make for interesting competition. It starts at 6:30 a.m.(central time), and the start is supposed to be shown live on NBC's Today show.

As far as I can determine, the only place you can watch the full race is on the web at www.nbcolympics.com/marathon

NBC is supposed to have a highlight show on Saturday from 1-1:30 p.m.(central time), but check local listings to be sure.

This may be the most competitive U.S. marathon since the good old days. More than 130 runners are in the field so far, including four with sub-2:09 times. -
Dick Lipsey
Oct 27 - Congratulations to the Baldwin girls cross country team on winning the 4A state championships. They were led by repeat state champion Heather Garcia with a time of 14:42. DeSoto was 2nd, Eudora 10th in the team races. Eudora's Emily Ballock came in 17th. The Baldwin boys were 2nd in the team race behind winner Mulvane. Freshman Tony Weiss finished 4th overall.
Top finishers in the 6A races at Rim Rock, Roy Wedge (LHS) was 7th, teammate Dylan Hedges 8th and Logan Sloan (FSHS) 13th in the boys race. On the girls side, Kyra Kilwein (FSHS) was 8th, Hayley Francis (FSHS 11th, and Kelly Renfro (LHS) 14th. The Lawrence High girls were 6th in the team scoring. Complete local results
Results from the Marine Corps Marathon.
The updated list of entries for the runLawrence Thanksgiving Day Run.

The Oct 27th 5K supporting Women's Transitional Care Services, sponsored by Body Boutique, drew 130 runners this morning. Overall winners were Rachel Berry and Jim Beiter. results
Oct 26 - Can't find a run this weekend? Gotta be kidding!
First of all, good luck to all the high school cross country guys and gals at state at Rim Rock Farm and Wamego.
On Saturday, at 8 am you can do the WOW Run (starts at Body Boutique), then either hurry over to Bloomington Area to support the Clinton Fire Dept Auxiliary 5K for the 9 am start (don't get a speeding ticket), or head over to the Kansas Union for the homecoming 5K - a 9:30 start. Or the Nerdy thing to do at 8 am is to join Tanya Spacek, Kurt Schueler, Coco Teighi, Keith Dowell and others for the 50K trail race at Rock Creek (Perry Lake). . . or the shorter 25K.
On Sunday, if 50K wasn't enough, there's the Blue Springs 50 Miler. Any Trail Nerds doing the "dare ya double?" Gary Henry, you're not seriously thinking about it are you? For mere mortals there's a 4 mile cross country race at WyCo Park. And best of luck to Jon King at the Marine Corps Marathon.
Oct 24 - Results: | Nike Women's Marathon & Half | Wichita Marathon |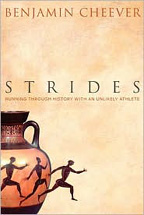 Oct 23 - NY Times Book Review by Benjamin Cheever:: "Strides is a mélange of running history and jock memoir, peppered with anecdotes like that of the Greek soldier who ran the 20-plus miles from Marathon to Athens to deliver news of the defeat of the Persians (and then promptly dropped dead). Today's carb loaders might be interested to know that the secret of the fleet-footed Basque messengers of old Europe was running staffs filled with hard-boiled eggs and white wine. And who knew that Kathrine Switzer, the first woman to officially run the Boston Marathon, in 1967, was warned off running because it would supposedly collapse her uterus?" more
Oct 22 - Our winner is Jim Beiter. He will enjoy the roads and trails at Haskell on Nov 3rd. Come out and join Jim and a chance to win a turkey. Entry form
Congratulations to the local teams qualifying for the Kansas State Cross Country Championships: Free State girls, Lawrence boys, Eudora girls, DeSoto boys & girls, Baldwin boys & girls, Santa Fe Trail boys. Regional results (from the LJW):
Oct 20 - We have one free entry to the Nov 3rd Turkey Trot to the first runLawrence member who submits their request. Click here.
The winner of the drawing will still need to send in their entry. The 32nd annual Turkey Trot cross country race at Haskell is sponsored by Lawrence Park & Recreation.
Check out the results from the Waddell & Reed Kansas City Marathon.
Oct 19 - Chicago reprise: Nate Rovenstine "said reports likening the race to a war zone were exaggerated." This and other quotes appeared in today's Lawrence Journal-World by Andrew Hartsock. Along with first timer, Daniel Mudra, and veterans Renee Rettele and Mickey Woolard, the four shared their opinions on "the marathon from hell." more
Oct 15 - Congratulations to the Free State girls cross country team winning the Sunflower League title race in the rain-delayed race Monday afternoon.
| LJW story | results |


Oct 14 - "While running on the Haskell campus, I remembered it was Dwight D Eisenhower Day." more
Oct 13 - Frank Shorter's comment on the Chicago Marathon (from the Oct 12 New York Times) - How can marathon participants — runners and organizers both — prepare for unique and dangerous weather conditions? more
Race organizers try their best to offer a good running experience for participants, but as much precautionary measures are taken, it is sometimes best to think safety first. Today's Jared Coones 5K was canceled because of the lightning. The right choice, of course, as there is always next year.

Oct 10 - RunLawrence members will soon be mailed entry forms for the Thanksgiving Day 5K along with a $3 discount coupon. This is one of the member benefits discussed at the last club meeting. If you are not a member, or wish to renew, signups now are good through Dec 31, 2008.
Oct 9 - More from Chicago: Jorge Carvajal found the CBS2Chicago link for the super close finish in the men's race and the surprise finish in the women's race.
" This is unbelievable. How come she did not turn her head? Was it because her inexperience? This was her first marathon." - Jorge
From Nate Rovenstine: "Chicago was brutal, I'm sure you've heard. I was not even close to qualifying for Boston, actually I was happy just to be able to finish - not everyone did. . .There will be other races to qualify for Boston!" - Nate
See the photos of the Sept 29th Flatrock 50 (by Stacy Amos).
View the slideshow of the Sandrat Race by Dick Ross.
Oct 8 - Keith Dowell garnered 2 golds and a silver medal at the Kansas Senior Games track events on Sept 23 in Topeka. Joanie Starks ran the 1500m on the same day and competed in 5 swimming events the day before. Results
Oct 7 - Results from Sunday's Sandrat Trail Run.
Sandrat Trail Run: Susan Hadl & Molly Wood; Karl Brooks; Mary Bennett

(Dick Ross photos);
Local results from Saturday's RoeFest 5K. Benson Chesang wins again.
CHICAGO (AP) — In a race run in scorching heat that left one man dead, Kenya's Patrick Ivuti won the Chicago Marathon by a fraction of a second Sunday. More than 300 runners were taken to hospitals because of heat-related ailments.
more | local results
Scenes from the Oct 6th Race Ipsa 5K.

(gmw)
Oct 3 - Club meeting: Sun, Oct 7, 4 pm at Lawrence Memorial Hospital.
Missing at the meeting will be Nate Rovenstine, who will be among many local runners at Sunday's Chicago Marathon. Good luck to all!
Today's Journal-World has a nice picture of club members Lori Norwood and Doug Stull with their Hood to Coast Relay team made up Lawrence-area members. Brenda Groskinsky also ran the 195-mile relay with old-time friends from Oregon.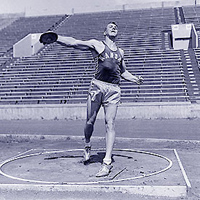 Oct 1 - One of the greatest track & field athletes to wear the KU pink and blue was Al Oerter. The 4-time Olympic gold medalist died today at age 71. (University archives photo)
| NYTimes report | more at KU |
Gary Henry's Flatrock report:
"It only took a second.
"One moment, relentless forward motion at about 4 and-a-half miles per, then the foot smacks the rock, cleverly camouflaged by all the millions, billions and trillions of other rocks on the course.
"Down I went, breaking my fall with both hands and my left knee, then rolling onto my back into leaves, weeds and more rocks." more