Sep 30 - Greg Burger and Gary Henry placed 5th and 6th at yesterday's Flatrock 50K at Elk City Lake, Independence, KS. They were part of a storng showing KC Trail Nerds including Kyle Amos coming in first.
Wrath of Rim Rock - from the Lawrence Journal-World: Baldwin's Heather Garcia placed 3rd as the top finisher among local runners at the high school cross country races Saturday. One comment for the day: "... hard." more
Sep 23 - Results are in from races in Wichita and Parkville.
Sep 22 - Benson wins again. Benson Chesang, a KU track man, ran a 15:27 to cross the finish line first at the Pauline Cooper Dot to Dot 5K at Corporate Woods today. The other Lawrence gold medalist was 11 year old Addison Bolbert winning the 12 & under race. Her time was 27:19. The race is a benefit for pediatric brain tumor research.
Sep 19 - From the KC Zoo Run: "...amazed at the sheer number of runners for a 4 mile event. It had to be one of the coolest short courses I've run ... through many of the zoo's exhibits ... made it feel really fast and there's nothing like having a bengal tiger staring you down from 3 feet away at mile 3.3." - Jon King
Sep 18 -Congratulations to Benson Chesang for winning the KC Zoo 4 Mile Run posting a time of 20:32, a 5:08 mile pace. The youngest local runner was Calvin Dewitt, age 7, running a 47:44 - good for 23rd in his age category. more results
Sep 17 - Alison Donnelly took first in the F20-24 race at the Lewis & Clark Half Marathon in St Charles, MO on Sun, Sept 16. She posted a time of 1:35:58. Other top finishers included Jack Hope's 4th (M55-59) and Ellen Young's 6th (F50-54). Results of local runners.
Ellen succeeded in breaking 2 hours in the race and her story is a common among many runners training in the Red Dog program. A late comer to running for whatever reasons now enjoys running fast - and racing fast. Stacy Riggins and Arlene Slocum recently both said they enjoy racing and acknowledge Dog Days workouts as key to their development in enjoying their sport. You decide for yourself how you want to do each day's workout. With so many other people around, you go easy on some days or get in race mode to keep up with those who are a little faster. Joining a group to workout means you aren't alone in getting yourself motivated.
Shannon Hodges' EZ8 group were all at the Mass St Mile. The EZ8 program also motivates beginning runners and it certainly looked like the program is succeeding. Pierre de Coubertin's quote can apply to any sport, "The most important thing in the Olympic Games is not winning but taking part; the essential thing in life is not conquering but fighting well." Finding your running group is taking part; struggling through a workout is part of the game you have chosen. Winning medals is cool but not the most important thing. Congratulations to all the EZ8 runners as well as the Dog Days runners on your successes.
Results are also in from Sat's Clinton Lake North Shore Trail Run.
Sep 13 - Tomorrow the high is supposed to be in the mid 60s. Fall weather is here, leaves change colors and there are opportunities to get off the roads, whether it's cross country, trail races, or off-trail. Among the running activities this weekend is the season opener of the orienteering season (see coming events). What is orienteering? Check the Orienteer Kansas video.
Someone in Beijing, China was looking up information on Abebe Bikila. Their top source? Using pipl.com, they got runLawrence. Here's the listing. For your next term paper, don't mess around; come to the source.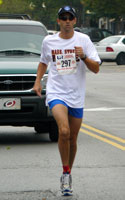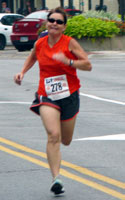 Sep 9 - In today's Mass St Mile, (above left) Arlene Slocum sprints for the finish passing Lance Flaschbarth, the guy has been known to make it very hard for people to run by him. A young runner (center left) tripped at 11th Street and is consoled by other runners. Stacy Riggins (left) needed no consoling as she was the first overall female winner. Her next door neighbor won the men's race (far left). A block party?
Attendance at the Mass St Mile has been getting smaller and smaller each year.The event may be in jeopardy of being canceled next year.
Sep 3 - It was a quiet week in Lake W. . . Wait; wrong show. It was a busy weekend of running activities around Larrytown:
And that's the news . . .
Scenes from the Sept 2nd IronKids Triathlon at Free State HS.

(click to enlarge photos - gmw)