Dec 28 - It has been a topic of hot debate on internet message boards, industry group convention floors and group runs. Battle lines were drawn and nearly everyone was asked at some point to take a side: do you support the ban on wearing headphones during running races? . . .
Now, USA Track & Field has modified the rule governing the wearing of headphones so that it is narrowly limited to the sport's most competitive athletes competing for important accolades or prize money. more (from TheFinalSprint.com)
Dec 26 - More members for 2009: Peter Shaheed and his family and Karen Hyde renewed while we welcome the Norris Family (Alan, Mary Lee and Desmond) first timers from Baldwin City.
Above - The group photo in the rain of the Dec 18th Jingle Bell Run; (right) Ellen Young, Becky McClure, Celeste Leonardi & Bev Gardner inside the Kizer Cummings store

(Jerry Henley photos)
Dec 17 - Thanks to the following people who've renewed their membership with runLawrence: The Rhonda LeValdo-Gayton Family, John & Cynthia Dunham, Laurie Comstock, and Bob Woods. And a belated welcome to Lindsey & Bill Waugh, who joined in November.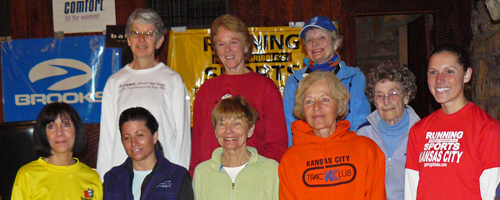 Dec 14 - The Mid-America Running Association announced its winners in this year's Gran Prix rankings competition at yesterday's Chili Run at Wyandotte County Lake Park. Local runners honored included: Dee Boeck (F55-59, top row, left in photo) winning her 11th out of 12 years of the Gran Prix rankings, Jenny Wise-Cook (Gardner, 1st F45-49, 1st row, 2nd left) with 94 pts while Karen Hyde was 2nd in F45-49 with 66 pts. Keith Dowell scored 38 pts to take 5th overall in the M50-54 category. Photos from the Chili Run and awards ceremony. Complete standings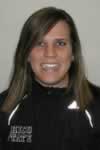 More from the Thanksgiving Day Run: In the women's race in 2007, Julie Shaw of Palo Cedro, CA finished 2nd to Baldwin's Erica Ogle (19:51 to 19:28). Both improved their times in 2008, but Julie's time was almost a minute and a half faster over last year (18:26) and over Erica's 19:24 to win. Julie is a sophomore at California State University at Chico. Matt Riley defended his 2007 title with a time this year of 15:56, improving on his 16:10 last year.
Dec 11 - Bob Woods (Baldwin) participated in the St. Jude Memphis Marathon on Dec 6th and finished 2nd in the 55-59 age group with a 3:32:45.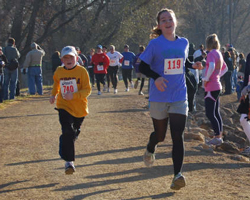 Thanksgiving Day 5K at the Levee: "Johanna's personal best" - On a cold, beautiful Lawrence morning more than 650 runners crossed the finish line creating a host of interesting time coded stories. From the rocket pace of Matt Riley who timed in at 15:56, to the last finisher, all wanted to a) finish the race and b) achieve a new personal best. The times were accurately recorded by a microchip worn by each runner. more
(Ken Waldock photo)

Dec 5 - From Paul Boone: Here is an article about two Eudora runners, Megan Ballock and Brittney Graff, having a good season at Pittsburg State. Erica Ogle, Baldwin, who finished as the 2nd overall female at the Thanksgiving Day Run, was Pitt State's number one runner for most of the year. MJ Hassaballa, a former Free State runner has been the top runner on the boys team which also competed well at Nationals as well.
Dec 2 - You may think you've run or biked some tough hills but you don't fully appreciate the meaning of the word "incline" until you've been introduced to Skyraces. Take a look at the video from the race in Italy, as reported by Endurance Planet.
Levee closure: The Kansas Turnpike Authority will begin work around the levee to the east of the Kansas River under the Kansas Turnpike this week. This means, effective immediately, that the trail under the Turnpike will have intermittent closures for approximately 6 months. Although this is an inconvenience for walkers, runners, bikers and general outdoor enthusiasts, it is for the safety of everyone that the trail be closed during construction. The closures will be in effect mostly while beams and decking are being lifted over top of the trail.

Please remember never to walk (or drive, for that matter!) around a barricaded or coned off area. [special thanks to Duane Peterson, Lawrence Parks & Rec, for forwarding the message]

Dec 1 - Welcome a new area club: the Baldwin Area Running Club; we added them to our links page. Contact: Andy Norris. Webpage at: http://baldwinrunning.org.