Feb 25 - Last Friday, ESPN asked, "Are these runners ultra-tough ... or ultra-crazy?" Check out their analysis on ultrarunning. more
Reminder: Next runLawrence club meeting is this Sun, Mar 2, 4 pm at Lawrence Memorial Hospital.
Feb 21 - I am a doctorate student in exercise physiology at KU. I'm currently in charge of coordinating a research study in the Applied Physiology Lab and we are looking for trained males age 60-85 who would be willing to participate in a research study that would require 2 visits to our lab. more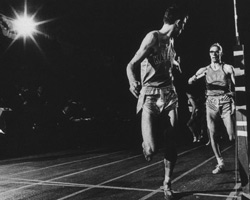 Feb 16 - Among the recent inductees to the KU track hall of fame was Dwight Peck. Found his web page on KU Track (someone had googled "Olison" and we found Dwight's link on the visitors list). Interesting read about his running days, his move to Europe, his politics, his pride in his children and what's he's doing these days in Switzerland... the link is from 1999; the races from the late 60s. (R Clarkson photo?)
Another good report (and photos) on Rocky Raccoon by Bad Ben Holmes. Ben is one of those seasoned ultraunners who not only finishes a lot of event each year but is the energizer rabbit-godfather of local event promotions.
The Apr 20th TherapyWorks Lawrence Half Marathon & 5K requires a large number of volunteers. Volunteer positions include course monitors, finish line & results workers, Food Fest workers, setup and take-down, and various other jobs. Volunteers who sign up by April 1st will receive a t-shirt. If you are interested, please contact Sally Zogry, Volunteer Coordinator, at info@healthcareaccess.org.
About 5-6 more volunteers are needed for the club's Mar 29 Dam Run to work the finish and results; please contact Gene Wee, 841-3587.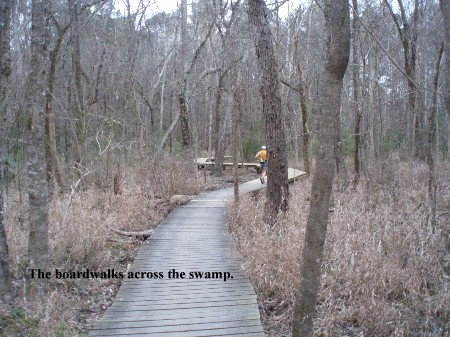 Feb 14 - Rocky won with a TKO in the fourth. I fell heavily into a camp chair, done, at the site 174 aid station, 77.1 miles into the five-lap, 100-mile race, about 1:30 a.m., Sunday morning. But I knew I was going down shortly after leaving the Dam Road aid station about 4.5 miles before, at 11:15 Saturday night.
Read more of Gary Henry's Rocky Raccoon race report. . .
"I was just wondering if I could get some advice on stress fractures such as treatment and what activities are safe how long to stop running etc.., I found out I have two stress fractures in my right tibia." Jim Beiter
Feb 11 - "Life should NOT be a journey to the grave with the intention of arriving safely in an attractive and well preserved body, but rather to skid in sideways, Gatorade in one hand, Gu in the other, body thoroughly used up, totally worn out and screaming 'WOO HOO what a ride!' " - Keith Dowell's comments after finishing his 20 miles at Psycho Wyco.
Feb 10 - 400 people ran the various races at Sat's Psycho Wyco trail races. Screwed shoes weren't required. But there was snow and mud in parts to sap the energy out of your legs and most people who ran last year had slower times. In addition to the 50K, 20M and 10 M, a 5K course was also added. The Trail Nerds put on another great well-organized event. Results
Thank you to Brenda Groskinsky and Elizabeth Weeks for renewing their runLawrence memberships.
Dick Wilson, Lloyd Koby, Art Dalzell, Wes Santee in '53

(KU archives);

(right) Ben Olison winning a race at Allen Fieldhouse in 1966; (far right), Tom Yergovich in a cross country race on the KU West Campus (Oct '66)

(gmw photos)
Feb 8 - Tomorrow several trackmen will be inducted into the KU Athletics Hall of Fame. Dick Wilson is among a group being inducted along with two other teammates, Art Dalzell and Lloyd Koby, that set an American record in the 4-mile relay in 1953. Already in the Hall of Fame is the anchor of that team, Wes Santee
Today, most of us know Dick as a national-class age-group runner into his 70s, including a pair of 1:24 half-marathons at age 65.
The Hall of Fame committee is recognizing the world class tradition of KU track & field. The huge number inducted this year reflects that rich history:
Thorn Bigley, 1969 world record distance medley relay
Leo Bookman, 2003 & 2004 NCAA 200m champ
Everette Bradley, silver medalist in 1920 track Olympic pentathalon
Clyde Coffman, 1932 Olympic decathalon
Bill Dotson, 1962 world record 40mile relay
Kent Floerke, 1964 Olympic triple jump
Merwin Graham, 1924 Olympic triple jump
Curt Grindal, 1967 world record distance medley relay
Randy Julian, 1969 world record distance medley relay
Richard McGlinn, 1953 world record sprint medley relay
Ray Moulton, bronze medalist 1904 60m
Ben Olison, 1967 world record sprint medley relay
Dwight Peck, 1967 world record sprint & distance medley relays
Don Smith, 1953 world record sprint medley relay
Tom Yergovich, 1967 world record distance medley relay
These athletes will be honored during the KU-Baylor basketball game.
Feb 7 - Renewing members: John and Janet Huchingson. And two new family memberships: John Frydman and Laurie Martin-Frydman, and Jacob and Alyson; Susan Young, Avery Whipple, Nolan Whipple, and Austin Whipple. Appreciate your support of the club.
Jan 19: The Meyers Family & Cameron Chase covered up like Kansans before the Lumijuoksu Snow Run; Amy after the race,
Feb 4 - On Jan 19 we were up in the UP for the Heikinpäivä celebration in Hancock, MI. While we were there, we ran in the Lumijuoksu (Snow Run) 5K (supporting the Michigan Tech University track and field team). It was 2 degrees at race time with snow and a 20 mph wind in your face for the first mile and 3/4. It was a bit chilly, but we had a great time! Amy won the women's 14-19 division (second woman finisher overall) and I took second in the men's 40-49 division. We did take a pass on the Polar Bear Dive that afternoon. In the photo above, Keith Meyers with daughters Amy & Rebecca, and Cameron Chase wait for the race to start. (above right): Amy enjoying some much deserved hot chocolate after the race (the thermometer at the bank in the background shows it was a balmy 4 degrees at that point). - Keith Meyers
Thanks to Jorge Carvajal, Ed and Phyllis Payne for the membership renewals.