Jan 31 - From today's New York Times: You know what is supposed to happen when you grow old. You will slow down, you will grow weak, your steps will become short and mincing, and you will lose your sense of balance. That's what aging researchers consistently find, and it's no surprise to most of us. But it is worth remembering that the people in those studies were sedentary . . . more
("Staying a Step Ahead of Aging")
Jan 28 - The month of February is the month of presidents days and valentines. Come to the next runLawrence club meeting, Sun, Feb 3, 4 pm, at Lawrence Memorial Hospital. President Ellen Young will give kisses to everyone who shows up. What a campaigner! Other former presidents in attendance will also provide kisses.
Jack Crook confirmed that Steve Riley, Fran Breslauer and Christian Wrisner times from last year's Dam Run 12K are the new state records. Add Tom Kreissler (M35-39) to the state honor roll, his 44:44 got under the target time of 45:00. The state records web site will be updated in the next few weeks.
Do you have a fast 12K in you? The 2008 Dam Run is set for Sat, Mar 29.
Jan 27 - See the results of local runners at the Jan 27 Groundhog Run held at the Hunt Midwest Subtropolis. The attraction of running underground always brings a large number of out-of-towners. Still, there was a large contingent from the Lawrence area. It was 60 degrees inside, but it was also 60 degrees outside - another tough day to inside.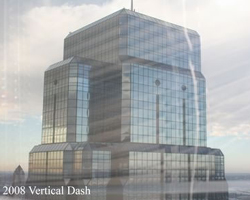 Congratulations to Keith Dowell posting the 3rd best time at Saturday's (Jan 26) Veritical Dash for Diabetes at the Town Pavilion in Kansas City. He said it was lung burner. Keith missed 2nd place by one second. Nick Wills of Kansas City, MO ran a 4:40 to Keith's 4:41. Winning time for the 34 flights of stairs was 4:11. results
Jan 20 - BJ on Topeka to Auburn: After staying the night with the race directors Brad and Marla Rhoden, I heard report of the temp registering minus 6 degrees at 7 am. But the weather did not stop an almost record crowd from showing up. read on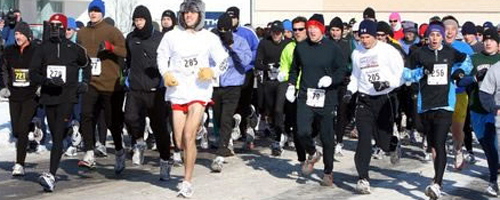 10 degrees at the start of the Topeka to Auburn Half Marathon

(dick ross photos).
Jan 19 - 10 degree temperature didn't deter a record number of entries for this year's Topeka to Auburn Half Marathon. Top winners were John Tripp (Omaha) and Heidi Bryant (Kansas City MO). Reports varied on how slick the roads were. Some runners wore Yaktrax while others didn't have trouble wearing regular running shoes. Top five finishes of Lawrence runners include:
F35: 5th Krista Thomas (1:59:49)
F40: 3rd Susan Young (2:03:39)
M40: 4th Chris Nyberg (1:37:51)
F45: 4th Cynthia Dunham (2:19:09)
M50: 2nd Brian Daldorph (1:33:09), 3rd Jay O'Neill (Winchester 1:35:41), 4th Karl Brooks (1:37:15); 5th Keith Dowell (1:39:22)
F55: 1st Dee Boeck (2:06:15)
M55: 5th Jack Hope (1:44:52)
full results
Wanted: I'm trying to buy a used treadmill. Does anyone know of anyone trying to sell one? - Karen Hyde, 843-3993.
Congratulations to Paul Heitzman for being named honorable mention in the March Running Times list of masters of the year in the men's 75-79 category.
More membership renewals: the Karen & Keith Braman Family, Peter Shaheed.
Jan 17 - It's been promoted for months and it's finally (near) here: Spirit of the Marathon will be shown next Thurs, Jan 24 at 7:30 at four KC locations. If you miss this showing, there will be an encore Feb 21.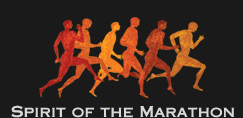 Spirit of the Marathon captures the drama and essence of the famed 26.2 mile running event. Filmed on four continents, the movie brings together a diverse cast of amateur athletes and marathon luminaries.
As six unique stories unfold, each runner prepares for and ultimately faces the challenge of the Chicago Marathon. More than a sports movie, Spirit of the Marathon is an inspirational journey of perseverance and personal triumph; a spectacle that will be embraced by runners and non-runners alike.

The film stars legends such as Dick Beardsley, Paula Radcliffe, Bill Rodgers, Toshihiko Seko and Grete Waitz.
Jan 15 - It was tough going for Joanie Starks and Stacy Riggins at the Disney World Half Marathon in Orlando on Sat, Jan 12. Getting up at 2:30 am to catch the 3 am shuttle to the start was better than trying for the 4 am shuttle which if over capacity would have left you behind. The temperature was 50 degrees warmer than what they were used to, plus the humidity. Long wait at the start - without any water. Both finished having a harder time with the weather. Over 12,000 finishers in the half. Michael Zabel posted the best time among Lawrencians in the marathon, 3:28:47, good for 35th in his age group. Almost 13,000 finishers in the Sunday marathon. results
Thanks to these recent membership renewals: Molly Wood, Stacy Riggins, the Rhonda Levaldo & Denny Gayton Family, the Steve & Marcia Riley Family, and the Kelly & Becky Ryan Family.
Jan 14 - "Here are the results for the Fat Ass 50K New Years Day Run, Cameron, MO. This was the hardest race I had ever ran. Cold and windy. Wind chill -1; the high got to 10 degrees with a 25 mph wind at the higher elevations. Jim Beiter's first 50K. I think there were about 30 starters with only 12 finishers." - Keith Dowell
Join the race director and other runners for a series of training runs on the TherapyWorks Lawrence Half Marathon, 5K, and 1 Mile run courses. Run as much or as little of the course as you want. You are encouraged to bring a course map in case you get separated from the group. No charge and everyone is welcome. All runs will meet in the south parking lot of Coffin Sports Complex at Haskell campus. The first run is Sat, Jan 26 for the half marathon distance. Meet at 9 am. Full schedule
Jan 11 - You run because you want to; can you run because you have to? Yahoo News reports: When world marathon champion Luke Kibet goes running, he likes to focus on finishing first. But on one run during Kenya's postelection upheaval, the 25-year-old star had something else on his mind: staying alive. more
Jan 9 - You are an athlete, or, at least, very active. Should you seek doctors who are athletes, too? After all, some obese people pass around lists of "fat friendly" doctors who treat them with respect. Women often want female doctors. more (from the NY Times). And another related article: "Redefining 'Fit to Practice'."
Jan 1 - Happy New Year! Scenes from 2007 (click to enlarge photos):