July 29 - Journeyfilm followed runner Dean Karnazes for more than three months documenting his amazing physical quest of to run 50 Marathons in 50 States in 50 consecutive days. Playing July 31st at the Palazzo 16, 8601 W 135th St in Overland Park. more

July 28 - Welcome to new runLawrence member Casey Finch.
CHICAGO, IL, June 1960. "Look at this," Dad said, pointing to a notice on a back page of the Sunday Chicago Tribune. A listing under "Today in Sports" read, "Track Meet, Stagg Field, noon. Open to all. Entry fee 50 cents per event."
We drove the farm pickup that same day to the University of Chicago campus on the city's south side. Stagg Field, named for legendary coach Amos Alonzo Stagg, now matched its surrounding neighborhood. Both were crumbling.
The grandstands might have collapsed if more than a dozen fans sat down at once. But there wasn't any risk of that happening this day.
We saw no crowds. No one stood at the open gate selling or collecting tickets. more
July 23 - Thank you to all who attended the TherapyWorks Runner's Clinic. We received a lot of positive feedback from those who participated, and our staff is already looking forward to an even bigger and better event next time around. If anybody has any questions regarding the event, or was unable to have the video analysis performed due to time constraints, please call our clinic @ 749-1300 and ask for Ryan Brandt. Special thanks to runLawrence, Red Dog's Dog Days group, Francis Sporting Goods, and all the area coaches and runners for coming out and showing just how important running is to the Lawrence community. - Ryan & Brandy
July 22 - runLawrence results: Congrats to Kelly Gunn for winning the F25-29 race at the Midwest Mayhem Triathlon held Sunday at Lone Star Lake. Keith Dowell took 2nd in M50-54; Jon King was 10th in M40-44.
-----------------
We just returned from a really great vacation that we built around three rather geographically dispersed 5Ks. The first was the "Run Thru Pergatory" near Constantine, Michigan on July 5th, the second was the "Course a Pied Bon Coeur" in St. Quentin, New Brunswick, Canada, on July 12th, and the third was the "Oil City Firefighters MDA" in Oil City, Pennsylvania on July 19th. Along the way, we found a number of great locations for our training runs, with Niagara Falls, Ontario, Port Hope, Ontario, Cheticamp, Nova Scotia, Millinocket, Maine, North Adams, Massachusetts, and Lake Placid, New York topping the list of our favorite training runs.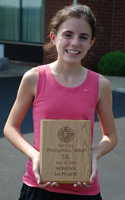 Rather interestingly, I drew bib number "666" for the "Run Thru Purgatory" and won the age 45-54 age group. Amy took second in the overall female division. Rebecca took third in the 16-19 age group. This course runs along rolling hills on gravel roads in a wildlife area. At the "Course a Pied Bon Coeur", we found ourselves immersed in the French language in a remote area of northern New Brunswick where a Western Festival was being held. The people we met there were incredibly nice and we hope to have some photos from this race soon. Amy won the overall female division, I took second place in the 40-49 division, and Rebecca took third place in the 14-19 division. The "Oil City Firefighters MDA" race was probably the most exciting of the three races, because of the speed and competitiveness of the race. Amy took control of this race at the midway point and won the overall women's division with a time of 21:01. I took first place in the 45-49 age group with a time of 21:43. Rebecca took 4th place in 14-19 division. We ended up bringing home a curious arrangement of hardware. I have attached a photo of Amy with the plaque she won at Oil City.

For anyone interested in a different twist on a vacation, we would highly recommend this approach!

Keith Meyers
----------------
July 14 - Reminder: July 19th Runner's Clinic. TherapyWorks is hosting a runner's clinic this Sat, from 9 am to 12 pm at 1311 Wakarusa Dr. Video analysis, foot/lower extremity assessments, Acceleration Sports Performance trials, and many other services - all free and open to the public. Francis Sporting Goods will be on hand to help with shoe fitting/consultation, and will be offering discounts to attendees at their downtown store. Please call Ryan Brandt with questions at 749-1300.
July 13 - Lawrence names at the Topeka Fiesta Mexicana 5K yesterday: Dick Wilson was 1st in the 5K walk; Bob Woods took 3rd in the M55-59 race. Results
Scenes from the Horsethief 5K Run: the welcome at the finish; winners Trisha Culbertson & Joe Moore. (gmw) slideshow
July 12 - The Manhattan Transfers - Joe Moore and Trisha Culbertson, both from Manhattan, were the winners on the Eudora cross country course at today's Horsethief 5K Run. Their winning times were 15:55 and 20:21. Results
July 10 - Full results from the Junction City Coors Freedom Run 10K (July 4).
The Cacklers, Lori & Don, were back this year at the Salina Festival Fitness Five held June 14. Here's a report from the Salina Journal.
July 8 - Runners can still enter Sat's Horsethief Run on Active.com for $20 up to Thursday night! Race day registration is $25. The Eudora CC guys and gals appreciate your support.
Paul Boone forwarded this video on Nick Symmonds, the winner in the mens 800m race and a top contender for the gold in Beijing. More on Nick. (clips from KTVB.com)

And the 3rd place guy in the 800 diving to make the team was KSU grad Christian Smith. Smith's college coach at K-State is Cliff Rovelto - who also coached the Lawrence Track Club and at KU a few years ago. More on "diving" into the Olympics.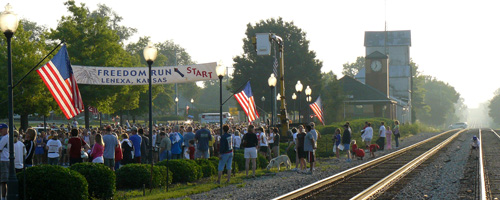 30 years celebrating the 4th of July with the Lenexa Freedom Run.

(gmw)
slideshow
From the 4th of July Coors Freedom Run 10K in Junction City: Top finishers from the Lawrence area included Nate Rovenstine (Lawrence, 3rd M45-49) 47.08, Steve Riley (Lawrence,1st M50-54) 37.34, Brad Rhoden, (Topeka,1st M55-59) 40.52, Lindsey Munson (Topeka, 2nd F21-25) 50.25, Lesly Gillan (Topeka, 4th F21-25) 51.53, & Marla Rhoden (Topeka, 1st F50+) 46.31. Report from the Junction City Daily Union. (need to log in)
July 7 - Congratulations to Stacy Bone (Lawrence) on winning the F35-39 category at the July 5th Sabetha 5K Run. Full results
July 6 -What is ultrarunning? Ben Holmes and Kyle Amos, the KC TrailNerds guys, explained it on a KCUR broadcast last week. Results from the Trailnerds' Psycho Psummer 50K/15K races.
July 4 - Happy Independence Day. Results from the Lenexa Freedom Run.