June 29 - The U.S. Olympic Team Trials in Track & Field are underway having started June 27. You can watch the action at the times listed below. All times are subject to change.
| | | |
| --- | --- | --- |
| Date | Times (local) | Network |
| June 29 | 6:00-7:00 p.m. | NBC |
| June 30 | 10:00 p.m.-12:00 a.m. | USA |
| July 3 | 10:00 p.m.-12:00 a.m | USA |
| July 4 | 10:00 p.m.-12:00 a.m. | USA |
| July 5 | 4:05:00 p.m. | NBC |
| July 6 | 7:00-8:00 p.m. | NBC |
Kansas City's Muna Lee won the women's 100m in 10.85. Tyson Gay set a new world record in the 100m with a time of 9.77 in the quarterfinal. The men's final is tonight. Two KU ahletes, Crystal Manning (triple jump) and Jordan Scott (pole vault), made it into the finals today. In Lawrence, you can see the action this evening on Sunflower NBC channels 8,14, or 202. The USA channels are 46 and 246.
June 23 - New Leaders Emerge in the 2008 Trail Runner Trophy Series. Marathon and Shorter Division - Belinda Young, 39, of Chatsworth, Georgia, scored enough points at two early season trail marathons to put her in the lead of the women's standings. She was 3rd in her age group at the Land Between the Lakes Trail Run in Grand Rivers, KY, on Mar 8, and 2nd at the Free State Trail Run in Lawrence, KS, on April 26. "I don't really race to win, but to enjoy myself and the scenery," says Young. "One reason I go out-of-town races is to see new places in nature; I am always amazed at God's beauty."
Trailing Young by only 13.8 points is Lawrence, KS' Jennifer Schwartz, who won her age group in the 3.1-mile Rock Creek Trail Race #1 in Perry Lake State Park, Kansas, and Free State.
Top Women Marathon and Shorter Division
1. Belinda Young, 39, Chatsworth, Georgia, 131 points
2. Jennifer Schwartz, 32, Lawrence, Kansas, 117.2 points
June 21 - What happened on the first day of summer:
Wyandotte Co Lake Park Trail 5K - Top time was posted by Mike Garvin from Lawrence doing the 5K on trails in 15:59. Laurie Comstock was back in Duluth - running Grandma's Marathon. She posted a 3:58:18 (chip time: 3:54:41) good for 17th out of 227 in her age category. At the Sanctuary of Hope Run the Good Race, Gabriel Ortiz (another new runLawrence member) was 3rd in the hilly "Challenge" course in the M30-34 race. Then a few minutes later, he ran the flatter "Road" course good for 3rd again. That got Gabriel an 8th overall in the "Do the Double." And in Lawrence Scott McVey and Lori Lange answered the starting call by Red Dog (Don Gardner) to win the Pathways 5K.
No, but I did stay at a Holiday Inn . . . Chris Chandler from Austin, TX, was staying at the Holiday Inn Express and saw the Pathways race setting up outside her window. She thought why not a 5K that morning. . . . Didn't get her name, but another women from Wichita drove up that same morning to run. After a surgery removing a tumor and then losing 35 pounds, she made the Pathways event her goal to run her first competitive race. She'd like to lose more weight and plans to return next year.
June 17 - To John and Cynthia Dunham (coordinators of one of the aid stations at the triathlon) - I wanted to let you know that our family was honored to be able to help out, as impromptu water volunteers, at the Ironman on Sunday! We thought you ran a nice operation and very much enjoyed being a part of it. I also wanted to thank you for some of the spoils from the race (Gu!). . . more
June 16 - Joining runLawrence today were Carie Gallagher and Elizabeth Smith.
Results from the Tonganoxie Library Run.

Results from this weekend's Adidas Rock Chalk Run and the Ironman 70.3 Triathlon. NOTE: The triathlon was cancelled early due to weather; the run splits for many racers do not reflect the total 13.1 mile course. Great coverage in the Journal-World this morning.
Slideshow from the Rock Chalk Run.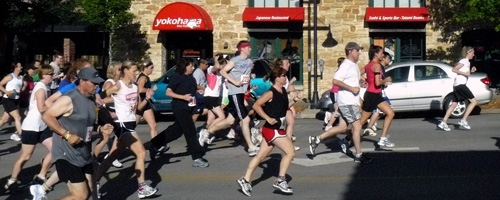 June 15 - The Kansas Ironman 70.3 Triathlon had a beautiful morning for the 1300 athletes at the Bloomington Area of Clinton Lake. It was quite a sight to arrive at the race site as a volunteer and see all the cyclists going out to Stull and Richland - one very long steady stream of riders.Cervelo bikes at $3000 x 1300 - that's almost $4 million of equipment rolling by. The Bloomington campground was crammed with spectators everywhere. The volunteer aid station workers dispensing out water, Gatorade, gel and Powerbars made it look like so much fun, some of the kids at the campgrounds came out to help. The kids got a kick out of yelling "water" and "Gatorade" and getting athletes to take their offerings - this wasn't work. The racing was impressive. It was mostly "Strine" (Australian) spoken among the first leaders coming through. These were exceptional endurance athletes supported by an equally large contingent of local volunteers to help Tom Ziebart and Ryan Robinson put on a good show. We hope the athletes are excited to come back for the next couple of years. The Ironman 70.3 held in Lawrence is part of an international series with another event held today in the United Kingdom.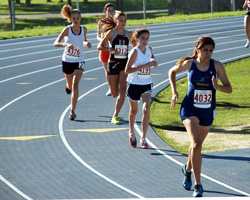 Amy Meyers (#4199 in photo) set a PR of 5:27 in the 1500m at the USATF Missouri Valley Championships at Rockhurst High School on Sat, June 14. Amy's 5th place finish qualified her for the Junior Olympics Regional meet. Amy also had a 3rd place finish in the 3000m on Friday night. Click to enlarge photo (dkMeyers photo)
June 13 - The Pod Trod MP3-Mile Challenge has been POSTPONED for the protection of the trails and the muddy conditions. more
The Journal World's Andrew Hartsock likes to report on those running events with a little twist or extra fun element. Tomorrow's PodTrod MP3-Mile Challenge got a great report featuring Greg Burger and photos by Gary Henry. Along with top Trail Nerd Ben Holmes, the trio have worked hard to insure a full 5K of frivolity.
June 12 - Check the Rock Creek Series race results. Race #2, held on Sunday, June 7, included runLawrence members finishing among the top ten places: Keith Dowell (5th overall), Greg Burger (6th), Dan Kuhlman (8th). Also competing on the Perry Lake trails were Jim Beiter, Kurt Schueler and Coco Tieghi.
Welcome Jenny Wise-Cook as the newest runLawrence member.
from Ryan Brandt: TherapyWorks is hosting a runner's clinic Sat, July 19th from 9 am to 12 pm at 1311 Wakarusa Dr. We will be offering video analysis, foot/lower extremity assessments, Acceleration Sports Performance trials, and many other services- all free and open to the public. Francis Sporting Goods will be on hand to help with shoe fitting/consultation, and will be offering discounts to attendees at their downtown store. We expect a good group of local runners, local track and CC coaches, and maybe a few more recognizable running names from around the area.

June 10 - He's going stair crazy! Keith Dowell is entered in the Sears Tower Go Vertical race on Nov 9th. Our 53 year old is placing very well overall at each race he's entered. If you would like to contribute to his goal in support of cancer research, go to the event web page.
June 7 - A muggy summer morning for this year's version of Hospital Hill, but the breeze made it tolerable in stretches. Winners in the half marathon include Brad Rhoden (1st M55), Susie Fagan (1st F35), Jack Hope (1st 60M) & Marla Rhoden (1st F50). Topeka's Lezlee Jones was 3rd in F35.
In the 10K Ken Johnson won the M55 race while Dane Johnson was 2nd in M25. Kathy Meyer got the bronze medal in F35.
Medalists in the 5K include Topeka's Carissa Marshall (1st F25), Mike Garven (Lawrence, 2nd M20), Jericho Hilliard (Lawrence, 2nd M25), & Patricia McAlister (Lawrence, 2nd F55). See results
The sign is up at 839 Massachusetts - "we are opening Monday, June 9th." That's Garry Gribble's Running Sports store. Check it out next week. And be sure to support Garry and all our other local stores and services helping you with your running goals.
Our new member update for June continues: Gabriel Ortiz - thanks for your support.
June 6 - From yesterday's New York Times ("Real Thought for Food for Long Workouts"): The idea is that you are supposed to consume carbohydrates and proteins in a magical four-to-one ratio during endurance events like a long run or bike ride, and right after. The belief is that such nutritional diligence will improve your performance and speed your recovery. . .
There are grains of truth to the nutrition advice, Dr. Mark Tarnopolsky and other experts say. But, as so often happens in sports, those grains of truth have been expanded into dictums and have formed the basis for an entire industry in "recovery" products. more
Thanks, Laurie Comstock, for renewing your membership.
June 2 - Gene and Dee, "Thanks again for the wonderful recommendation. I ran the levee trail and was blown away by the peace and beauty of the place. It was pretty early (6:30am) when I went so I got the bird songs to myself mostly. [We don't have many dirt trails here in Brooklyn so I always try to find one when I'm traveling.]
"I also went to Local Burger and was mighty happy with my veggie burger.
All in all, we had a great experience in Lawrence! " - Nancy Cuervo (on her stopover passing through from Missouri to Colorado).
It's great to get new members in the summertime. Joining us on June 1st are John and Cynthia Dunham.
June 1 - Elizabeth Weeks and Mike Vickers were featured on the Sunday Lawrence Journal-World as one of the local teams signed up for the Ironman 70.3 Kansas Triathlon on June 15th. They are looking for a swimming teammate. More