Mar 31 - Reminder: next runLawrence meeting is Sun, Apr 6, 4 pm at Lawrence Memorial Hospital.
Mar 30 - From the Oxford American - "A Runners Place" : As Pope reaches a clearing in the woods, a hunter and his wife emerge on an ATV four-wheeler, yelling for him to stop. Pope quickens his pace. . .
"This is university-owned property," Pope replies.
"No, it's not," says the hunter, moving off the four-wheeler. "I'm going to kick your scrawny ass if you don't get going."
"Okay, let's go, show me what you got," says Pope, who uses his right hand to push the barrel of the rifle away from his torso. The hunter shows temerity by taking a step backward. "Just what I thought, Pope says. "You're just a coward with a gun." more
Three Topekans won their age categories at yesterday's Olathe races. Brad Rhoden (M55 marathon), Marla Rhoden (F50 marathon) and Tony Estes (M50 half). Top medalists from Lawrence included Susan Washburn (3rd - F55 half), Cal Thoman (3rd - M30 marathon), Brian Daldorph (3rd - marathon), and Elaina Thoman (3rd - F25 5K). results
In response to a trail runner wanting to improve her speed, Keith Dowell wrote:
"Try stair climbing.....I have been stair running once a week hard. Also at the gym I use the revolving StairMaster. Find a building and use the stair well. Warm up first, run as many flights up as you can, walk back down, then run up hard. I work stairs for twenty minutes. Gets heart rate pounding. This is way harder than track running. Ive been sneaking into buildings around Lawrence area. Hope this is helpful."
The web site for stair races: www.towerrunning.com
Mar 29 - The Dam Run: An emergency rescue in Clinton Lake delayed the start until Sheriff's deputies could return to their posts on the course. The windy conditions caused the canoeists from the Sunflower Adventure Race to capsized; all were saved. Denny Gayton and Linda Redding were the top winners in the 12K course, with Linda setting the new course record in 54:26. No boys age 13-15 had ever set a time for a 12K, so the state's first top marks now below to Caden Leigh and Jack Shull. No other state records were set this year. Numerous other people however posted times good enough for the list of top times.
In the 5K, Manhattan's Pat Melgares won the men's race and added his name to the state honor roll. Mandy del Valle won the women's race two years' in a row. results
Mar 28 - The Dam Run is tomorrow and if you are an older runner and run the12K (about 7 miles), the state record is yours as no one has yet posted a time. The categories are men 70-74, 75-79, 80-84 and women 60-64, 70-74, 75-79, 80-84. Also, no record is posted for any boys 13-15.
To view the other target times (TT) to make the honor roll in other age categories, check the state records. If interested, you can sign up at the Clinton Lake South Outlet Park. AARP membership not required.
Mar 16 - Did they double up on the Guinness, too? Two Lawrence guys ran both St Pats Day races at 10 am in KC, then the 1 pm 10K in Manhattan. . . .some pretty fast driving in between. . .
| | | |
| --- | --- | --- |
| | KC: Westport 4 Mi | Manhattan Aggieville 10K |
| Gerald Cahill | 26.25.97 | 44.15.36 |
| Joseph Lazarus | 27.59.72 | 47.15.94 |
Mar 15 - Irish for a day, Keith Dowell posted a 25:32 to take 3rd in the M50-54 race at the Westport St Pats Day run. results
For 30 years runners have assembled in Aggieville to tour the streets that shows off the City of Manhattan and the K-State campus. 950 runners took up the invitation to maintain the St. Patrick's Day tradition. It will be Lawrence's turn to return the hospitality Apr 20 with the half marathon and 5K and show off our town and campus. Results of local runners.
Mar 8 - Sorry about the delay in getting out the Shamrock Shuffle 5K Results; the web page editor is a basketball fan. Temperature readings ranged from 6F to 9F this cold, but sunny morning. Over 300 crossed the finish line - a great turnout in support of 2008 youth charities. The top winners were Colby Wissel (15:54) and Kelly Ballard (21:23).

Mar 4 - Brain Imaging Explores The Myth Of Runner's High - "Throughout the world, amateurs, experts and the media agree that prolonged jogging raises people's spirits. And many believe that the body's own opioids, so called endorphins, are the cause of this. But in fact this has never been proved until now. . . jogging not only makes you high, but can also relieve pain." more
(thanks to Ben Reeves for the link, Medical News Today)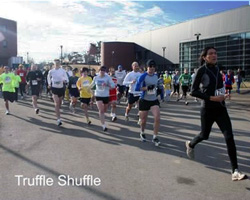 Mar 3 - Another building, another top three. Keith Dowell improved on his 3rd place overall finish at the Jan 26 KC race with a 2nd overall finish at the Mar 1st Master the Met Stair Climb in St Louis. This time 42 stories in 6 minutes flat, beating all comers except for a 25 year old who did it in 5:15. Keith's pace: 9 sec per floor. 900 people competed in this fundraiser for the American Lung Association. results | video
Mar 2 - Results from yesterday's Truffle Shuffle 5K. (Dick Ross photo)