May 31 - Scenes from today's Nash Dash 8K. Baby Jay toed the starting line along with Jim Ryun. The overall winners were Michelle Hein and Grant Catloth. Baby Jay didn't run the official course, but may have covered the distance encouraging runners at the finish. Results

May 29 - Next runLawrence club meeting is Sunday, June 1, 4 pm at Lawrence Memorial Hospital. The artwork for this year's Thanksgiving Day Run will be unveiled.
Jorge Carvajal was concerned about the heat before the May 24 Andy Payne Marathon in Oklahoma City. Jorge had hoped for a 3:20 result, but still ended up 12th overall. The winning time was 3:11:20 set by 49 year old Dave Emerson - same age category as Jorge who ran a 3:59:28. At the start: temp 76F, 82% humidity, 17 mph wind. "I was happy to finish and I thought it was a sweet personal worst. I never walked. Ran the first 13 miles in 1:44 but then decided to take the rest as a long run." Results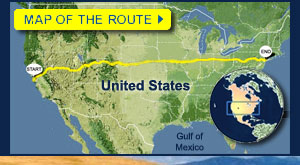 ". . . I am with a documentary film production company called Nehst Studios. This summer, we're making a film about Charlie Engle and Marshall Ulrich's record-breaking run across America. Charlie and Marshall will be passing from southern Nebraska into southern Iowa on July 17, and any runners who are interested in accompanying them on their historic run are more than welcome to join!
Just visit: http://www.runningamerica08.com/ which has all the information about how to sign up. Thanks. - Luke"
May 26 - Top Lawrencian finishers at today's Amy Thompson 8K: Molly Ryan (2nd F2-10), Meredith Van Natte (1st F20-24), Karen Hyde (1st F45), Keith Dowell (2nd M50), Dee Boeck (2nd F55) and Teri Oberzan (3rd F60-64). slideshow | runners in Iraq |
May 25 - Congrats to the 2008 state track & field champions: Lawrence High's Kristina Taylor won the 400m in 57.7 to take the state 6A title. Baldwin's Heather Garcia got 3 golds in the 1600, 3200, as well as anchoring the 3200 relay team with a strong kick on the final straightaway to beat out Wamego. Heather's teammates were Calleigh Durr, Connor Twombly & Corinna Papps). Heather was 2nd in the 800m race just 0.79 seconds shy of 1st. Eudora's Emily Ballock won the 300m hurdles in 44.83.
More state champions: the Baldwin Boys 1600m relay included Kyle Smith, Ryan Kennedy, Carson Barnes & Dustin Schiller. And in the field events, the 4A girls javelin title went to Roxi Grizzle of Tonganoxie.
More from the LJ World: Heather Garcia | Kristina Taylor | photos
A hearty welcome to William Skorupski, another new runLawrence member.
May 19 - runLawrence welcomes new member CeAnne Harbin.
May 17 - Amy Meyers ran the 3200m result in last night's high school regional meet at Olathe setting a PR of 12:14 with a 7th place. She was undefeated at 3200 during the middle school track season this spring while running for West Junior High.
See the results from today's One Hill of a Run 5K - one of the smaller races on the MARA Grand Prix circuit.
May 14 - Matt Riley ran the Mississauga Marathon (Toronto). He didn't run as fast as he wanted (does anyone?), but he was 9th overall out of 1000+, and first in his age group. He ran 2:49:26. Not bad for a first timer. It was a pretty well organized marathon. The city of Mississauga, a large suburb of Toronto, was really committed to doing a good event. - Steve Riley | results | photos by brightroom
May 12 - From Garry Gribble: "We are opening a store (Running Sports) in Lawrence at 839 Massachusetts in early June." RunLawrence members will get a 10% discount and on special RunLawrence Days look for 20% off (excludes Garmin and Bob products). Garry has supported running with three stores in the Kansas City metro area and has always wanted to establish a store in Lawrence.
More about Running Sports

May 11 - About 2,300 runners celebrated Mothers Day with a 5K at Corporate Woods this morning on a sunny but very windy day. Melissa Todd was the runaway winner. Karen Braman ran. Daughter Brooke ran, Karen's mother, Julie Harrington ran. Julie won the F65-69 category. Julie took a hard fall at the race two years ago; the race directors offered a free entry to last year's race and she had a much more enjoyable run. This year she was the one to get her family out today. Spanning the generations was a common theme among many families. photos | results
May 8 - It was quite a mudfest at Saturday's Rock Creek Trail races with two M50s duking it out for overall first and second. Dan Kuhlman edged Keith Dowell by barely 2 seconds. results
Check the photo of Keith on the helicopter deck on top of the AON tower from his LA Climb California race. (ActionSportsInternational)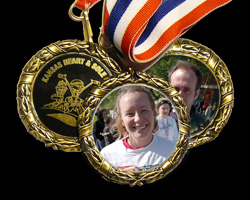 Lawrence area runners harvested a bunch of awards at the Olathe Heart & Sole 5K & 10K. Great job everyone! See the updated list.
May 6 - Gary Henry's Trail Troubles: Boy, you think you know a trail.
You lavish hundreds, maybe thousands of running hours on it, in all seasons and weathers, flowery to desolate, muddy to snowy, dry to muddy, muddy to muddy. You pick up the trash. You clean it after races. You photograph it. You brag to all your friends how beautiful the trail is.
And then, in the big race, in front of the people you most want to impress – ultrarunners from across the nation – your lovely little trail beats the snot out of you. read on