Nov 28 - Revised results to the Thanksgivng Day Run.

Nov 27 - Happy Thanksgiving! A beautiful day greeted over 650 runners for runLawrence's fifth annual 5K run this morning. Stephen Koranda was selected to announce this year's race; not only did he get people started and instructed, he just about recognized everyone crossing the finish line - every participant was appreciated.
Top runners included Julie Shaw, 16, of San Cedro, CA winning the women's race with a new event and course record of 18:26; and Matt Riley, Lawrence, KS, who came back from a good season of cross country at Kenyon College to repeat as the top male finisher with 15:56 time. Lawrence's Lori Lange, 50, was the top female master while Kevin Miller, Olathe, was top male master.
Dick Ross of SeeKCRun took your photo. Take a look.
Special thanks to Raul and Nancy Flores for managing the results and to all our great volunteers. And wonderful sponsors worth repeating again - Francis Sporting Goods, Dr P. A. Ragley foot specialist, Hy-Vee, Great Harvest Bread Company, FedEx Office, J&S Coffee, Dillons, The Merc, Run-Girl and Rick Renfro and Johnny's.
Nov 24 - from the Lawrence Journal-World: The Lawrence Half Marathon and 5K may have hit the wall, but a new event is ready to run even farther to help benefit uninsured and other low-income people in the community. The Kansas Marathon, set for April 19, is a new event that organizers expect will attract 1,500 runners. The one-day event will include three races — a 5K, a half-marathon and a full marathon — with proceeds to benefit Health Care Access. more
Request for information: Hi, I'm Karen Blaser. My husband Chip and I are wanting to purchase a good running treadmill. (30-40 miles per week.) I don't like buying over the internet for such a big purchase. Do you know where can I go in Topeka/ Lawrence/KC to purchase good running models, and have them deliver/setup?
Thanks for the help, Karen - cell 785-766-8829.
Nov 22 - Runner's World has a commitment to find a place for your old running shoes. There are many worthy organizations that will take your used running shoes and bring them to the less fortunate in throughout the world. If you would like to contribute, here are a few places you send your old running shoes.
Or, you can bring old shoes (as well as trophies, awards and cash donations) to the annual MARA Chili Run on Dec 13 at Wyandotte County Lake (KC, KS and all of the donations will go to local charities. 10 am start at shelter #1 - free for MARA mebers, $5 for others - and there's chili and beverages.
Nov 20 - The runLawrence welcome mat is out - new memberships just in for the Marc & Kim Scarbrough Family, and Lance Rupert.
Nov 19 - A belated congratulations to the 2009 runLawrence club officers. Returning officers are Ellen Young, president; John Huchingson, treasurer; and Lori Cackler, secretary. The new vice president is Janet Huchingson. club minutes
Nov 18 - WESTERVILLE, Ohio (Nov 15, 2008) - Junior Matt Riley (Lawrence, KS) earned all-region honors Sat after placing among the top 35 individual finishers and guiding the Kenyon College Lords to a 7th-place team finish in the NCAA Great Lakes Regional Cross Country Championship held at Otterbein College.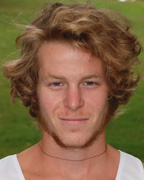 One year ago, Riley placed 42nd at the regional race and the Lords placed tenth as a team. Saturday, Riley traversed the rain-soaked 8k course in 25:48.89 for a 30th-place finish among 240 participants. He was named to the U.S. Track & Field and Cross Country Coaches Association's All-Great Lakes Region team. more
Welcome to the Christy and Kevin Kennedy family - new runLawrence members.
Nov 17 - Tomorrow (Nov 18) is the last day to take advantage of the family registration discount for the Thanksgiving Day Run. Sign up three family members, the fourth gets in free. Individual signups are still $20 until Nov 24 when the late fee applies.
Also, good news - the running chips will be included in the packets available for pickup on Wed, Nov 26 at Francis Sporting Goods. No need to recheck-in Thurs morning to get your chip. And, we still have lots of shirts in all sizes still available (S, M, L, XL). Sign up at Active.com or if you prefer use the printable entry form.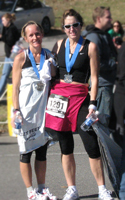 Nov 16 - From Tulsa - "Melanie Davies and I ran simultaneously. She was trying to help me qualify for Boston, but I missed it by 2:29! But… top 50 overall for the females and 13 in my age group. Also improved my PR by 10 minutes. It was the hills at the end that got me!!!" - Marsha Odgers (Melanie and Marsha in photo at right)
Top award winners among local runners at the Route 66 Marathon in Tulsa included Karen Hyde's 3rd place finish in the F45-49 category with a time of 3:40:49; Doug Kieweg (4th in M30-34, 3:11:14). Kathleen Levy (F60-64) of Topeka posted a 1:24:07 time good for 3rd in the quarter marathon race. results
The Lawrence Half Marathon for April 19, 2009 has been canceled. Hopefully the event will return in 2010. Story from Lawrence Journal-World.
Nov 15 - Road Runner Rage - Jean Knaack couldn't keep a lid on it. While on a six-mile run near her home in Maryland, she raised her water bottle and expelled its contents onto the passenger-side window of a car.
Ms. Knaack, a 115-pound runner, had been jogging on the sidewalk when the vehicle had come within inches of hitting her. The driver had blindly pulled out of an adjacent parking lot, and Ms. Knaack responded with the aggressive squirt, coupled with a few choice expletives.
She did not anticipate what happened next. read on (from the New York Times)
Nov 14 - Our sports coaches often make an impact on our lives beyond the sport they coach. Here's a tribute to a St Louis area coach. Thanks to Dick Lipsey for the story.
Blazers' coach made sure young runners got good start - Today's (Nov 8) cross country championships in Illinois and Missouri seem to be the perfect time to bid a fond farewell to Blair Porter. As coach of the St. Louis Blazers for the past 17 years, Porter has been the first influence on many of the area's state cross country and track champions, including Adam MacDowell, Eric Fernandez, Ben Brammeier and Shannon Leinert. Each year, the all-state rosters contain multiple alumni of his program, designed for runners ages 8 to 15. more
(from the St Louis Post-Dispatch)

Nov 12 - Above is the photo of the Lawrence High boys cross country team - 6A state champs for the first time. Front row (L to R) Kent McDonald, Cody Jones, Simon Fangman,Zach Andregg, Ryan Abbott, Chip Anderson; back row (L to R) Joseph Springer, Roy Wedge, Ben Wilson, Calvin Morgan, Jonathan Gabler, Nicolas Shump. Click on photo to enlarge.
Nov 11 - Happy Veterans Day. Hy-Vee is honoring America's vets on Veterans Day with a free breakfast in appreciation of their service to the country. Thanks to Hy-Vee for their support in our community and also for their support of the runLawrence Thanksgiving Day Run.
Nov 8 - A few local results from the Mahaffie Half Marathon & 10K in Olathe:

 Half Marathon 
     M50-54
       2 Daldorph, Brian   M50   1:31:24.62
     M55-59
       3 Woods, Bob        M57   1:45:20.96      full results


 10K


     M60-64
       1 Payne, Ed         M60     49:21.06      full results
Amy Meyers was the overall winner this morning at the Yam Jam 5K in a time of 21:59. Dad Keith was second in 22:09. "It's a really nice run around the lake down in Garnett. The last mile was right into the teeth of that rather cool breeze!"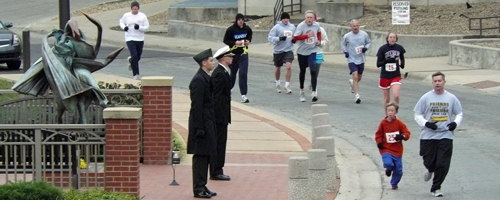 Nov 8 - runners pass by the Korean War Memorial vigil at the KU Veterans Day Run; - slideshow
Nov 6 - Congratulations to Kurt Schueler on his 3:27:37 time at the Dublin Marathon on Mon, Oct 27.
On Sunday in New York, local runners doing the marathon included Scott McVey (Lawrence, 3:02:37), Michelle Hein (Topeka, 3:19:14), Michael Slack (Lawrence, 3:22:35), Marc Lowe (Topeka, 3:23:26), Madeline Harms (Topeka, 3:39:09), Jack Hope (Lawrence, 3:48:21), Marc Scarborugh (Lawrence, 3:50:09), Caleb Campbell (Topeka, 4:11:31), and Nicole Gandy (Lawrence, 4:16:24). results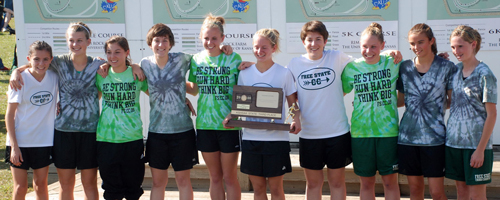 D Keith Meyers photo
Ben Wilson & Roy Wedge leading the pack at the state cross country meet.
(meyers photo)
Nov 2 - Above is a photo of the Free State girls' cross country team after they were presented the 3rd place trophy on Saturday at the State Meet. It's too bad that Hayley Francis, Free State's #2 runner, was injured and couldn't run. You have to believe they would have had a good chance to have won state with her running. Included in the photo from L-R: Amy Meyers, Hillary Yoder, Francis, Maggie Burk (alternate), Haley Harrington, Kyra Kilwein, Katie Burk (alternate), Morgan Flannigan, Lynn Robinson, and Hailey Donley. - Keith Meyers
Nov 1 - Douglas County Cross Country (Rim) Rocks! Lawrence High School Boys took the state title at Rim Rock Farm today. And at Wamego the Baldwin High Girls took the 4A state title giving this county two new state champions. Congratulations, too, to the Lawrence Free State Girls and the Baldwin Boys taking the 3rd place trophies.. LHS ended one of the longest winning streaks in high school sports as they beat out Shawnee Mission Northwest 60 to 69. SMNW boys had won the 6A title every year since 1994. LHS was led by Roy Wedge who almost caught the individual winner, Brayden Barrientez (Wichita Haysville-Campus). 0.83 seconds separated the two. But it was great team race as only 1 point separated the the top four runners from LHS and SMNW. The difference was from the 5th runner of each team. LHS's Simon Fangman (a 9th grader) ran 17 sec. faster than SMNW's 5th guy and 8 places ahead.
Baldwin girls dominated the 4A class scoring 46 points to win their state title; DeSoto was 2nd with 96. Baldwinplaced 3-4-8-12-19 with Corinna Papps leading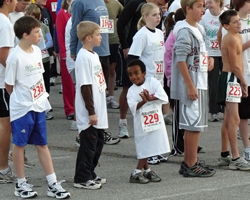 her team with a time of 15:38.83. Results | LJW story
At the starting line for the Fields of Promise Run was Nati Zicker who finished the 5K - with a heart as big as his shirt. Results