Oct 31 - Francis Sporting Goods is hosting their 10th annual New Balance Days, Nov 6-9. 20% off all New Balance shoes and apparel. New Balance reps will be at the store, Sat, Nov 8. See promo ad
Oct 30 - Having run the New York City Marathon 32 years in a row, Dave Obelkevich has a simple approach to navigating the increasingly clogged course. "I just pray," he said, "and hope not to get mowed down." more (from the NY Times)
Oct 29 - "Hello. My name is Angela Longhurst, and I am looking for a running partner. II am new to running - I have run 2 5Ks but want a partner to train with me to run the half marathon next April. I live in Lawrence and I am 31, btw. I would like to run with the established groups in town but they dont fit my schedule and think they all go alot farther than I am able to do. . . Maybe you could mention I (or my group) am just starting and run approx 3 miles right now, and will increase in mileage thru the weeks up to the half marathon in April. I can be contacted me at my email address. Thanks in advance. Angela"
Thanks to Todd & Erin Rogers for joining runLawrence.
Oct 27 - The Free State girls cross country team qualified for state as the runnerup team with Kyra Kilwein taking top honors again. Here's a shot the FSHS Fab Five: from L-R: Morgan Flannigan, Haley Harrington, Amy Meyers, Lynn Robinson, and Kilwein. (D. Meyers photo) Roy Wedge was the winner in the boys race leading Lawrence High to a 2nd place and going to State as well. The 6A State Champs are at Rim Rock Farm this Sat, Nov 1. The qualifiers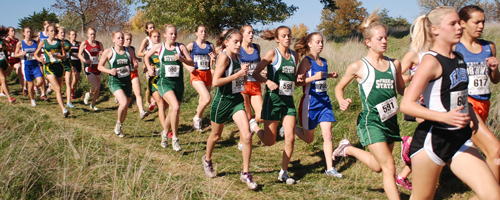 Oct 23 - Steve Rainbolt, former KU high jumper and track coach now at Wichita State, has started a similar Dog Days program called Shocker Fitness held at Cessna Stadium on the WSU campus.
Thanks to Greg Burger, and Susan Young and her family for their membership renewals for 2009. Remember club members get 10% discounts at Francis Sporting Goods and Garry Gribble's Running Sports. And coming Nov 6th, Gribble's is offering 20% off on all items (except Garmin & Bob products).
Oct 21 - At the Women's Marathon, fastest time didn't win: There were over 20,000 competitors in Sunday's Nike Women's Marathon in San Francisco. And 24-year-old Arien O'Connell, a fifth-grade teacher from New York City, ran the fastest time of any of the women. But she didn't win. more (from SFGate.com)
Oct 20 - The searchable results are now available for the KC Marathon. So here are congratulations to the local area winners we didn't catch yesterday: Topeka's Michelle Hein took 3rd in the half marathon (F30-34) in 1:28:12.
Finishing 1-2 in the marathon in the M18-24 category were Robert Schmidt (2:39:57) and Alex Rock (2:48:14). Lezlee Jones (Topeka) was 3rd in F35-39 in 3:27:49.
Teri Hatfield won the F60-64 5K in 26:18 while Rob Gill was 3rd (M30-34) in 20:07. Complete results

Oct 19 - What do you the day after running the KC Marathon? Coco Tieghi and Keith Dowell ran the 7 Mile Fall Fell Trail Run at Kill Creek Park. (photos by Dick Ross)
Top local finishers at the KC Waddell & Reed marathon and half marathon included Jack Hope (1st M60 in the half marathon (HM) in 1:41:55), med student Mallory Martinez (1st F20 HM, 1:26:28), Laurie Comstock (2nd F45 HM in 1:45:36) and 1-2 in the F55 category were Dee Boeck (HM in 1:47:46) & Susan Washburn (HM in 1:50:17). In the marathon, Brad Rhoden won in M55 in 3:06:09 while Marla Rhoden took 2nd in F50 in 3:24:48. In the 5K race, Cameron Pratte won the M-17 in 19:48.
We should ask Ed Payne why his net (chip) time was 1:58:21 while the gun time was 2:13:59. Results are listed by gun time. Ed is listed as 13th; with the net time he should be 6th. Will MARA adjust the results?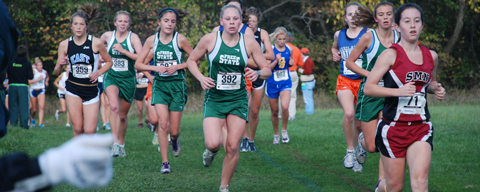 Halfway point in Saturday's girls' varsity race at Rim Rock. From L to R: Haley Harrington, Amy Meyers, Morgan Flannigan, and Lynn Robinson

(Keith Meyers photo)
It was a special day for Lawrence schools at the Sunflower League Cross Country Championships at Rim Rock yesterday. Free State girls won the team title, while Lawrence High was a solid 2nd on the boys side. LHS's Roy Wedge won the boys varsity race and Free State's Kyra Kilwein was 2nd overall in the girls varsity event. Here's the report from the LJ World. The State Championships for 6A schools is back at Rim Rock on Nov 1.
Oct 16 - Congratulations to all the finishers of the Heartland 100 Miler and 50 Miler held around Cassoday, KS last Saturday. Ultrarunners are a colorful bunch and there are so many interesting stories. The name Cliff Young came up among the Trail Nerds discussions today. He's another legend you should know.

The whole nation thought he was a crazy old man to undertake an almost impossible feat. Most feared that he would die trying. But this humble old man proved all the critics wrong.
Cliff Young, at 61 years of age, participated in 1983's Sydney to Melbourne race. Considered to be the world's toughest race, with the distance of 875 kilometers and took at least 6 to 7 days to finish, Cliff Young entered the race against world-class athletes. more
Minutes from the Oct 5 club meeting are posted. Next meeting is the election of new officers.
Oct 13 - Welcome new runLawrence member: Chris Nyberg.

Oct 11 - Grant Catloth nearing the finish of the WOW Run

(gmw)
Oct 12 - Lisa Wineinger of Tribune, KS was the top female winner in WOW 5K Run hosted by Body Boutique yesterday. Grant Catloth of Lawrence won the men's race. results
Complete results from this year's state Senior Olympics are in. Scroll down to see the track events.
Oct 9 - Membership has its privileges. You can join runLawrence today and the dues will be good through Dec 31, 2009. We normally get 10% discounts from Francis Sporting Goods and Garry Gribble's Running Sports. Occasionally a 20% discount will be offered. Francis had already mailed a special coupon earlier this fall. Members will be notified of the next 20% day at Garry Gribbles.
Oct 8 - We're just getting started on the fall race season, but we're already filling in some dates for 2009. See the coming events page.
We gather together. . . The runLawrence Thanksgiving Day 5K on Nov 27 has a special offer this year for families. Sign up three and the fourth member gets in free. But you do have to preregister before Nov 19. So if the kids are coming home or a soldier is back for the holidays, talk up the morning run to whet your appetite for the feast later in the day. Sign up at Active.com
Oct 7 - Winners from the Longhorn Half Ironman Triathlon at Sunday's event in Austin TX included Lawrence's Pip Taylor taking 2nd overall in the female pro division and Kent Dobbins blowing the field winning the M60-64 category. Topekan Leslie Curley was 2nd in the F35-39 race while Lawrencian Liz Dobbins was 5th in F55-59. results
Oct 6 - Some track results from the Senior Olympics in Topeka, Sun, Sep 28:
Joanie Starks, Lawrence, F55-59 (100m - 2nd in 19.16; 1500m - 1st in 7:00.44)
Keith Dowell, Lawrence, M50-54 (800m - 3rd in 2:33.98; 1500m - 3rd in 5:02.17)
Wally Brawner, Tonganoxie, M65-69 (1500m, 1st in 6:01.78)
Oct 5 - Scenes from the Sandrat Trail Run

(gmw)
Oct 5 - Top male and female winners in today's 9.7 mile Sandrat Trail Run on the Lawrence river trails were DJ Hilding (57:28) and Kelley Johnson (1:06:24). results
Thank you to the Jon & Nikki King Family for renewing their runLawrence membership for 2009.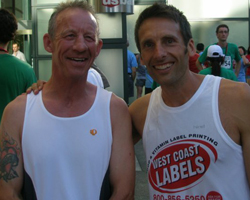 Keith Dowell with winner Tim Van Orden
at the LA YMCA Tower Climb - 75 stories.
Here's a slideshow from the Volunteer Appreciation Picnic held Sat, Sept 27, compiled by the host Dick Ross with photos contributed by Jenny Wise-Cook.
Oct 3 - The Sept 26 YMCA tower climb, 75 stories, 1500 steps in Los Angeles was by far my hardest stair climb. I climbed with some of the world's best stair climbers in the elite section. I was up against Hal Carlson one of the best stair climbers in the country, I kept up with him until the 40th floor then he surged ahead, to beat me by 30 seconds or so. My time was 12min 34 sec. Sears tower next in November - 103 stories, six weeks to go, better get training hard. - Keith Dowell Results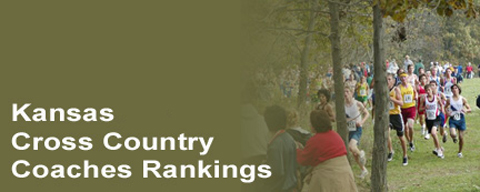 Oct 1 - The latest Kansas Cross Country Coaches Rankings are out as of Sept 29. The Lawrence Free State girls are still number one in 6A but now tied with a good team from Manhattan. Baldwin girls are tops in 4A, with DeSoto 2nd. On the boys side, Baldwin is 2nd in 4A while Lawrence High is #3 in 6A.