Sep 30 - How many of you have ever run a 4:44 mile? Is your all-time best that or better? Now imagine doing that for 26+ miles. That's the pace for the new world record in the marathon. Ethiopia's Haile Gebrselassie ran that pace to finish in 2:03:59 last Sunday in Berlin. Here's a video of the last minutes of his run. How's your German?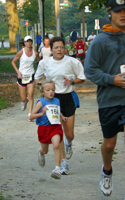 Sep 28 - Six-year old Audrey Smith of Blue Springs MO, age 6, ran the 5K in 23:55, improving her PR by over 2 minutes and certainly broke the Missouri state record and perhaps set a new national record. slideshow
Free State girls cross country team finished 4th at yesterday's Rim Rock Classic while the Lawrence High boys were 8th. The Firebirds' Kyra Kilwein finished in 6th place in 15:26.63 on the 4K course. The Lions' Roy Wedge took 5th in the boys 5K in 16:31.65. Top individual finish of local runners was Baldwin's Tony Weiss in 4th. More from the Journal-World
The Salt City Striders of Hutchinson KS are now are listed in our club links page.
Susan Washburn is the first of the runLawrence member signed up for the 2009 year. If you would like to renew and take advantage of club benefits (discounts at local stores), you're simply a click away to join us.
Sep 27 - 8 am, 200 people gathered in Winchester KS to run in the Pura Vida 5K in memory of Nathan O'Neill. See results | slideshow
At 12 noon, the Mad Dogs gathered for the annual John Bunce Memorial Run. Participants predict their time and the winner was the one closest to their predicted time.
Sept 27- 8 am: The Pura Vida 5K in Winchester; at noon, the John Bunce Run of the Mad Dogs. The runner above was 5:49 off her predicted time.

(gmw)
3 pm - Dick Ross held a volunteer appreciation picnic at Shawnee Mission Park thanking all the area people who've contributed to the success of local runs. It was a gathering of the families - the Trail Nerds, KC Express, MARA, KC Trail Club, as well as Lawrence volunteers and many more. The picnickers were serenaded by the Shawnee Mission North Strings - about 35-40 roving violinists, violists, cellists (but stationary bass players) - each picnic table had their own set of musicians.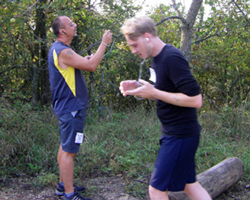 (right) getting directions at the Pod
Trod MP3-Mile Challenge at Clinton
State Park (Dave Hoefer photo)
Sep 24 - Results from the three Pod Trod MP3-Mile Challenge races held Sun, Sept 21 at Clinton State Park are posted. Note that British Keith [Dowell] was a DQ - he got all three tickets for the Mud Babes Revenge, and finished in about 27 minutes. But I suspect he was off-course since he ran without an IPod or MP-3 player, and came in to the finish from the opposite direction he was supposed to. The good news is, he won the "Instructionally Hearing Impaired" award hands down. No one else was even close.
Other notes of interest. . . women were the dominant life form in Mud Babe's Revenge, both outnumbering and outpacing the male bretheren. In many cases, older runners finished before younger. Perhaps because this was a race where listening and following directions played as much a part as strength and speed. Of course, I'm an old guy, so I WOULD say that. - Gary Henry
official event page

After impressive showings at the Missouri Cross Country Challenge in Columbia, Mo., KU junior Lauren Bonds and freshman Zach Zarda have been named Big 12 Runners of the Week for competition occurring this past weekend, the conference office announced Tues. more
Sep 17 - The latest Kansas High School Cross Country Coaches Rankings.
as of 9/15/08

Boys

Girls
6A
1.
Shawnee Mission Northwest (62)
1.

Lawrence Free State (51)

2.
Manhattan (55)
2.
Manhattan (46)
3.
Shawnee Mission South (32)
3.
Blue Valley Northwest (39)
4.
Olathe East (28)
4.
Olathe East (34)
5.
Campus (24)
5.
Shawnee Mission Northwest (16)
6.

Lawrence (16)

6.
Shawnee Mission South (9)
7.
Derby (8)
7.
Blue Valley North (6)
8.
Shawnee Mission North (3)
8.
Washburn Rural (5)
Blue Valley Northwest (3)
Olathe South (5)
Others: Blue Valley West 2,

Lawrence Free State 2

, Washburn Rural 1
Others: Blue Valley West 4, Derby 2, Blue Valley 1, Maize 1
5A
1.
St. Thomas Aquinas (48)
1.
Bishop Carroll (45)
2.
Kapaun Mt. Carmel (33)
2.
St. Thomas Aquinas (41)
Bishop Carroll (33)
3.
Topeka Seaman (30)
4.
Emporia (19)
4.
Emporia (24)
5.
Topeka West (18)
5.
Kapaun Mt. Carmel (22)
6.
Shawnee Heights (14)
6.
McPherson (11)
7.
Liberal (10)
7.
Valley Center 10)
8

Bonner Springs (5)

8.
Bishop Miege (8)
Great Bend (5)
Bishop Miege (5)
Others:

Gardner Edgerton 4

, McPherson 2
Others: Lansing 7, Liberal 3, Mill Valley 2, Newton 2, Hays 1
4A
1.
Mulvane (84)
1.

DeSoto (85)

2.

Baldwin (77)

2.

Baldwin (68

)
3.
Wamego (65
3.
Wamego (66)
4.

DeSoto (46)

4.
Clearwater (40)
5.
Paola (32)
5.
Clay Center (32)
6.
Clay Center (22)
6.
El Dorado (22)
7.
El Dorado (16)
7.
Buhler (20)
8.
Circle (11)
8.
Circle (5)
Others:

Santa Fe Trail 5

, Clearwater 3, Hiawatha 2, Hesston 1,

Tonganoxie 1

Others:

Tonganoxie 4

, Hayden 4, Andale 1, Chanute 1
3A
1.
Southeast of Saline (47)
1.
Riley County (54)
2.
Holcomb (37)
2.
Belle Plaine (38)
Ellsworth (37)
3.
Whitewater-Remington (29)
4.
Riley County (28)
4.
Wichita Independent (26)
5.
Wichita-Independent (27)
5.
Wichita Trinity (14)
6.
Kansas City Christian (11)
6.
Southeast of Saline (12)
Republic County (11)
7.
Sacred Heart (11)
8.
Hutchison Trinity (10)
Republic County (11)
Others: Hillsboro 7, Halstead 7, Scott City 6, Lakin 5, Silver Lake 5, Hesston 4, Marion 3, Wichita Trinity 3, Norton 2
Others: Norton 10, Medicine Lodge 7, Sabetha 7, Halstead 6, Wichita Collegiate 5, Sedgwick 4, Royal Valley 4, Beloit 3, Ellsworth 3, Wakeeney-Trego 2, Council Grove 2, Mission Valley 1
2A
1.
Sterling (40)
1.
Bennington (38)
2.
Berean Academy (31)
2.
Osborne (36)
3.
Maranatha Academy (24)
3.
Maranatha Academy (28)
4.
Jackson Heights (9)
4.
Wabaunsee (15)
5.
Bennington (8)
5.
Stanton County (12)
Peabody-Burns (8)
6.
Hoxie (6)
7.
Meade (7)
7.
Berean Academy (5)
8.
Wakeeney-Trego (6)
8.
Oberlin (4)
Pretty Prairie (6)
Langdon-Fairfield (4)
Others: Oberlin 4, Osborne 4, Lyndon 4, Leoti 3
Others: Oakley 1
1A
1.
Ness City (63)
1.
Burrton (51)
2.
Centralia (52)
2.
Olpe (42)
3.
Tribune-Greeley County (39)
3.
Tribune-Greeley County (38)
4.
South Gray (37)
4.
Minneola (26)
5.
Stafford (24)
5.
Hoxie (23)
6.
Olpe (16)
6.
Hanover (8)
7.
Victoria (7)
7.
Stafford (6)
8.
Haviland (6)
8.
South Gray (4)
Others: Pike Valley 4, Wheatland-Grinnell 2, Quinter 1, Downs-Lakeside 1
Others: Downs-Lakeside 3, Rock Hills 2, Lincoln 2, Pike Valley 2, Haviland 1
Sep 16 - Special to Francis Sporting Goods for the discount coupons recently sent to all current runLawrence club members. Membership has its privileges and we have a couple of local businesses to thank for their support. Membership applications taken now will be good until the end of 2009.
Sept 13th Helen Gold 10K: warming up out of the rain; Dee Boeck finishing the 5K

(gmw)
Sep 12 - The New York Times often has helpful articles on running. In today's issue: Unhappy Feet: Within the sports world, as elsewhere, sore feet don't command much respect. "Athletes will play through a level of pain in their feet that, if they felt it in their knees or their shoulders, they'd be hammering at a surgeon's door," says Glenn Pfeffer, the director of the Foot and Ankle Center at Cedars-Sinai Medical Center in Los Angeles. Aching feet are the "forgotten stepchild" of sports injuries. . . more
Jon King reports from his triathlon in Stillwater, Minn, ". . .water was about 65 degrees...wetsuits required, but was a great swim, the water is so much clearer there than here, really fun. We went up there on a lark and had a blast." results
Sep 10 - Who are these KC Trail Nerds? Carolyn Szczepanski, from The Pitch, does a wonderful job explaining what the local trail runners do, and she even gets into the runs herself. Read the article.
Sep 5 - It will be hard to run alone this Saturday. Mark Fagan, Lawrence Journal-World, reports Eladio Valdez's Runners Edge group based in Kansas City and about 200 strong will drive to Lawrence for their workout. Their meeting point is Garry Gribble's Running Sport store. Next door is Kizer-Cummings Jewelry, the meeting spot for Red Dog's Dog Days group which had a record crowd last Saturday (150+). That will be a sight in downtown Lawrence: 300+ runners assembled just for a training workout.
And at Clinton Lake the same morning, the Trail Nerds are hosting an 8.5 mile race. Free Nerds bandana for all who enter.

Sep 4 - Why the Pura Vida Run? This is Jay O'Neill's memorial run for his son Nathan. Jay has been a steady influence on kids through his teaching and coaching at DeSoto and at Jefferson County North. This race on Sept 27 is a fitting tribute to his son. Pura Vida, a phrase Nathan picked up while studying in Costa Rica in 2005, literally means 'pure life' and employs the concept of living one's life as free and uncluttered as possible. Nathan visited some outlying villages in Nicaragua and Guatemala, and was convinced that we should do what we can to help those who don't have as much. Following his graduation in 2006, Nathan contracted to administer microloans in a remote area of Brazil. Nathan's transportation while in Brazil was to have been by motorcycle, and it was while riding his motorcycle near Winchester that he had the accident that took his life on July 19, 2006. Come to the run and get uncluttered.
Kurt Schueler reports Garmin entered a team at this year's Hood to Coast Relay in Oregon. The 12-member team included two women was entered in the men's category. The team named Armed & Dangerous placed 24th out of 147 teams in the male corporate open division. There were two Lawrence teams listed in this 197 mile relay race. Twister Sisters was 10th in the female submasters division. Photos from the event (type in bib number 729 for Armed & Dangerous; 3 for Twisted Sisters).
Sep 1 - Among the success stories of high school cross country is the 53 year span of LaPorte's Dale Lubs winning the Indiana state tile in 1954, then Mike Fouts won for LaPorte in 2007. Running Times reports in the Oct issue that Lubs went on to run at KU for Bill Easton. "Wes Santee was a runner I looked up to. Glenn Cunningham certainly would have been another."
For the second year in a row, Don "Red Dog" Gardner, who started the Red Dog's Dog Days community workout program in 1984, will receive a Hometown Health Hero award from the Governor's Council on Fitness. more
There's a new student group on campus this fall, the KU Running Club. It's first informational meeting is Thurs, Sept 4, 7:30 pm at the Rec Center conference room. The club plans group runs for MWF at 4:30 pm and Tue/Thu at 7 am - meeting at the front entrance of the Rec Center. One of the races they've highlighted is the Living History Farms cross country event in Des Moines, Nov 22. Do I hear student road trip?