Aug 30 - Gary Henry's report on his Leadville 100 run appeared in today's Lawrence Journal-World: "We left our turf, the Clinton Lake North Shore Trails and the Kansas River "Sandrat" Trails to test ourselves at Leadville. Finishing this race is as glorious as winning shorter races. Some left up to two weeks before the race to acclimate." more | photos
Aug 27 - From Greg Burger: Don't forget about Lawrence's own Andy Henshaw! He finished 4th overall (in the Leadville 100)!!! WOW!!! He has listed West Point as his home town but he grew up in Leavenworth I believe and just graduated from KU.
Aug 25 - Local results from the Aug 22-23 Leadville 100 - Greg Burger (Lecompton, 179th, in 28:51:21), Nicholas Lang (Lawrence, 180th, 28:51:32), and Gary Henry (Lawrence, 188th, 28:59:45). results

Double your pleasure, double your fun. . . There are two Run(s) for a Reason, both in Topeka. The Sept 26th 5K at Lake Shawnee supports the Florence Crittenton Agency. The Half Marathon Run for a Reason on Oct 10th starts at Hummer Park. And you knew there are two Head(s) for the Cure 5Ks - Aug 30 in Overland Park and Sep 13 in Lawrence. Well, there are actually three - Oct 17 is the same event in the series at Columbia, MO.
Aug 18 - Dick Ross did a Runner's Choice Survey including what runners like in an event as well as there favorite Kansas City area races. abbreviated results
Aug 17 - Speaking of bipeds, Bill Kinnersley shares this 2004 article: "Endurance running and the evolution of Homo."
What distinguished modern man from his ape ancestors? When did we become human? Was it when we learned to stand upright? When we developed speaking ability? Or the ability to reason? This article proposes that what really set the first modern humans apart from their ancestors was endurance running.

Other animals like horses and dogs can run faster than we can over short distances, but the human body is especially designed for long-distance running. The author mentions the plantar arch and the Achilles tendon as physical specializations that other animals do not have.

So remember the next time you go out to run, it's not just good for you, it's what human beings do best.
Aug 17 - The IAAF world track championships started last Saturday and runs through Aug 23. This is always a big-time meet, like the Olympics. . .

Kara Goucher leads the American women in the marathon, and Dathan Ritzenhain in the 10,000 and Bernard Lagat and Matt Tegenkamp (originally from Lee's Summit) in the 5,000 should both be interesting to follow.

NBC will be televising highlights at 1 pm (Eastern) on Sat and 2 pm Sun. (Dick Lipsey)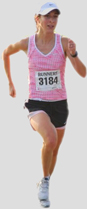 Aug 16 - Lawrence area medal winners at Saturday's the Farmstead Stampede 5K in Overland Park included first place winners: DJ Hilding (Lawrence), Karen Hyde (Lawrence), & Wally Brawner (Tonganoxie); 2nd palce medals to: Celeste Leonardi & Liz Dobbins, both of Lawrence. Overall winners were Steve Hefferon (KCKS) and Katie Hanser (Columbia MO, left SeeKCRun photo)
Aug 10 - Dick Lipsey reports: A Japanese man, Yoshihisa Hosaka, ran 2:36:30 earlier this year to set an over-60 world record. The previous record of 2:38:15 was set by an Italian runner in 1991. You can find info on this on a masters track web site that I recently came across: MastersTrack.com. Note that Ken Stone, who runs this site, was a walk-on hurdler at KU in the 1970s. How many 60 year olds do you know run 6 minute miles . . . and do it for 26 miles?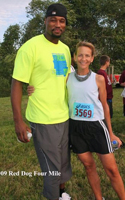 Aug 9 - Results from yesterday's Boys & Girls Club Red Dog 4 Mile. (right) ESPN was at the race to cover Darnell Jackson's support of the Boys & Girls Club.(SeeKCRun photo)
Aug 7 - 25 years ago Joan Benoit won the first women's Olympic marathon. Some of you may remember that she ran the Olathe Medical Center 10K twice in the late '80s, the first time just a few weeks after giving birth. She was first woman and 5th or 6th overall that year in 34:11. I recall her time because I had the same numbers that year (43:11). - Dick Lipsey, Estes Park CO.
OK, I remember that Olathe Med Center 10K, too, because I think that was the first time I got beat by a woman. She passed me right before the finish, and I couldn't decide whether etiquette dictated that I try to hold her off or not. Either way, I finished right behind her. - Jay O'Neill, Winchester KS
Cross country news from the Journal-World:
Flannigan excels at running, too and Lions, Wedge eye XC repeat.
Course of Dreams Cross Country: Dick Ross cheers Dee Boeck's finish: the Under 19 race.

(gmw)