Dec 25 - A Merry Christmas and Happy Holidays to all. Shoveling snow can count as strength training today.
Dec 18 - Report on the Skyrise Chicago 2009 which drew 1800 participants - climbers and hand cyclists:
Dec 13 - Ellen Young, the runLawrence president for the past two years, ran her first marathon, the Dallas White Rock, today in 5:19:21. Molly McVey was the other Lawrence runner finishing 4:04:24.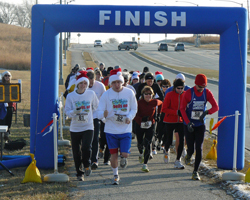 Start of the Dec 12th Lawrence Jingle Bell 5K.
Dec 8 - The 2010 officers for runLawrence are Becky McClure, president; Janet Huchingson, vice president; Lori Cackler, secretary; and John Huchingson, treasurer. Dee Boeck will again be the race director for the Thanksgiving Day Run.
Dec 7 - Natalie Beiter, 8, Lawrence KS, placed 2nd at the Missouri Valley Regional Youth Cross Country National Qualifier on Nov 14 in Garnett, KS. She ran the 2K in 9:02:81, one second separated the top three runners in an exciting finish. Over the weekend Natalie traveled with her teammates the Brocaw Blazers to the Cross Country Coaches National Youth Championships in Nashville, TN. Natalie placed 7th in the nation in the girls primary race, earning All -American status. She ran the 2K in 9:02:04, and her and her teammates were national runner-up. RunLawrence girls rock!
From today's Oread, KU Employee Newsletter: Theatre professor (Henry Bial) runs New York City Marathon. more
Dec 2 - Some running notes of interest: An American woman, Kami Semick of Bend, Oregon, ran 3:29:47 to win the women's world 50K championship in Gibraltar recently. She also won the world 100K championship in Belgium earlier this year.
Michael Wardian of Arlington, Va., (a Michigan State grad) was 3rd in the men's 50K in 3:00:56, less than 3 minutes behind the winner. Wardian also ran 2:34:37 in Tulsa last week to break the world record for the marathon . . . while pushing a baby stroller with baby. He was second behind Zac Freudenberg, who ran 2:32:10, also while pushing a stroller with child. (thanks to Dick Lipsey)