Jan 28 - Alz Stars Team – Hospital Hill Run - Now is your chance to help move the cause forward for the Alzheimer's Association. Join the runners on the Alz Stars Team! As a member of the Alz Stars Team you will have your race entry fee waived and will be asked to fundraise instead. The distance you choose to run will determine your required minimum fundraising goal. Even if you have already registered for Hospital Hill and now want to join the Alz Stars Team, we are able to refund your entry fee and then help you start your fundraising efforts – just contact shawna.sorenson@alz.org. For more information about the Alz Stars Team and to register online, go to www.alzstars-hospitalhill.kintera.org.
Jan 26 - The Empire State Building Run-Up next Tues, Feb 3rd, will test the limits of some 315 competitors from 25 states and 17 countries as they race up 86 flights 1,576 steps to the outdoor observation deck of the world's most famous office building and the tallest building in New York City. In 2008, winners Thomas Dold of Germany crossed the finish line in 10 minutes, 8 seconds, and Suzy Walsham of Australia finished in 12:44. more
Lawrence's Keith Dowell got the invitation to compete in this year's race. Does anyone remember the last time a Lawrence-based runner won the event? Wasn't it a Haskell alum?
Welcome new members Gina Lisher and Mikayla Herschell making it six more 2009 members including the renewals from the Kuhlmans (Dan, Leah, Tim & Maggie).
Jan 25 - Local medal winners at the Groundhog Run:
10K: 1st F50 Marla Rhoden (Topeka); 1st F55: Dee Boeck (Lawrence); 2nd F45: Karen Hyde (Lawrence); 3rd M25 Brett Rinehart (Ottawa); 3rd F25: Kelly Carlton (Topeka); 3rd M55: Brad Rhoden (Topeka); 2nd M70: Frank Weinhold (Topeka).
5K: 3rd F25: Moni Spinger (Lawrence); 1st M65: Wally Brawner (Tonganoxie)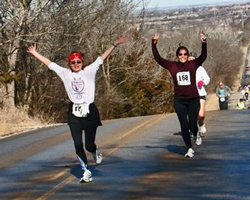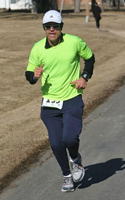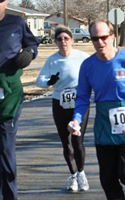 Jan 17 - Topeka to Auburn- a group recognizing the photographer, John & Cynthia Dunham, (Dick Ross photos)
Jan 16 - Lawrence City Commissioners at their Tues, Jan 13 meeting agreed to provide about $6,000 worth of city services to the Lynn Electric Kansas Marathon on April 19. The event will serve as a fundraiser for Health Care Access, which was a major point convincing the commissioners to provide the services for traffic and safety issues. Link to the event.
The Kansas (Half) Marathon is a new event and not to be confused with the Lawrence Half Marathon held the last two years promoted by Marcia and Steve Riley. Health Care Access was the beneficiary the last two years as well.
Update on 2009 runLawrence club members: Kurt Schueler & Brian Becker return while Dave Halferty of Topeka is a new member.
Jan 12 - Lawrence City commissioners on Tues, Jan 13, will consider approving the newly announced routes for the inaugural Kansas Marathon event which will include a 5K, a 10K and a half-marathon. However, race director Ryan Robinson says there will not be a full marathon this year. More details from the on-line Lawrence Journal-World
Jan 11: Start of the Shawnee Mission Park orienteering meet - about 100 people ran and no one got lost (slideshow)

(gmw)
Jan 11 - Every Sunday and holiday, every week, the City of Bogotá, Colombia closes down over 70 miles of roadways to cars and let people bike, walk, talk, exercise, picnic and sunbathe. Christy Kennedy forwarded the link and says it's "one of the best things I've ever seen regarding people, health, and community. I can see starting out on Massachusetts Street, Sunday mornings, with classes in the parks. I'd volunteer!" the video

Jan 9 - More members for 2009: Janet & Jon Huchingson, and Ellen Jensen. Minutes from the January club meeting are posted including the approval for a donation to help start a junior high cross country program for the Lawrence schools.
Jan 4 - See the officers/members page to see who's joined runLawrence or renewed their membership. 2008 members will be taken off the list by Jan 15. Don't lose your member's discounts at Garry Gribbles Running Sport or Francis Sporting Goods - 10% year round with occasional 20% specials. Stacy Riggins - thanks for being the first to renew in January 2009.
New Year's runs: Orienteer Kansas at the George Latham bench on the Woodridge trail

(gmw)

; Dee Boeck, Becky McClure & Kathleen Purduski did 10 miles in Overland Park

(Dick Ross photo)