July 31 - Five members of the Lawrence Trail Hawks finished the grueling 50-mile Mount Hood Pacific Crest Trail Ultramarathon, last Saturday, in Oregon's rugged Cascade Mountains.
Lawrence residents Nick Lang and Christy Craig completed the mountainous course in 10 hours, 22 min and 12 hours, 21 min respectively. Coleen Voeks, KC, KS, also clocked a 12:21 finish, and Gardner residents Debbie Webster and Julie Toft completed the 50-miler in 11:47. The race was the first 50-mile finish for Craig, Webster and Toft.
Trail Hawk Brad Bishop, KC, MO, also completed his first 50-mile race Sat, at the wild and hilly Minnesota Voyageur Trail Ultramarathon in Carlton, MN.
Three other Lawrence Trail Hawks took honors locally at theLake Perry Night Race trail run, Sat. Jim Beiter and Lisa Guillian, both of Lawrence, finished 2nd and 4th respectively of 34 starters in the 10K. David Wakefield, Topeka, placed 4th of 28 starters in the 30K in 2 hours, 47 min.
Husband and wife Trail Hawks Stuart and Deb Johnson, of Olathe also completed the rocky, root-bound, hilly trail 30k course.
Darin Schneidewind, Topeka, finished the 20K, and Mary Ann McIntyre, Topeka, completed the 10K.

July 30 - How does a runner celebrate his last day on the job? Run to work like Scott McVey did yesterday - from Lawrence to Lenexa, or 28 miles. Check the report from the Lawrence Journal-World. Route map
July 28 - Latest results: Rock Creek Night Trail Races and Prairie Punisher Duathlon.
July 27 - As a voice of running in Lawrence, we are frequently approached by potential race directors wanting to organize races, and by others wanting to publicize established running events on the runLawrence race calendar. The runLawrence website is a service to runners. In an effort to encourage quality races and give guidelines to beginning race directors, any competitive running event posted on the runLawrence race calendar must adhere to newly established standards. These standards were developed by a committee of runLawrence members using the "Best Practice Guidelines" from the Chicago Area Runners Association.
July 25 - More from UP north - This morning I ran in the Ontonagon Outback 5K in Greenland, MI and won the men's division in a time of 18:03. It was 59 degrees at race time and we ran in a cold drizzle...perfect conditions for me! I'm going to miss the air quality up here when I return to Kansas tomorrow as I can breathe up here without any nasal conjestion whatsoever. Take care, Keith Meyers
July 21 - I took first place in my age group (sort of) at the Midwest Mayhem Triathlon held July 19 at Lone Star Lake. Well, it was not a first place swim, bike or run, but I placed first in the second transition area for my age group (M45-49) by one second!! Read more from Jorge Carvajal's report. | full results |
July 20 - A nice plug today in the Lawrence Journal-World on Shannon Hodges' EZ8 Run program. "There is a real sense of friendship and community within the group, and many of them continue to run with the women they've met during the program."more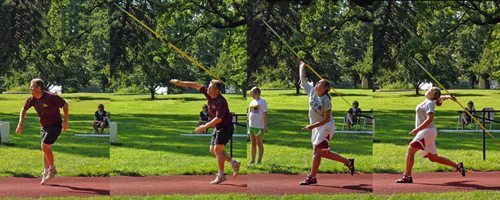 July 18 - Above are two throwers from the javelin competition at the Sunflower Games Fri (July 17) evening. On the left is Eric Smith (Topeka).
Keith Meyers finished 6th overall (1st in the 50-59 age group) in the Canal Run 5 Mile this morning in Hancock, MI in a time of 35:45.9. It was a very comfortable 53 degrees at race time with a 10 mph tail wind from the north. Hancock? That's way up north - UP north.
July 16 - Here's a great video on last Sat's Psycho Psummer Trail Run, produced by Rick Mayo (with one explicit word in the lyrics). Another well organized event by the KC Trail Nerds. If you like challenges, the Psycho events (summer and winter) ought to be on a runner's bucket list of things to do at least once in your life.
More photos and reports from participants at psychowyco.com.
July 13 - Dick Wilson was the winner in the 5K Walk at Sat's Fiesta Mexicana in Topeka. They really reward their walkers.
July 12 - Indoor 5K race delayed because of rain - The Run to the Sun 5K (Independence, MO) was delayed 45 min this morning because of lightning and severe weather. While 97% of the race was indoors, the finish line exits the cave (see left
photo). For the safety of the runners, the course was shorten to keep everyone inside.
| | |
| --- | --- |
| | |
| | |
See the results from Sat's races at the Topeka Fiesta Mexicana and the Horsethief Run in Eudora. Both races reported record crowds.
July 5 - Lawrence area runners placing in the top 3 at the Lenexa Freedom Run on the 4th:
10K: Hayley Harbert (Lawrence, 2nd F21), Sherry McKee (Lawrence, 1st F35); Elizabeth Leonard (Lawrence, 2nd F35); Doug Kieweg (Lawrence, 2nd M35), Karen Hyde (Lawrence, 1st F45), Jeff Johnson (Eudora, 2nd M45), Brian Daldorph (Lawrence, 1st M45), Jay O'Neill (Winchester, 2nd M45), Sue Washburn (Lawrence, 3rd F55),
5K: Lenora Loretto (Lawrence, 3rd, F21), Aimee Truetken (Topeka, 2nd F25), Dee Boeck (Lawrence, 1st F55), Keith Dowell (Lawrence, 2nd, M55), Wally Brawner (Tonganoxie, 1st M70). full results
Some of the medal winners from the Lenexa Freedom Run: Lenora Loretto, Jay O'Neill, Sherry McKee & Doug Kieweg

(Dick Ross)

;
July 2 - From the New York Times: Deena Kastor is the fastest American woman marathoner, and she also happens to love to cook. Meanwhile, New York Times food writer and cookbook author Mark Bittman, a pace-setter in the kitchen in his own right, also is training for the New York City marathon this fall. She runs and cooks. He cooks and runs. . . more