June 29 - Lawrence has a new club, devoted to promoting, caring for and running on the scenic trails of Clinton Lake and the Kansas River. The Lawrence Trail Hawks officially incorporated as a Kansas not-for-profit organization May 7, with a core group of 18 dues-paying members. The group invites all runners to join them on their trail runs, which are scheduled nearly every night of the week. Gary Henry is the guiding spirit of the new group. more
Correction: Results are now current for the Summer Sizzler 5K; the first set was from 2008.
Former runLawrence president Don Cackler is home and doing fine - fine enough to go to Dog Days this morning!
Thanks to Jay O'Neill for renewing his runLawrence membership.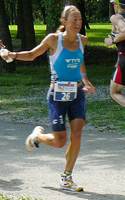 June 26 - Even Chrissie Wellington is mentioning the July 8th world's largest workout in her blog. The personable Brit had a great time here.
June 25 - Lawrence aims for the world's largest workout on Wed, July 8. If you want to help make it as big as possible, 5:30 pm is the check-in time with the workout starting at 6 pm and lasting about 45 min. Don "Red Dog" Gardner will lead everyone for stretching, calisthenics, and a walk/run. Location: KU's Shenk Fields, Clinton Parkway & Iowa. You will need to sign a waiver.
| more info | LJW story |
June 24 - Great news about long-time club member Don Cackler. His doctor was able to successfully repair his damaged heart valve and did not have to replace it. Don is recovering at St. Luke's Hospital. Wife Lori reports that he is practicing "heavy breathing" and is walking down the corridors pushing a grocery cart. We suggested that he ditch the grocery cart asap as it likely is slowing him down! With expected continuing progress, Don may be home this weekend. I, for one, am very much relieved as I realize that we count on Don to do a lot of the "heavy lifting" in this club - both figuratively and literally. - Dee Boeck
Skropuski, Riley and Blitzer-Ahless at the Tonganoxie Library Run.

(Tongie photos by Frank Mace)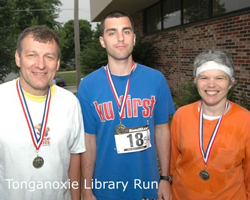 June 18 - The Slocums and the Sandrats took 1-2-3 at the Tonganoxie Library Run, on Sat, June 13. Kevin led the Slocum Family on their medals haul with Dad Terry and Mom Arlene collecting top honors in their respective classes. The Sandrats of Billy Skorupski, Steve Riley and Steve Blitzer-Ahless swept the top three spots in the 5K. results
Jorge does it - three marathons in 54 days. Jorge Carvajal is officially a marathon maniac. Read more Jorge reminds us, he is also a Sandrat.
June 14 - Chrissie Wellington and Luke Bell take Ironman 70.3 Kansas.
Luke Bell used the day's fastest bike and run splits to take the men's title at Ironman 70.3 Kansas, but the the big story was Chrissie Wellington's continued dominance in Ironman racing with her impressive win - she was the second fastest out of the water before dominating the bike and run to claim the women's title. more
Overall men: 1 Luke Bell 3:49:35, 2 Timothy O'Donnell 3:50:44, 3 James Cotter 3:54:05, 4 Stephen Hackett 3:55:25, 5 Brandon Marsh 3:55:46
Overall women: 1 Chrissie Wellington 4:14:52 , 2 Pip Taylor 4:19:42, 3 Amy Marsh 4:21:38 , 4 Nina Kraft 4:25:26, 5 Kim Loeffler 4:28:38
June 13 - Scenes from this morning's Rock Chalk Run at Clinton State Park. Results

June 10 - Bob Woods ran a 3:34:35 at the Sunburst Marathon in South Bend, IN on June 6th, finishing 3rd in the M55-59 category. It finished on the 50 yard line of Notre Dame's football stadium. results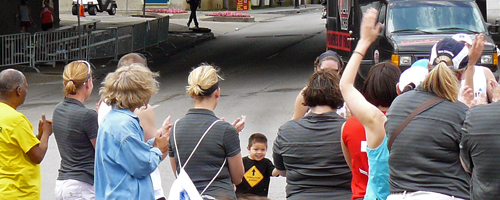 The last finisher is congratulated at the Hospital Hill Run. Click on photo to see the finish time

(gmw)
June 6 - Here are the top finishers of local area runners from the 26th edition of Hospital Hill. full results
June 5 - From Friday's Hershey's Track & Field Meet at Southwest Junior High:
The Journal-World featured Marc Scarbrough and his preparations for the Kansas Half Ironman event in two weeks. . . .the Lawrence-based internal-medicine doctor and part-time triathlete actually has turned his least favorite part of the competitions — the swim — into the element he enjoys the most. more
Marc also competed in last Sunday's KC Triathlon at Lee's Summit. results
The Wed, June 3, Dog Days workout included a little art appreciation by the "bird's nest" at Spooner Hall

(click to enlarge photos)