May 30 - At today's Ironman 70.3 (Kohala Coast, Hawaii), Lawrence's Liz Dobbins finished 3rd in the F55-59 race while Becky McClure, joining Liz to race in Hawaii on short notice, had a fine 18th place in F50-54 with a time of 7:17:42. Liz, first out of the water, posted a 6:12:50 overall time. The winner's time was 5:54:47.
May 28 - Tales of two runners from two cities in two months: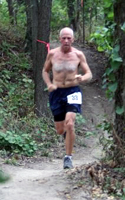 From Jorge Carvajal: After my 3:34 in Boston on April 20 and after I put 238 miles in February and 296 miles in March with a peak week of 82 miles I thought I should run the Andy Payne Marathon (in Oklahoma City) on May 23 to give my training double duty. This would be the third year in a row that I would run Andy Payne after running Boston. Furthermore, the idea of becoming a Marathon Maniac by running even a third one on June 13th (Maryville, MO) came to my mind. The problem: my left ITB (iliotibial band) was sore after Boston. more
Dan Kuhlman ran a 3:35 marathon on the muddy trails at the Free State Run on Apr 25, good enough for 4th overall. What could he do in better conditions? How about 2nd overall in the M55-59 category at last weekend's Madison (WI) Marathon. His 3:11:13 was just a minute and a half out of first. results
May 27 - Red Dog's summer Dog Days will begin Mon, June 1st. 6 am or 6 pm. There will no longer be a noon session. New location: east side of Robinson Center. More details. June sessions are Mon through Thur, 6 am or 6 pm. Starting June 6, the Sat runs start from the Lied Center.

May 25 - First place winners from the Amy Thompson Run included Lawrence's Susie Fagan (F35-39) and DJ Hilding (M25-29). The winner in the 2 mile race was Topeka's Dale Dexter. Other medal winners were Moni Spinger (Lawrence, 2nd F30-34), Karen Hyde (Lawrence, 2nd F40-45), Dee Boeck (Lawrence, 2nd F55-59), Katy Davis (Lawrence, 3rd F11-14), Laurie Comstock (Baldwin, 3rd, F50-54), Celeste Leonardi (Lawrence, 3rd F60-64), Brett Rinehart (Ottawa, 3rd M35-29), & Todd Allen (Topeka, 2nd M35-39). more results
May 22 - June 3rd is National Running Day. Any local plans to celebrate? Please forward any plans or suggestions.

May 21 - We're including a couple of events in western Kansas as summer vacations are starting and anyone heading west might find some of these events falling on the right for a short stop.
Paul Boone suggests the 2nd Annual Waldo McBurney 5K in Quinter. The current Kansas state record holder in the 10 mile for 80 year olds is Waldo McBurney. Paul was in Quinter over spring break and talked with Waldo while visiting his grandmother. Waldo is still driving at 106 and is full of energy! Details for the June 13th event are at Active.com.

Waldo was recognized as the oldest American worker a few years ago in a USA Today article.
RunLawrence welcomes new member Donald Whittemore, joining the club this week.

May 20 - It's summertime - Red Dog's Dog Days will begin Mon, June 1st.
From J R Demby: "KU is replacing the field and track inside the stadium so we won't be using the stadium this year. I know some of you are saying 'Thank God no more steps." Not so fast my friends, 'The Red Dog' has a few surprises in for us. We'll meet on the east side of Robinson Gym. There's a grassy exercise area large enough to accommodate us. If you are not familiar with the location don't worry just look for lots of people wearing Dog Days T-shirts."
Every Mon through Thur, 6 am and 6 pm (no noon Dog Days this summer).
Where: east side of Robinson Center
Parking: Lot 90 south of Robinson (south side of tennis courts)
May 19 - Head west young man. . . "Join us in Tribune, Kansas Saturday, June 6 for the first-ever Full Moon in June Run, a night event to be run in the country.
This new race promises the best of cross country running, all by the light of the full
June moon. FYI: It's not that kind of moon. Clothing is required." link
May 18 - Taking 3rd in the M50-54 category at the inaugural Chicago Magellan Spring Half Marathon was Keith Dowell in 1:32:33. So Keith, which do you prefer, going up the Sears Tower or 2 flat laps by the Field Museum? results | course
The latest issues of Runners World and Running Times mentioned several locals: quotes from Troy Fitzgerald, Marcia Riley (financial state of road racing) & Jim Ryun (52% disapproval rating on the April story on Bob Timmons). Look also for the feature story on the KC Trail Nerds, plus the need for track workouts mentioning Lake Lotawanan Alex Gardner.
May 16 - Just got the May 9th To the River & Back 10K/5K results. 5K winners were Stacey Lamer & John Banker while Molly McVey & Dan Parker-Timms were tops in the 10K race. This annual event benefits the Lawrence Community Nursery School.
May 14 - From Jorge Carvajal: Were three kisses too much? Yet another Boston Marathon report … I am a very slow writer… no wonder I have not finished writing my dissertation… more
Congrats to Steve Riley who was the masters winner at the Bank of America River Run in Wichita on May 9th. His 37:42 translates to an age graded time of 31:39 for the 10K.
May 12 - Results are in from last weekend's Rock Creek Trail Races at Perry Lake, the Mothers Day 5K at Corporate Woods, and the full results from the Apr 5 Brew to Brew Run.
Lawrence's Andy Henshaw was 1st in the Rock Creek half marathon, Greg Burger (Lecompton) 3rd, 1st male master was Neal Farron (Topeka) just ahead of Brian Daldorph (Lawrence). Topeka's Kim Deckert won the women's category. In the 10K race, Lawrencians Keith Dowell and Jim Beiter were 1-2 while Ellen Jensen had the 2nd best time among the women. results
Notice in the Brew-to-Brew results that Andrew Henshaw was the fastest among the solo runners doing the 44 miles in 5 hr 11 min.
At Corporate Woods on Mothers Day, top finishers in the 5K from the Lawrence area included: Sienna Durr (Baldwin, 1st F11-14), Heidi Wege (Lawrence, 3rd F20-24), Moni Spinger (Lawrence, 2nd F30-34), Susan Young (Lawrence, 7th F45-49), Dee Boeck (Lawrence, 1st F55-59), and Ellen Young (Lawrence, 4th F55-59). results
The races above did not list hometowns, so let us know if you're a "local" and we should include you among the medal winners.
May 10 - Scenes from the KC Express Mother's Day 5K at Corporate Woods. Temer Yimer, 18, won the race in 18:24 (chip time: 18:22).
May 9 - Saturday's KC Corporate Challenge Women's 5K wound its way around Shawnee Mission Park. Over 2,000 men and women competed that morning. (gmw)

May 6 - Cake's The Distance was selected by Kelly Sumner, an orienteer and adventure racer from Harrisonville, MO as his favorite song with references to orienteering. Anyway, a fun (old) video with references to running in the woods.
Results are posted for the Run for Erica. Also minutes from the May runLawrence club meeting.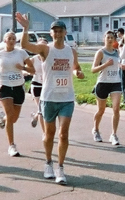 May 5 - And he's watching us all in the air . . . the tigers!!! We're back from the Lincoln Marathon and I speak for the entire Rogers clan when I say, "Whew, glad that's over!" The weekend was wonderful, but the race--especially the last six miles--was grueling. more from Todd Roger's blog
May 1 - Greg Burger reports on the Free State Trail Races: I finished as the Tornado Sirens were going off....maybe they thought I looked like a rotating cloud!!!! 5th overall in the 100k.... Results: 100K | 40 Mile | 26.2 Mile | event web page