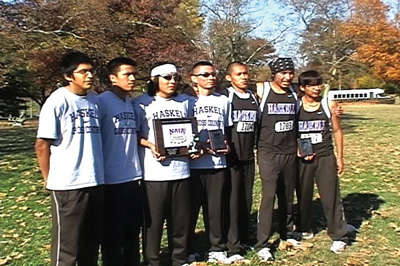 Nov 30 - Haskell men's cross country team wins school's 1st NAIA conference title - It was a fitting end for Leo Becenti (Navajo), the lone senior harrier, on the men's cross country team at Haskell Indian Nations University. Going into their conference meet, the tribal college had often come in second or third in the team standings and for Becenti, they had their sights set on this title.


"It was our main goal, to win (the) conference, that's been our goal for the past five years that I have been here, and it's kind of cool we did it my final year." more
(from News from Indian Country, Rhonda LeValdo-Gayton)

Another report by Von Villareal, HINU

Nov 29 - From Dick Lipsey: I'm attaching an article with a Kansas connection from the latest issue of Colorado Runner magazine. The Shirt Connection.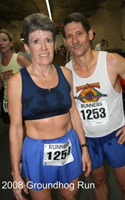 Nov 28 - The race of his life - When Brad Rhoden found out in May that he had prostate cancer, he recalls being in a state of denial. He refrained from telling people, waited several weeks to break the news to his family and began searching for options.
"Obviously, it hit me like a ton of bricks," he said. "For a couple weeks I didn't say anything, so I started doing research." more (from the online Topeka Capitol-Journal)
Nov 26 - More photos from today's Thanksgiving Day Run (5K and 1K fun run) are available at SeeKCRun. Did Dick Ross capture your moment in the sun? Results
With a new flat course this year, fast times were set by the winners. Julie Shaw, Palo Cedro CA, defended her title from last year with a time of 17:58 beating the old record of 18:47 by Natasha Roetter (Boston, MA) from 2006. Junction City's Tim Testa was all alone pretty much from the gitgo finishing in 15:26 (old record by
Adrian Ludwig, 2006, 15:40). Masters winners were Steve Riley (Lawrence) and Heather Hunley (Littleton, CO).
Thanks to everyone for participating
and to every volunteer for making it a huge success. Over 800 runners, another record.
Nov 24 - Thank you everyone for registering for our 6th annual Thanksgiving Day Run. Just a couple of helpful suggestions:

Parking: Please plan to arrive early and park in the designated areas.
Do NOT park around the school.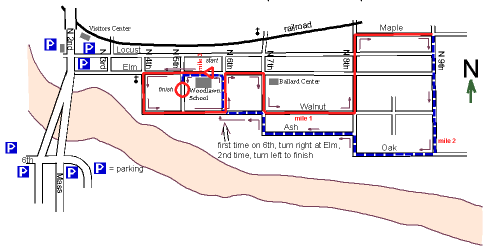 Due to road construction, expect detours and/or delays. There is ample parking at the city hall parking garage, about 2/3 mile from the school. To avoid a possible bottleneck at the North Lawrence 2nd St construction, try using the turnpike and head south and turn right after Johnny's Tavern to park in back, or turn left at Lyon to 7th and to Locust.

We encourage early packet pickup: Wed, Nov 25, 3 pm to 6 pm at Francis Sporting Goods, 731 Massachusetts.

Where is the run? Not the Visitors Center. Go to Woodlawn School, (508 Elm).

Packet pickup on Thurs is from 7 am to 8 am. Race starts at 8:30.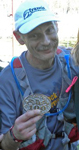 Nov 20 - Gary Henry's story: My Camera DNFed at the Ozark Trail 100
"You ran the hundred-mile race?" asked Jane, the pretty, brown-haired hostess at the Country Kitchen restaurant in Cuba, Mo.
I'd just walked in for breakfast Monday morning after the race wearing my Ozark Trail 100 technical race shirt with the graphic of "Horace the Hillbilly," as I call him, emblazoned across the front.
"You are well-informed," I said. "I didn't think anyone knew about this race outside our small community of runners. And yep, I did it." more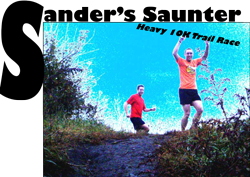 Nov 19 - The Sanders' Saunter 10K Trail Run is this Sun, Nov 22 starting at 9 am. Sign up at Clinton State Park. Entry form | results
The 10K trail race starts at the Corps of Engineers trailhead. The course runs mainly on trails between the trailhead and Lake Henry. It includes two traverses of Sanders' Mound, a naturally-occurring overlook at Clinton Lake.
Nov 18 - Elevation news: Keith Dowell took 14th in the M50-59 race up Chicago's Sears Tower last Sun, Nov 15. It had been a year's wait to compete as Keith fell ill before the 2008 race. Now he's added one of the world's tallest buildings to his resume.
The official high point on the Thanksgiving Day Run in north Lawrence on the 26th is 251 meters; the lowest point is 250 meters, according to the USATF certification report. Race officials apologize for leaving out the climb to the levee this year. Keith is still signed up to compete.
Joining and renewing club members: Laurie Comstock, Molly Wood, Kristi Keefer, Diane Waltho, Karen Hyde, Brenda Groskinsky, John & Janet Huchingson, Janet & Kathaleen Donner, the John & Laurie Martin-Frydman Family.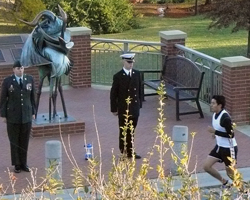 Nov 7 - The KU ROTC held their 5K for Veteran's Day on campus. (right) ROTC students stand vigil by the Korean War Memorial as the first runner comes by.
At the Kansas Kids Mile kindergarten through 6th graders and their families ran this morning at the Clinton Lake Softball Complex walking paths. The kick off event was the first leg of a 26.2 mile journey as part of a communitywide marathon club encouraging school children to run a mile at a time, then ending with the final 1.2 miles at next spring's Kansas Marathon/Half/5K. LJW story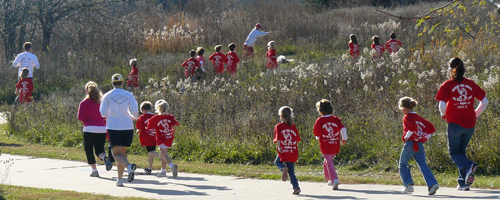 Nov 7 - the Kansas Kids Mile, heading to the Arboretum. slideshow (gmw).
In taking photos of the event, this one shows a few boys just playing before the official event. Remember when it (running) was just play. - Gene Wee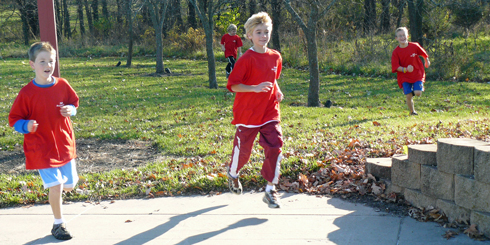 Nov 5 - List of entries for the Thanksgiving Day Run, or "guess who's coming to dinner." Thank you to everyone who has signed up early and to the families taking advantage of the group discount. The discount ends Nov 19, so don't delay.
On-line entry form
Nov 3 - A Marathon Run in the Slow Lane - Marathons around the country are getting slower as more charity runners and run-walkers take part. (from the New York Times) more
Nov 1 - And finally from our watch of races this weekend, Fran Breslauer, formerly of Lawrence, finished the New York Marathon in 4:57:02. That time is good for two years and would qualify her for the Boston Marathon in the F70 division, if she chooses to run. Fran is 69, and her time is an age-adjusted time of 3:06.
Local runners who ran included Scott McVey (3:07:57), Eric Torgerson (3:37:53), Stan Skwarlo (3:38:50), and Molly McVey (3:56:44) - all from Lawrence. Shawna Deviney and Richard Deviney, both from Winchester ran a 5:16:52.