Oct 31 - 2009 state cross country championships: Lawrence High Boys ran away with the team title in the 6A race at Rim Rock today scoring 71 points; 2nd was Washburn Rural with 103, just edging Shawnee Mission Northwest by 2 points. In 4A action at Wamego, a 3-6-8-11-12 finish gave the Baldwin High Girls a resounding victory with 40 points. DeSoto was 2nd with 92.

And yes, Roy Wedge (LHS) and Avery Clinton (Washburn Rural) did win the individual titles. Links: Lawrence Journal-World video | 6A-5A Results | 1A-4A Results |

The KU women's cross country team earned its best finish in 15 years at the league championship meet, as the Jayhawks captured fifth place overall at the 2009 Big 12 Cross Country Championships in Columbia, Mo. more from WIBW

Oct 30 - For Lawrence runners, this weekend is loaded with events to watch or run: Sat, Oct 31, at Rim Rock Farm for the state high school cross country championships will Wasburn Rural's Avery Clifton and Lawrence High's Roy Wedge win the individual titles? Will the Chesty Lions defend their team title after they dehrhoned the perennial boys champs from Shawnee Mission Northwest? Will The Free State Boys improve again to get to a top three? Will Shelby Clark (LHS) PR yet again?

At Columbia, the Big 12 Cross Country Championship, the Jayhawks will compete. The men's 8K race kicks off at 10 am, followed by women's 6K at 11 am. Will Lauren Bonds lead the KU women to it's highest finish in recent times?

In honor of those who've served our country, come out to the KU Collegiate Veterans 5K; starts from Wescoe Hall at 10 am.

Sun, Nov 1 (with one more hour of sleep), the last of the MARA Gran Prix races is the Cliff Hanger 8K in Kansas City. As noted yesterday, keep an eye on Fran Breslauer or your friends in the New York Marathon.

From YouTube and Keith Dowell, here's a video report on the stair climb in LA.

Oct 29 - To Mad Dogs & Lawrence runners: Just a note to let you know that Fran Breslauer is running the New York City marathon on Sunday. Fran is 69 and this will be her first marathon -- but she has run a lot of half-marathons and other races in the last few years. Fran began running with us a few years ago at age 64 and ran some remarkable times. She and husband Dan moved to New York two years ago, and she has run very well there also. You can see some of her times at the Mad Dogs races page, both the 2000-2009 page and at her listing on the Alumni Results section for her most recent races.

You can follow Fran on the NYC Marathon web site on Sunday. See the Race Day Tracker section in the center of the home page.

Fran is scheduled to start at 9:08 a.m. Central time. The race starts in waves, with the Professional Women starting at 8:10 and the Professional Men at 8:40. The race includes Ryan Hall, who is 2nd U.S. runner all-time at 2:06:17.

And don't forget to set your clocks back an hour Saturday night. - Dick Lipsey

Does stretching help or hurt? There's no evidence that stretching prevents injury, and it won't help stave off muscle soreness. Is there really a benefit from doing it? more (from the Washington Post)

More membership renewals (hoorah!): Becky McClure, Elizabeth Leonard, and the Andy Norris Family.

Oct 28 - The Fab Five - for joining runLawrence for 2010: newcomer Aimie Parry, and renewals from Bob Woods, CeAnne Harbin, Celeste Leonardi, and the Jon & Nikki King Family.

On Monday, The Journal-World reported on the Marathon Club for kids organized by Carrie Mandigo. Full story. Livewell Lawrence must be pleased to see this program become the model for other schools. Central Junior High just hosted their annual fun run and a fun run has been added to the Thanksgiving Day Run around Woodlawn School.

Oct 25 - From the Regional Cross Country meet at Haskell: "Lawrence High's Shelby Clark opened some eyes, the Lions' Roy Wedge was his reliable self and Free State High's boys joined the state party." more (from the Lawrence Journal World) (click on photo above for slideshow)

In 4A action at WyCo Park, both Baldwin squads qualified for state with the girls winning and the boys placing 2nd. Tony Weiss won the boys race and Elizabeth Sigvaldson led the girls with her 5th place finish.

In Class 1A, going to state from Bishop Seabury are Maddie McCaffrey, Hannah Spomer and Brandon McCaffrey.

All the state qualifiers are listed at KSHSAA Cross Country.

Oct 24 - Jenny Boettcher and Grant Holmes were the winners in today's Fields of Promise 5K. results

Oct 21 - from the Journal-World: Portion of the Kansas River Levee trail near Mass St will be closed until spring. The trail's affected section — 100 feet on either side of the bridge. more

Welcome new runLawrence members: Stephanie Temple, Sean Ostrow.

Oct 17 - Is the Exercise Cool-Down Really Necessary? My husband and I were riding our bikes not long ago, and when we were about a mile from home, we did our usual thing. We call it the sprint to the finish: ride as hard and as fast as we can until we reach our driveway, racing to see who could get there first.

We pulled up, slammed on our brakes and hopped off our bikes. A neighbor was walking by and said, "How did you do that?"

"I just put on my brakes," I told him. No, he said, he meant how could we just stop like that without cooling down? more (from the NY Times)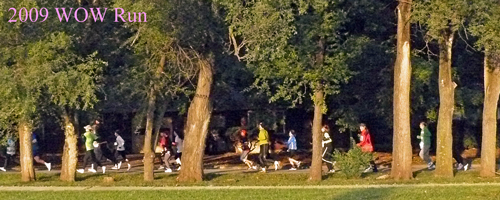 Oct 10 - Welcome to new runLawrence 2010 member: Oyin Wintoki.
Oct 5 - RunLawrence members have been assisting races coming up this weekend. Steve & Marcia Riley will be managing the results again at the WOW Run hosted by Body Boutique this Saturday at Hillcrest Shopping Center. Ed Payne certified the course for the Run for Reason Half Marathon & 5K in Topeka, also Sat, Oct 10. Come out and support either run.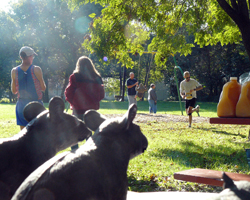 Oct 4 - Mountain lions? Heck; watch out for the rats along the river. See results from today's Sandrat Run. Special thanks to the cross country teams from Eudora and Lawrence High for helping with the water stop and finish line. Click on photo for slideshow.
Oct 3 - A reprise on the mountain lion story: The latest (November) issue of Runner's World did a story on 14 of the most extraordinary runs and mentioned Liz Dobbins' encounter with the mountain lion on the Kansas River levee in 2006. Big photo of the cat and a small thumbnail of Liz.
Heather Krase-Minnick completed the St George (Utah) Marathon in 4:15:42 (gun time 4:21:14).
From the Mad Dogs' annual John Bunce Run:
Fred Van Vleck is cheered in at the finish of the John Bunce Predicted-Time Run; Doug Kieweg was accompanied by a napper.

(gmw)

more photos