Sep 30 - In response to the next club meeting announcement: Greetings from Italia. Beautiful weather and great hiking. John ran along the path from Santa Margherita to the next village every morning. We've spent one day on the Cinque Terre trails so far. The treasurer says that we have appoximately 5,600 euro in the club treasury but to check the exchange rate for the day. - Janet Huchingson
Congratulations to Dan Kuhlman (Lecompton) for placing first at the Flat Rock 25K Trail Run at Elk City. Greg Burger (also of Lecompton) was 4th overall in the 50K race. Results

Sep 29 - Jorge's report of the Pigman Triathlon - The catch is…even though I have run 10 marathons I had never run a half marathon. This is a much delayed race report and I finally decided to write it today. That's an advantage for you as a reader since I didn't remember as much of the details, so it will likely be short. more

Sep 28 - We hear of the big marathons in New York, Boston and Chicago with their 10s of thousands. Is there a half marathon in the US that draws over 55,000 like the Bupa Great North Run in the UK? Bay to Breakers is a 12K and draws 70,000. Here's a video report of this year's run.
Scenes for Saturday's high school cross country races at the Rim Rock Farm Classic.
Sep 27 - Inaugural Shoreline Shuffle 5K (ish) Trail Run - Gorgeous, cool, mostly sunny morning framed the Lawrence Trail Hawks' inaugural Shoreline Shuffle 5k(ish) Trail Run yesterday, on the North Shore trails at Clinton Lake State Park in Lawrence. Nineteen runners braved the course, billed as being tough enough for veterans, short enough for beginners. Everyone finished, no one got hurt. more
From the Los Angeles YMCA Stair Climb: Keith Dowell placed 12th overall in the open class and 2nd in the M50-59 age category with a time of 13:31.
Sep 25 - To Train Harder, Consider a Crowd - Dathan Ritzenhein, one of America's most talented runners, was in a slump. . . In June, Mr. Ritzenhein joined a running group, a team of elite runners coached by Alberto Salazar, winner of three consecutive New York City marathons in the early 1980s. It made all the difference, Mr. Ritzenhein said. He was re-energized, excited about running again. And, he said, most important, he trained with fast runners who pushed him to work harder than he ever could alone. more (from the Sept 24 New York Times)
Brad Rhoden is now writing a blog about running for the Topeka Parks and Recreation web site called Unwind. His Sept 23 entry "Hitting My Stride" explains how Brad got started in road running.
Sep 24 - Thanks to Gary Henry and Mary McIntire for their membership to runLawrence. Entry forms for the Lawrence Thanksgiving Day 5K are now available on-line at Active.com as well as Francis Sporting Goods, Garry Gribble's Running Sports and Great Plains Running Company.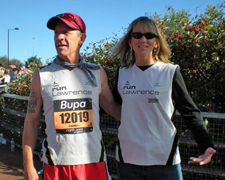 Sep 22 - Keith Dowell was hoping for a top 10 finish in his age category at the Bupa Great North Run held on Sun, Sept 20. His time in the half marathon of 1:29:29 was good for 9th place in the M55-59 category. (right: Keith with Deb before the start)
Sep 17 - Welcome new runLawrence member Sean Cailteux from Topeka. Sean took advantage of the first day memberships that were good til the end of 2010. Click on "join us" to become a member.
Sep 13 - Results are posted for the Coopers Cause Run, Helen Gold Run and the Head for the Cure 5K.
At the Lawrence Head for the Cure 5K: Ellen Young & Dick Wilson at the 3 mile point; Wes Santee, Dick Wilson & John Huchingson

(gmw)
Sep 7 - Have you seen the latest issue of Trail Runner Magazine? Lawrence is featured as one of the top seven trail running towns in the US! I always knew we had great trails, but I didn't think we'd get national recognition. - Heide Crawford
The 2009 Leawood Labor Day 5K was held on a foggy morning

(gmw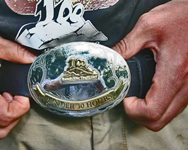 Sep 6 - Belt buckles for our Leadville guys under 30 hours (right, Dick Ross photo)
Sep 5 - On Sept. 19, there is a 5K run at Corporate Woods to raise money for pediatric brain tumor research. The Burrichter family - friends of ours here in Lawrence who's kindergartner, Sarah, has a brain tumor, will be there to support this fundraising event as well as participate in the run. The run is in honor of a beautiful little girl from Lawrence named Paulina Cooper who earned her angel wings in 2004 after her battle with a intrinsic pontine glioma brain tumor. So if anyone from runLawrence is kickin' around the idea of doing the run, it's a worthy cause, with multiple important ties to Lawrence. - Karen Braman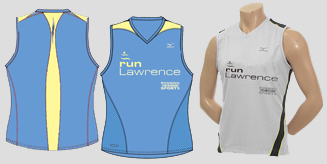 One of the reasons runLawrence got new running tops was Keith Dowell's wish to represent Lawrence while he goes back to his original hometown. The Sept 20 Bupa Great North Run is "the big one from Gateshead to Newcastle . . . 54,000 runners. Last year there was 1,368 in the 55 year age group. If I can run a 1:30 hr or a little under, I should place about 10th in my age group. This is my home town . . ."
Sep 4 - Looking for a "fun" fun run?. Next week, on Sept 13th, KU's Habitat for Humanity is hosting the Crunchy Chicken Challenge. Here's the promo video:
Sep 2 - Nick Lang (Lawrence TrailHawks) recommends this video of the Ultra Trail du Mont-Blanc 2009 held Aug 28-29.