Apr 28 - The Dr Bob Run this Sat, May 1 will celebrate the KU School of Education's centennial and the life of Dr. Bob Frederick. Proceeds of the benefit run will go towards a scholarship in his name.
Results are now available from the Hilltop Hustle.
Apr 27 - Sweet and SOUR: My name is Kristi, and I am a SOUR: Spouse of Ultra Runner. I have spent countless hours watching my husband, Rick, suffer, bitch, smile, and cry his way through five years of training and running ultra marathons.
The prospect of running my first marathon-distance race this April paled in comparison to his accomplishments. There would be nothing "ultra" about my marathon. Just 26.2 miles through the woods. The kind of distance that he covers on training runs. It's nothing - right? more
Apr 26 - Climb every building. Search high and low. Follow every byway, every stair you know. . . Keith Dowell's experience at the Fight for Air Climb race in Los Angeles paid off with a 2nd place finish in the M50-59 race, 18th overall. results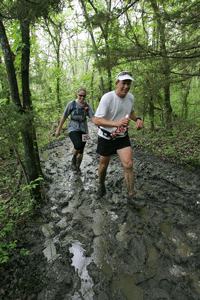 Apr 25 - Slick action on the trails at the Free State Run today at Clinton State Park. More photos by Kyle Gerstner. trail map
"Wow...the "Mud Gods" were riled up but what a nice day weather wise for a run. I was inspired by everyone's effort."
Slideshow by Dick Ross (SeeKCRun).
In Wichita, two local area runners earned state titles at the RRCA Kansas Half Marathon Championship. Marla Rhoden (Topeka) took home the Female Masters (40-59) trophy while Dee Boeck (Lawrence) got the Female Grandmasters (60+) award. results
Apr 23 - Because Massachusetts is our main street, we go back to our town roots and report the Boston Marathon:
Jeff Genova (Bentonville, AR) used a headcam to document his Boston.
Apr 22 - In what is arguably the most prestigious road racing event in the world, former Jayhawk Paige Higgins celebrated a remarkable performance as the top American female in the 2010 Boston Marathon. The race, held Mon, Apr 19, had 9,721 total female competitors from 79 different countries. Higgins was the first U.S. runner to cross the finish line, with her time of 2:36.00. She finished 13th overall in the world's oldest annual marathon event. more
Apr 20 - Check out the Boston Marathon results of local area runners. Best times were D J Hilding's 2:51:39 and Rebecca Getman's 3:20:44, both of Lawrence.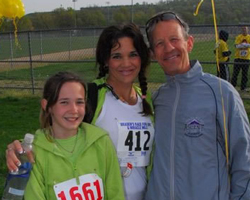 Apr 19 - 12 year old Maddie Stegman of Lawrence was the overall female winner in the 1 mile at the Braden's Race for Life (Shawnee KS, Apr 18) while her mother Raven Rajani took 2nd in the 5K (F30-39). Keith Dowell was the M50-59 winner in the 10K. full results
And congratulations to Ryan Robinson and all the volunteers for a fine Kansas Marathon event.
Apr 18 - Results are posted from today's Kansas Marathon.
Winners were: Marathon: Dave Weston (Bentonville AR) and Michelle Andrew (Topeka); Half Marathon: Sammy Rotish (W Des Moines IA) and Dannah Chambers (Lee's Summit MO); and 5K: Rick Stahl and Marjorie Hedden (Eudora).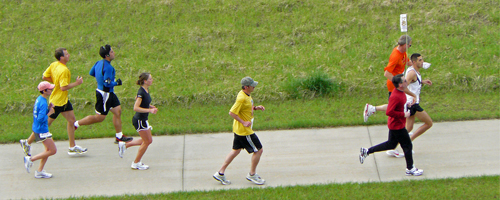 The 1:40 pace group from the Kansas Half Marathon (slide show);
Apr 16 - In response to the question in yesterday's Sound Off in the Lawrence Journal-World whether the Kansas Marathon courses are certified or not, Bill Glaus, (the USATF's certifier for Kansas) reported receiving and approving the paperwork just this week. The marathon course number is KS10011BG and the half marathon is KS10012BG. The Apr 10th Olathe Marathon courses were also certified and does not appear on the USATF website, so there is a delay at the national level to update their data file. No paperwork was received for the 5K.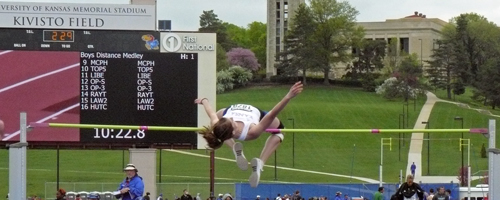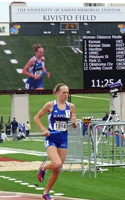 Apr 15 - A pleasant but overcast skies for Friday events at the KU Relays. (above) KU's Liz Beisner on her last attempt in the women's high jump; (right) Rebekah Stowe ran on KU's winning women's distance medley relay team. The new stadium scoreboard puts out a high def image.
Apr 14 - Today's Journal-World: At least 1,340 runners and walkers from 21 states will be hitting the pavement Sunday morning in southwest Lawrence. They will be participating in one of three races that will benefit Health Care Access clinic, which serves uninsured, low-income Douglas County residents. more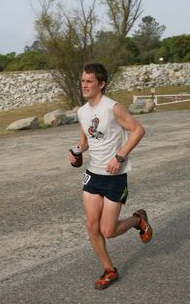 Apr 13 - On Apr 9th, Lawrence's Andy Henshaw finished 2nd at the American River 50 miler in Sacramento, CA with a time of 5:56:02. (thanks to the TrailNerds News & Scott Giddings for the report)
Apr 12 - Dick Ross (SeeKCRun)'s slideshow recorded all of Brew to Brew - from start to finish to food and drinks. Those waiting for results - be patient. A lot of data, but Lou's on it.
RunLawrence member Kyle Gerstner went for an easy run with his camera yesterday and caught quite a few Brew to Brew runners just east of Linwood (see below). Click on the photo for more scenes. Or, view the slideshow.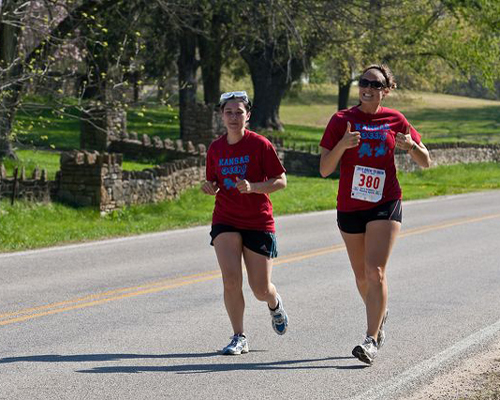 Apr 11 - Click on the photo for more scenes around Lawrence of the Brew to Brew Run today.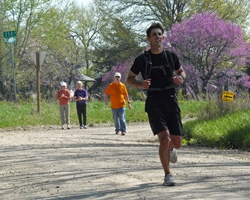 Apr 10 - (from the KSALLink.com) Nearly 750 runners, coming from 40 states and from several nations including Germany and Iceland, participated in the 8th Annual Eisenhower Marathon Saturday morning. Gypsum Native Daniel Craig won the men's marathon, setting a new course record. April Gochenour won the women's marathon. more
Apr 7 - (corrections from previous Apr 3rd report ) Two new state best times for the 12K were set Mar 27 at the Dam Run hosted by the Lawrence Parks & Rec. Congratulations to Cindy Cameron (Westwood, 50:23, F45-49), and Diane Otte (Overbrook, 1:20:48, F60-64). All times need to be verified by the state records statistician. Full results (Otte's time was incorrectly reported as 1:23:06).
Apr 4 - Here's a photo slide show by Dick Ross from Sat's Rockin K Trail Runs at Kanopolis State Park.
Crossing the stream at the Rockin K Trail Runs

(Dick Ross photo);

the Topeka Run for Life, also the RRCA Kansas State 10 Mile Championship, finished on the Washburn track this year.

(gmw)
Many of the races we participate in donate funds to a good cause. Yesterday in Topeka we ran in support of organ donations. In two weeks, the Kansas Marathon is scheduled to benefit Health Care Access. HCA's mission is to provide health services for Douglas County residents with no health care coverage. If one of your primary goals in running is to help your community by all means come out in support of the cause.
Apr 1 - The Sunflower State Games announces online registration is now open for the 21st annual sports festival. The event will be held July 9-25 at sites throughout Topeka. more info