Aug 29 - Take a look at the blog post written by Sarah Henning, a member of the Lawrence Trail Hawks, about healthy natural alternatives to gels and power bars (with another recipe by Coleen Voeks).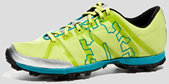 Aug 27
- They come from Sweden. They are set with grid patterns of carbide-tip studs. Their job is to conquer the gnarliest terrain a runner may ever see. The
Icebug SPIRIT OLX
, an aggressive yet fabulously nimble sports car of a shoe, is among the coolest footwear introductions I've seen this year. The company, a small brand that launched in 2001, unveiled the SPIRIT OLX this summer along with a new push on the North American trail-running market.
- Stephen Regenold
more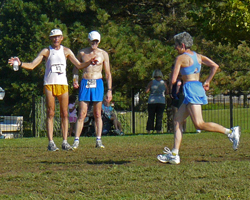 Aug 15 - "Dee, we know you are proud of your new running outfit but this is your THIRD time over the course!!!"
The winning caption was submitted by John Huchingson.
Aug 8 - The Boys and Girls Club Red Dog Run held on the Haskell campus today received positve comments on the new location. Top winners were Kelsi Beam (McPherson) and DJ Hilding (Overland Park, and also the course designers and certifier). Race director Ellen Young had a great supporting cast of volunteers. Red Dog himself was on hand to high five everyone as they came to the finish. Check the slideshow above; also more photos at SeeKCRun. | Results
Aug 1 - Volunteers are needed for the 2nd annual bicycle and pedestrian count in Lawrence, Sept 15 and 18. more