Dec 21 - RunLawrence adopted a family through the Lawrence Holiday Adopt-A-Family program. Becky McClure purchased and wrapped the gifts and Dee Boeck purchased the grocery store gift card and delivered all to the Ballard Center for distribution to the family we adopted.
Dear RunLawrence members, I had a friend who was at the Ballard Center when the families came to pick up their packages. The families were all so very thankful for the gifts to help make their holiday better. The kids who came in with their parents were so excited to carry out the packages. Thanks so much to runLawrence for making the holiday brighter for our adopted family. - Becky McClure
Dec 20 - A nice summary of various Kansas RRCA clubs appears in the minutes from the first statewide RRCA meeting held in Topeka, KS on Dec 12.
Dec 12 - Gary Henry writes, "No hunting, one more reason to love Clinton Lake's north shore trails." A star Massachusetts high school runner was shot while out for a run with his friends. more
It was 12 degrees Fahrenheit for the Dec 12th Lawrence Jingle Bell Run while at it more likely 12 degrees Celsuis at the Jingle Bell Run in the Lenexa caves

(SeeKCRun photos)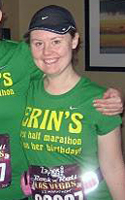 Dec 9 - I'm writing to brag about my wife, Erin (Rogers). She completed her first half marathon (Rock'n'Roll) on Sunday in Las Vegas on her birthday! Her longest race before Sunday was the Rock Chalk Run 10K in June 2008. She trained hard for Vegas and was thrilled to cross the finish line. I'm really proud of her.
A close up of her shirt, which reads "Erin's first half marathon is on her birthday!" The back says "Don't need nothin' but the finish line," a reference to the post-race concert by Poison front man Brett Michaels, who indeed closed the show with "Don't Need Nothin' But a Good Time." - Todd Rogers

Dec 8 - Janice Woolery the Kansas RRCA rep is gathering the state's clubs in Topeka for the first annual statewide meeting. Wichita, Manhattan and the Kansas Ultrarunners Society will be attending as well as the expected clubs from eastern Kansas. Short reports will be given by each club then discussion of state championship events, RRCA nominations and future plans for the state's sesquicentennial year.
Congratulations to mother and daughter, Ellen Young and Kristina Selters on completing the Dallas White Rock Marathon last Sunday. Ellen ran a 5:23:18 while Kristina finished her first marathon in 5:05:39.
At the Lawrence Thanksgiving Day Run people dressed to be seen in a crowd.
(Janet Huchingson photos)