Feb 22 - At last Saturday's Trek up the Tower 40-story race in Omaha, Keith Dowell placed 3rd in the M50-59 category. 35th overall out of 1126.
Feb 16 - Andy Henshaw's comments on his run Saturday.
Feb 15 - Results from Sat's Love 2 Run 4 Mile in Lawrence are now posted as well as the Run Local Love Global 5K and Sunday's Love 2 Run in KC. Go to the results page.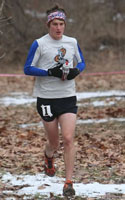 Feb 14 - Full results from Psycho Wyco. Lawrence's Andy Henshaw (right) won the 50K race in 4:15:12. Helen Lavin (Minneapolis, MN) topped the women's field with a time of 5:33:44. Over 500 participants in all three events. (Dick Ross photo)
The state records for road races in Kansas are now housed on the runLawrence web site. The original site may still come back, but for now you can check on Kansas' best right here (link on the right). This has been a collaboration with Millard "Jack" Crook of Mulvane and the web page editor and is up-to-date through 2009. Jack has been the state statistician for the past 21 years and switched from the book format three years ago to a web-based system.
Here's the first report from a participant at yesterdays Psycho Wyco (Run Toto, Run) trail race. There will be more to come, along with the results. SeeKCRun for photos. Good job, Jesse and Monkey!
Feb 13 - Heather Krase-Minnick (hkrase@douglas-county.com) is looking for a team to join or forming her own group for the Brew-to-Brew Run on Apr 11th. Contact her if you're interested. Dee Boeck, who has formed a runLawrence team the past few years, is looking for volunteers to help at the last exchange point.
Feb 11 - I'm a new member to runLawrence and fairly new to running (started last July). I was looking at your website last night to see what races I might be interested in running this year and I was bummed I missed my chance at the Psyco Wyco trail run for this year. (I chase storms and a running shirt with a tornado would be the cat's meow! ) I couldn't resist though going over this morning and mostly walking the course to see what I was missing. Getting home I though I might as well try doing a pre-race trail condition report. .I was out of town for the last meeting but hope to make the next one. Looking forward to meeting you all. Cheers. - Kyle Gerstner

Feb 5 - Antioxidants increasingly have been praised for their benefits against disease and aging, but recent studies at Kansas State University show that they also can cause harm.
Researchers in K-State's Cardiorespiratory Exercise Laboratory have been studying how to improve oxygen delivery to the skeletal muscle during physical activity by using antioxidants, which are nutrients in foods that can prevent or slow the oxidative damage to the body. Their findings show that sometimes antioxidants can impair muscle function. more

Feb 2 - Here's a reminder about the Couple's Run 4-miler at Free State High
School on Sat, Feb. 13. This is a certified course so it's a chance to get a time for a nice distance that's not often run. For details check the Race Calendar listing on the RunLawrence Web site. Note that the club's Race Calendar lists only those races whose directors abide by standards that assure runners a safe, accurately measured course with adequate support. Other runs, which may or may not meet these standards, are listed at the "Other Events" link on the web site. - from Dick Lipsey, Estes Park CO