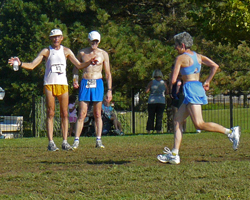 July 31 - Write a caption for this photo.
Jeff Behrens is saying something to Dee Boeck while Ken Beach watches.
(Click on photo to enlarge)
Winning entry will get to choose a prize of a 2011 runLawrence membership or a long-sleeve tec shirt from the 2009 Thanksgiving Day 5K.
Please email (runlawrence@gmail.com) your caption along with your name and your email address or phone number.
Deadline: noon, Aug 14.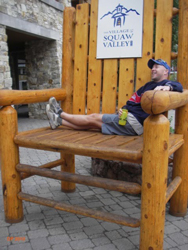 July 29 - Greg Burger (resting in the chair on the right) wrote a great report with photos on his Western States 100 Run.
July 27 - Exercise scientists say they have stumbled on an amazing discovery. Athletes can improve their performance in intense bouts of exercise, lasting an hour or so, if they merely rinse their mouths with a carbohydrate solution. They don't even have to swallow it. It has to be real carbohydrates, though; the scientists used a solution of water and a flavorless starch derivative called maltodextrin. Artificial sweeteners have no effect. read on (from the NY Times, July 19)
July 24 - Greetings from the U.P.! Keith Meyers (Lawrence) placed 4th at the Ontonagon Outback 5K in Greenland. MI with a time of 21:07. It was a comfortable 62 degrees with light rain...not exactly Kansas summer running conditions, but Keith wasn't complaining.
Orienteer Kansas, the Lawrence-based club, won the 2010 Orienteering Relays Championships on July 20 at Lake George, CO. Winners in the 8-point team competition included Lawrencians Mary Jones and Mike Eglinski plus Peggy Dickison (Bethesda, MD) and Mark Everett (Tucson, AZ) both with degrees from KU. Peggy and Mark were also the individual champs in the open divisions in the ultra champs the following day (July 21). relay results | ultralong results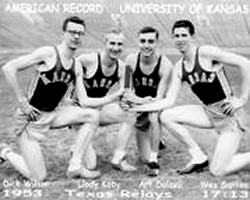 July 18 - KU Hall of Famer Dick Wilson died on Saturday after a battle with a brain tumor and terminal cancer. He was 78.
Wilson was a member of the Kansas track and field and cross country teams from 1950-54. He was a part of KU's 1953 national championship cross country team. Wilson was also a part of the four-mile relay team, which set an American record in that event. (from the Lawrence Journal-World)
July 12 - Correction: The Governor's Cup 5K and 10K races at the Sunflower State Games are on Friday, July 16 at 7 pm (not Sat). You can still sign up on race day at Hummer Sports Park, 6th & MacVicar, Topeka, KS. Registration: 5:30-6:30 pm.
July 11 - Independence, MO - Spank knew she was getting ready to run. With a University of Kansas handkerchief tied around her neck, Spank, an 18-month-old boxer with a lean, muscular frame, stuck her tongue out happily and followed her racing partner Keith Dowell toward the starting line.

From the Eudora Horsethief 5K: John Mattes (Lawrence), Michelle Andrew (Topeka) & Lori Norwood (Lawrence)




(Phil Royer photo)
"Oh, yeah. Oh, yeah," Dowell says 11 minutes before Sunday morning's 5K race start time of Spank's race-knowing mentality. "She'll do good – I think." more

July 10 - Report on the Eudora Horsethief 5K - The race is put on by several experienced cross country coaches who are each avid and accomplished road runners as well. The race start/finish is in the heart of downtown Eudora (population 4,307) on Main Street. The city park, complete with gazebo, served as race headquarters. You immediately pick up on the hometown character when you inspect your race packet and find the menu from Cutter's Smokehouse on E 20th St. and an invitation to enroll in Amanda's Dance Academy including classes in ballet, jazz, tap, hip-hop, tumbling and cheer. more
At the July 19th PsychoPsummer Trail Runs: Kurt Schueler (Lawrence) & Tracy Speiss (Fairfax VA) (Frank Mance photos);
July 8 - From Gary Henry's blog: Following is my Western States race report. The report is from the "crew point of view," since I was there to crew Greg Burger, who finished in just under 29 hours. I also decided to write it in verse, for some strange reason.
While you were running Western States
Your crew members wrestled with their own fates
Crewing presents plenty of struggles too
In helping to get our brave runners through
cont. . .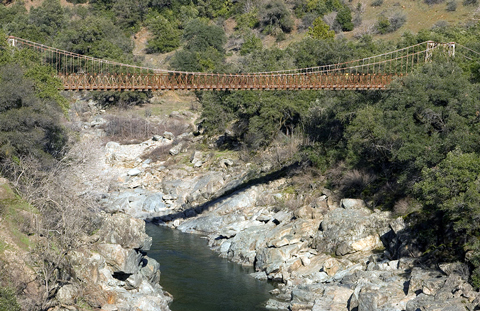 photo from Karen's Snapshots
July 5 - Garmin tech rep Chris Lassiter will be Garry Gribble's Running Sports in Lawrence on Aug 4, 2010 to host a clinic at 6:30 pm. Chris will talk about the new Garmin 110 and then open the floor to questions concerning Garmin Fitness Products - Forerunner 405, 405CX, 310XT, 110 and FR 60.
July 4 - The Mass Street Mile drew over 200 competitors running through completely closed off downtown streets and enthusiastic spectators.
(below) Patty Nicholson (257, Leavenworth), Kellie Westgate (322, Ottawa), and Shannon Carlson (186, Topeka) at the finish line. results.