June 30 - NBC (channels 8, 14, 208, 214 on Sunflower) is televising the Prefontaine Classic Track Meet on Sat, July 3rd, 3:30 pm CDT.
June 28 - Results from Saturday's Foxtrot 5K are now posted.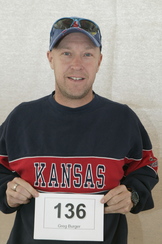 June 27 - From the official results of this weekend's Western States 100 from Squaw Valley to Auburn, Calif. - Lawrence's Greg Burger did it!
| | | | | | | |
| --- | --- | --- | --- | --- | --- | --- |
| place | bib | status | elapsed time | name | sex | age |
| 264 | 136 | Finished | 28:57:03 | Greg Burger | M | 43 |
Full results (Find the 264th place and click on bib #136 for more details on Greg's run. Below: climbing up on snow (Michael Cook photo)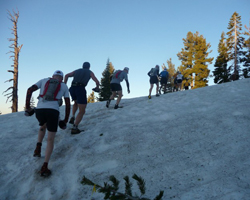 June 21 - Garry Gribble's Running Sports has been mailing a $25 coupon to new or renewing members of runLawrence. This coupon is good for all purchases at the store. That offer will expire at the end of August. So, if you need any running gear soon and you haven't join runLawrence for 2010, sign up and recoup your membership fee, then head to the store. Annual memberships end each Dec 31st. Current members can renew as early as Sept 15 for the 2011 year. A new perk plan for club members with GGRS stores is in the works. membership applciation
In Kansas, the longest day of the year is not the ideal time to orienteer - running in the woods. Here's the latest video on the sport. It's very well done, knowing Polish would help, but you can learn a lot without English subtitles. Next local park orienteering event is Aug 14. Info
Orientacja Sportowa from PZOS.tv on Vimeo.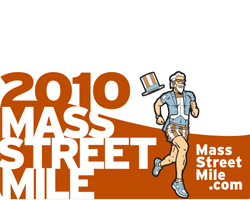 June 16 - 1 MILE… the premier event in running. History was made and the mile became legendary when Roger Bannister broke the 4 minute mile on May 6, 1954. So whether you are a 4 minute miler or a 15 minute miler lace up your shoes and come out to the Mass Street mile and have a great day with the family. Participate in the run then stay after to see the Tour of Lawrence.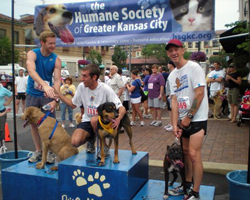 June 13 - Report from the Lawrence Journal-World on Billy Mills' visit.
Spank ran an 11:19 2-mile to take 3rd at the KC Country Club Plaza Dog n Jog June 13, shown with Keith
Dowell.
June 9 - Billy Mills will speak at the Haskell Cultural Museum, Thurs, June 10th at 9am. Come if you have the time; it's open to the public. Mills was the winner in the 10,000 m at the Tokyo Olympics in 1964. He attended Haskell and is a KU graduate. If you're young or don't remember the broadcast of that last lap, here's the clip.
June 7 - Three boys at the start of the Legacy Run on Sat. more photos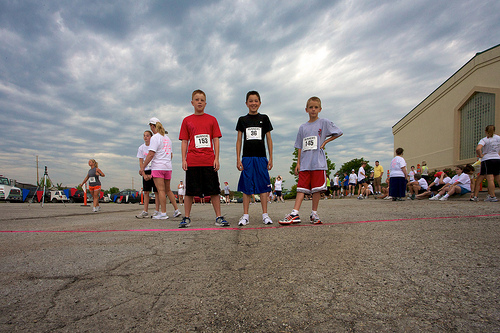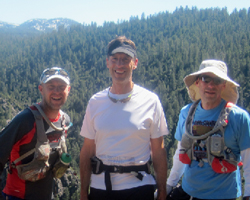 Greg Burger with Patrick Perry and Brian Pawley.
June 5 - Here is a look at what I will be dealing with in a few weeks out at The Western States Endurance Run (June 26-27).
Also if you go to youtube.com and type in "A Race for the Soul" there is a 6 part series from a PBS special on the race from 5 years ago. - Greg Burger