Mar 31 - Keith Dowell is Stair Crazy. He was back in Chicago last weekend doing the Presidential Towers events. It's two events in one. There's the four tower climb, but the first climb is the main climb. The first climb, he came in 14th overall out of 668 with a time of 4:28 min, 3rd in age group (M50). After the first climb, you continue on. He placed 66th overall after four climbs.
Mar 30 - While searching results from this year's Dam Run 5K and 12K races, came up with this Lawrence Journal-World report that 275 ran the 5K, 10K and 20K in 1988.
Mar 27 - Winners in today's wet Rock the Parkway races in Kansas City include: in the half marathon: DJ Hilding (1st M25-29, Lawrence); in the 10K: Kristin May (1st overall female master, Basehor); in the 5K: Dale Dexter (1st overall male winner, Topeka), Grant Catloth (1st M20-24, Lawrence), and Jan Karnes (1st F45-49, Lawrence). results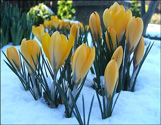 Mar 20 - Happy first day of spring. Don't crocuses look great in the snow? Are you getting out to run between tournament games and Buffalo Wings commercials?
An article on the Science of Aging and Running looks at several factors one being flexibility. "Many of the things we used to do in grade school, such as jumping jacks and alternate toe touches still work. . The idea is to get the blood flowing through the connective tissues, best done by stretching them dynamically before the workout." Sounds like a typical Dog Days workout. Red Dog had it right for over 30 years.
Mar 13 - There is a Film Festival March 26-27 2010 at Haskell Auditorium on the Haskell Campus which will include two movies of interest to runners both on Sat, Mar 27.
3:45 - The Great American Footrace - Andy Payne, an Oklahoma Cherokee, was 20 years old when he decided to enter the 1928 Trans-Continental Foot Race. When asked why Andy said "I just thought I could do it". Andy would finish in 1st place after the 84 day ordeal. (The Andy Payne Marathon is held each year in Oklahoma City).
7:30 - Jim Thorpe: The World's Greatest Athlete - a biography of the Native American athlete who became a sports icon in the first half of the 20th century. This is a film about a man who used his amazing physical prowess as a way to affirm his American Indian identity in the face of unrelenting efforts to eradicate Native American culture. Jim Thorpe, The World's Greatest Athlete. It is the first documentary film to tell the story of Thorpe's life outside of his well-known athletic victories. The film uses in-depth interviews with Thorpe's surviving children, some simple recreations and images culled from over seventy-five archive sources, both stills and motion picture.
Mar 9 - The Mar 6th Shamrock Shuffle started from the Flamingo Club instead of Johnny's Tavern due to street repairs. Top winners were Dwight Carlston (Gamerco NM) and Vanessa Johnson (Lawrence). Masters winners were Paul Miller and Dee Boeck, both of Lawrence. Full results
Jon King, Al Lopes & Sean Williams; Joanie Starks on the levee

(J Henley & John Olmstead photos)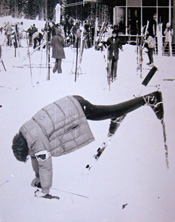 Mar 3 - Greetings to all from Colorado. We spent 8 ski days at Monarch, where we got free season passes for those 69 and over. We won't be home until Sunday night. (photo of John, right)
John's running report: Our cabin in Garfield, near Monarch was too snowed in for John to run outside. Several days he ran the circle through the living room and kitchen. Other days he ran on trails and sidewalks in Salida and Frisco. The altitude in Garfield was 9900, Salida 7000, and Frisco 9000. - Janet & John Huchingson

Mar 1 - From the Mad Dogs March Update sent by Dick Lipsey: "Fran Breslauer was nominated for runner of the year in her age group with the New York Road Runners Club, which has several thousand members. The awards ceremony is March 4 at the Hard Rock Cafe Times Square. Fran started running here and ran with us for several years before she and Dan moved to New York."
Report from the Feb 28 American Lung Association Fight for Air Climb in Des Moines, Iowa - "Ultimate climb 41 stories,1100 steps. . . . I climbed 6 times for a total of 6,600 steps in 57 min 52 seconds. My first climb was 6:27 min that got me 14th and first place age group winner out of 11." - Keith Dowell