May 31 - National Running Day is a national initiative to promote running as a healthy, easy, and accessible form of exercise. The second annual National Running Day will be Wed, June 2.

From New York to San Diego, the day will celebrate the benefits of running as part of a healthy and active lifestyle aimed at combating some of today's most pressing health issues.

You can participate in National Running Day anywhere—you don't have to be in one of the cities hosting events to take part. At the least, all it takes is to wear your running shoes throughout the day, go for a run, and invite a friend to join you. More info

Create your own run, or check the group runs if you want to join other runners on June 2nd.

May 24 - Summer is here and it's good to be aware of how to train properly in the heat. I've attached some guidelines from the Road Runners Club of America and the Directors of the RRCA coaching program, Patti and Warren Finke. Be safe and train well. - Sincerely, Janice Woolery, USATF & RRCA Certified Coach, RRCA Kansas State Representative

May 23 - Photos taken by Dick Ross at Sat's Lawrence Trail Hawks 50 Miler and Marathon at Clinton SP. Course setters did not change the route because of a little water. Results

May 15 - Winners at the Blue Devil 5K at Kansas City Community College (KS) were Lawrence's Denny Gayton (men's overall winner) and Rhonda LeValdo (1st F35-39). results

At another part of Kansas City, KS, overall male winner at the Wizards Soccer Day 5K was 15 year old John Corbett of Lawrence KS with at time of 18:23. Overall female master winner was Baldwin's Denise Austin; Kevin Corbett of Lawrence was 1st M40-49. results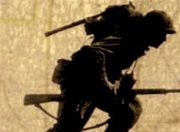 May 8 - Endurance athletes often share, what they call, "war stories." They're referring to tough training or racing that they somehow got through. But if ultra runner Tony Clark of Wichita, KS says he has a war story to share with you he may be talking about the real deal—true battle. Clark is a former Marine Sergeant who fought in Afghanistan and has a heart for the guys and gals who have returned from war permanently scarred or disabled. That's why he's about to embark on Tony's 224-Mile Trot Honoring Their Sacrifice. Here's the Endurance Planet podcast interview from May 6th.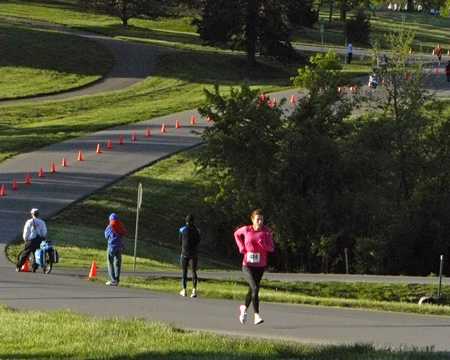 Leader after 2 miles at the Kansas City Corporate Challenge women's 5K (gmw)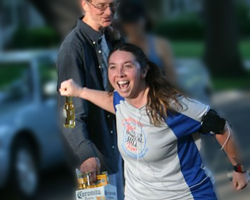 May 5 - At the Kansas CIty Track Club Cinco de Mayo Run, BJ Taylor doesn't have any trouble dispensing the brew of choice. (Dick Ross photo)
Registration for the 2010 Sunflower State Games is now open!

The 2010 Games feature over 40 different sports for all ages and skill levels. New events this summer include Bocce Ball, Miniature Golf, Sand Volleyball and Indoor Soccer. Click here to register
May 2 - The Horsethief Run (a 5K) in Eudora on July 10 is now designated a MARA Gran Prix event. The July 11 Run to the Sun in Independence MO has been canceled.
Congratulations to the winners at the Dr Bob Run. Overall were Gina Gnatzig and Robert Schmidt. Overall masters: Kristen Harms and Doug Stull. Results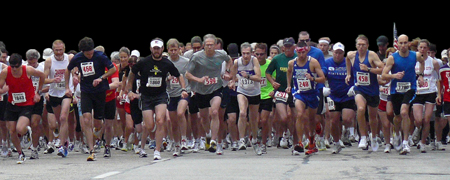 May 1 - The start of the Olathe Heart & Sole 5K/10K

(gmw)

slideshow