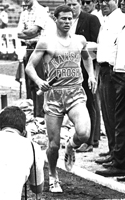 Mike Solomon anchoring the freshman distance medley at the 1968 KU Relays

(gmw photo)
Nov 30 - High up in the 7,000-foot altitude of Mount Kenya, running is life. One University alumnus is tapping into the level of success and passion Kenyan runners are made of — both by taking athletes to
Africa and by providing ways for them to compete around the world.
Mike Solomon, a 1971 graduate and former track
and field athlete, has begun an international training exchange program called Sport Exchange, along with elite trainers and coaches in Kenya. more
(story by Nicolas Roesler, the University Daily Kansan)
Nov 26 - Thank you everyone for coming out for the Thanksgiving Day 5K! Check out the photos at SeeKCRun.
Nov 25 - Anyone needing to pick up awards from the runLawrence Thanksgiving Day Run can go to Francis Sporting Goods. They open at 9 am. Also, those who entered but didn't pickup their packets may get the Asics headbands at the store. Results
Nov 24 - More from the Living History Farms XC in Des Moines. Cole Hutchins, Tanner Lynn, Jon Miller, and 'Maddog' Samrow are pictured below. Had great time! 1st time for three of the guys. Cole never ran until this year- shotputter in middle school who competed in cross country for the first time in 2010. Maddog improved on his time from 2009, running in a pair of Vibram's. Pretty cool in the creek crossings! Jon raced his first 7 miler, finishing 5th in 54:48. 1st place in under 15 was Addison DeHaven, son of former Olympian Rod DeHaven. Addison was 6th overall. Tanner finished 52 in his age group, and 248th, out of 7500 runners. - Paul Boone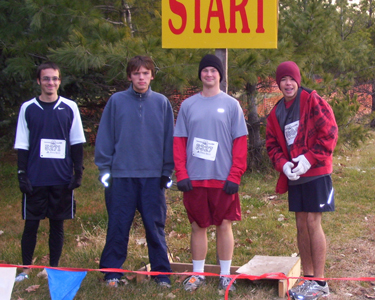 158   1 M55  Dan Kuhlman, 56, Lecompton, KS        51:32 
  48  53 M15  Tanner Lynn, 15, Lawrence, KS         54:48 
 249   5 JrM  Jonathan Miller, 13, Eudora,  KS      54:48
 576  40 M45  Paul Boone, 45, Lawrence, KS        1:02:40
 777 160 M15  John  Samrow, 18, Eudora, KS        1:06:10
3174 401 M15  Cole Hutchins, 15, Eudora, KS       1:57:56
 172  47 W25  Sondra Rauterkus, 28*, Merriam, KS  1:07:47 
  92  10 M35  Scott Forkenbrock, 39, Lawrence, KS   48:56
                *EMS track coach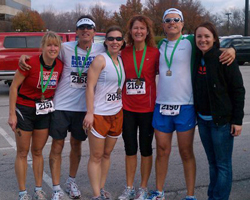 Nov 22 - Lawrencians (right) at the Nov 21st Gobbler Grind - Cindy Dunham, John Frydman, Julie Gasper, Julie Kelemen, John Dunham, & Faith Ross.
Nov 21 - A belated congratulations on the 4th place finish by the Bishop Seabury girls cross country team which finished 4th at the Class 1A state meet on Oct 30. Kate Albrecht led the Seahawks with a 4th-place finish (16:19). Heidi Dumesich (15th), Maddie McCaffrey (31st), Eilish Gibson (77th) and Mai Hua (81st) followed.
Nov 20 - Dan Kuhlman (Lecompton) won his age group at Living History Farms XC race today in Des Moines. The best of the M55-59 was timed in 51:32 on the 7 mile course.
Nov 16 - Dick Lipsey's comments on Wes Santee: As many of you have heard, Wes Santee died Sunday (November 14, 2010) of cancer at age 78.
Wes was one of the all-time great milers and could -- probably should -- have been the first to break 4 minutes. He was a teammate of Dick Wilson's at KU and, among many other accomplishments, was the NCAA cross-country champion in 1953 and led KU to the team championship (its only cross-country team championship) that year. more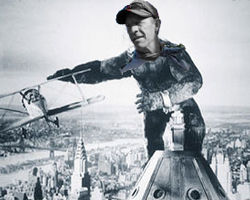 Nov 15 - A couple of winners this weekend: Lawrence's Kent Dobbins was the winner in the M65-59 category at Sunday's Rock 'n' Roll San Antonio Half Marathon posting a 1:41:55. results
In Kansas CIty at the Fight For Air Climb 2010 Stair Climb, Lawrence's stair climbing enthusiast 56 year old Keith Dowell was the overall winner climbing the 34 flights in 4:49.7 just 7 sec over 2nd place Jadin Winberg. results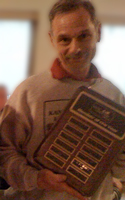 At the annual meeting in Wichita, the Kansas Ultrarunners Society named Gary Henry as their Member of the Year for 2010. Congratulate him at this weekend's Sanders Saunter Run.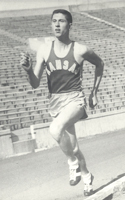 Nov 14 - (from the NY Times) Wes Santee, a record-setting track star who never ran the sub-four-minute mile expected of him and whose running career was ended by a suspension for accepting too much expense money, died Sunday at his home in Eureka, Kan. He was 78.

Santee's running accomplishments included American outdoor records of 4 minutes 0.6 seconds and 4:00.5 in the mile, a world indoor record of 4:03.8 in the mile and a world outdoor record of 3:42.8 at 1,500 meters. more
| from the LawrenceJournal-World |
Going by the Korean War Memorial at the KU Veteran's Day 5K, Nov 13th.

Benson Chesang with huge lead at the Parks & Rec Turkey Trot, Nov 6th

(gmw)
Nov 6 - Fran Breslauer continues her winning ways since turning 70. Fran recently won her age group at the Staten Island Half-Marathon and ran a PR in 2:04:16. Fran reports that she wore her distinctive and stylish KU Mad Dogs running shirt .. but (husband) Dan forgot to take a picture. Fran is running the New York Marathon this weekend, and no doubt Dan will remember his camera this time. (from Dick Lipsey)
Nov 5 - If on Sunday, November 7th, you watch the New York City Marathon, chances are that one of the first things you'll see is a pack of emaciated-looking men hurtling down the street at a little over twelve miles an hour, or about four minutes and fifty-five seconds a mile. To the onlooker, they will be an incomprehensible blur: a stampede of sharp-elbowed, highly focussed gazelles, so economical in their motion that they hardly seem to be touching the ground at all. Somewhere in the middle of this pack will be a slight, pale runner from Michigan whose race bib reads "Ritz." more (from The New Yorker)


New 2011 members for Nov.
Jill Bremyer & Richard Archer &
(Sam, Allie, Anna, Max)
Carie & Philip Gallagher
Raymond Hummert
Ed Morris
Stacy Riggins