Sep 28 - The 18th edition of the Sandrat Trail Run is this Sun, Oct 3. In earlier versions the race went out on the levee and cut back into the trails. But the trails have been so well groomed in the 21st Century, the race is all on the trails except for the start from John Taylor Park to the boat ramp. The race will be run in memory of Dick Wilson. Sign up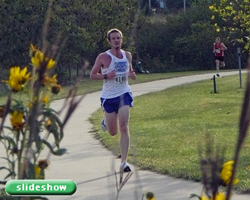 Sep 26 - (right) Grant Catloth on the Arboretum trails from Sunday's Head for the Cure 5K in Lawrence. Results
Sep 25 - The 2011 Kansas Half Marathon date is set for Sun, Apr 17th. 10K and 5K options are also offered. Over 2000 people ran last year's marathon, half marathon and 5K making it a hugely successful event. Any success continues to get better with contributions not only from sponsors but also friends with ideas for improvements or simply offering to help. If you want to lend a hand, contact the race director, Ryan Robinson. The run again benefits Health Care Access, a not-for-profit clinic that serves 1,800 low-income clients and others in the Lawrence Community.
Sep 17 - Happy to Be the Tortoise in the Race to Fitness: I run. Sort of. By that I mean that although I run almost every day, calling what I do running is a bit of a stretch. Maybe it's a plod or an exer-slog. Whatever it is, it's anything but fleet. more (John Schwartz, from the NY Times, 9/16)
Sep 16 - Three former members rejoined runLawrence: Todd and Erin Rogers and from a few years ago, Nancy Baker. Welcome back.
Sep 14 - Ellen Young will convene an organizational meeting at 5:30 pm, Tues, Sept 21 to discuss ideas to start up a youth running program. The meeting will be in the library of the Boys and Girls Club at 1520 Haskell Ave. The meeting is in response to a request for additional programs for children who have already participated in the various after school programs like the marathon clubs at Langston Hughes, Century and Deerfield schools.
At the Tuesday workout at Perry Park, Coach Allison Smith (below left) gives instructions to the cross country team made up of students from various city junior highs. KU freshman Lucy Daldorph (right photo) paces the group on the one mile time trial. The team's next race is at the Topeka Seaman on Oct 2nd. The team is still recruiting more runners. more info The cross country team program was started in 2009 with a contribution from runLawrence and planning by the high school coaches, Chip Anderson and Steve Heffernan.
Sep 12 - KU teams competed at the Missouri Cross Country Challenge Sat, Sept 11, where the men's and women's teams ran strong against Missouri, UMKC & Stephens College capturing first on the men's side and second on the women's side. more
Sep 8 - Are you a 7th or 8th grader who wants to run? Lawrence has a middle school cross country team that will compete at area meets and gets you ready for high school cross country. Contact Coach Smith (asmith@usd497.org, 785-766-8984). more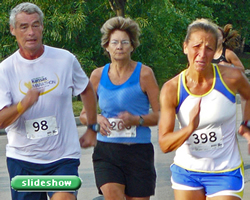 Sep 6 - The Labor Day 5K in Leawood, KS is a flat and fast course. No wonder runners labor at this event. Eudora's Paul Heitzman made this his comeback race winning the M75-79 category. Other local first place winners included Allison Howard (Baldwin City, F14-19), Dee Boeck (Lawrence, F60-64), Grant Holmes (Lawrence, M20-24), & Wally Brawner (Tonganoxie, M70-74). full results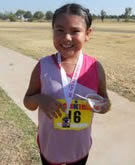 Winona Gayton competed in the IronKids Triathlon regional in Oklahoma on Aug 22nd. She had a time of 20:18. Winona proudly displays her medal.
Sep 5 - KU sophomore Kyra Kilwein claimed a victory in the women's 5K run at the Bob Timmons Classic on Saturday at Rim Rock Farm. more (LJW)
Led by Zach Andregg, Lawrence High boys cross country team took first place on Saturday at the Manhattan Invitational. more (LJW)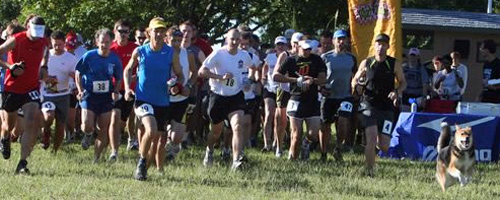 Start of the dog-friendly Clinton North Shore 8.5 mi trail race, Sept 4
(Dick Ross photo)
Sep 3 - Should you stretch before a run? That question, which has prompted countless academic studies, debates and inter-running-partner squabbles, is now at the heart of a notable new study published in August on the web site of USA Track and Field. . . . read more (from the NY Times, Gretchen Reynolds, 9/1)
Sep 2 - The KU cross country season begins Sat, Sep. 4 at 9 am with the Bob Timmons Classic at Rim Rock Farm. more
RunLawrence welcomes the Brigmans for the 2011 year: Robert, Kaitlin and Eddy.
Sep 1 - Amy Phalen's family joined runLawrence today - today being the first day for 2011 memberships. Club members get discounts at Francis Sporting Goods and Garry Gribble's Running Sports has made discounts now at 20% all the time. No need to wait til New Year's Day; join us.